lizard lips

-

8-6-2006 at 04:13 PM



There is notjing in this world like going to a top notch golf course and take your time and play 18 or for that matter 36 holes and never have anyone in front or behind you. If living in Ensenada, as long as I have, has at least one good thing, this is it. The course is VERY nice and because there are soo many people buying lots and homes they are turning the profits directly into the course and club house. Green fees are still very reasonable. This sounds like a sales pitch but really I want all nomads who play to come down and enjoy a relaxing day here. It sure takes the stress level down. There is nothing worse than to play a nice course and be pushed from behind or having the group in front play slow and not let you pass. I played Pebble a few years ago and was very excited to play on such a world famous track but I was very dissapointed when the group behind kept hitting balls into our group and we had to play slow because the group in front was taking their time. I finally hit one of the balls into the water from the group behind and just because they were members a big brew ha ha took place. The marshall wanted to kick me off but I was'nt leaving in fact when we got to 18 the police were there. After we expained what had happened they talked to the started and the club bought dinner and drinks plus the green fees the next day were on them. From what I understand this guy who came within inches of hitting me has done this several times and he was suspended because of this infraction from the club. I even played better the next day.

If any of you want to play --- please u2u me and Ill tag along. Im always lookin for someone to play with.............................
---
elgatoloco

-

8-6-2006 at 10:10 PM



Gracias.
---
DanO

-

8-7-2006 at 11:42 AM



Lips, try hitting the ball back at them the next time.



I've played the BCC course many times with friends from Punta Estero. On one memorable occasion we had the course (and the drink cart) completely to ourselves, so we decided to test whether you can actually hit the ball from a running start, a la Happy Gilmore. Works off the tee pretty well, but not off the grass.
---
lizard lips

-

8-10-2006 at 08:35 PM



Ah yes---The Happy Gilmore swing. Try it after a few beers. You fall on your ass. I forgot to mention the homes there. I played yesterday and met some of the people that built homes on the course and they are nice........The homes and the people.The prices are excellent and security is great.

I know alot of people want to live at the beach but this is really nice!

Go check them out.

[Edited on 27/12/2005 by lizard lips]
---
bajabound2005

-

8-11-2006 at 07:31 AM



Lizard Lips - you've got some weird time zone on your edit...
---
Bob H

-

8-11-2006 at 10:22 AM



Here's more info....

http://www.bajacountryclub.com/

Bob H
---
DanO

-

8-11-2006 at 10:33 AM



Actually, the Happy Gilmore swing only works after a few adult beverages. Gotta be loose. Problem is, those beverages make my bad putting even worse.
---
bajaguy

-

8-23-2006 at 03:51 PM



Howdy....August 21 and 22 we were at the BCC checking on the progress of our house. The construction is going well and there are several families now in residence. The course is also looking great. All green, and trimmed up nicely. The course was getting a lot of play on Saturday....hope to see some of you Nomads there soon!!!

[Edited on 9-9-2006 by bajaguy]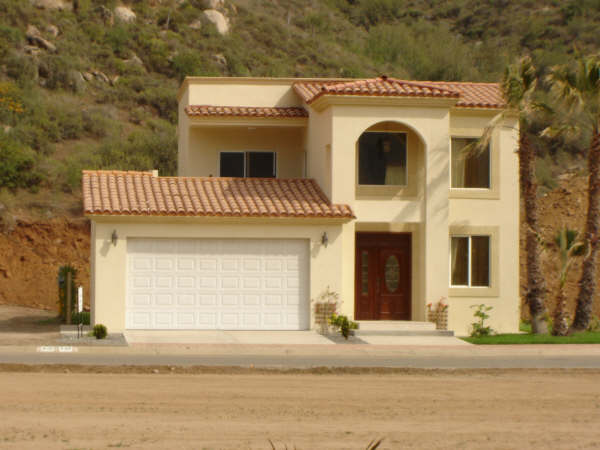 ---
DanO

-

8-23-2006 at 04:05 PM



BG, do they let kids play? Years ago I just drove them around in the cart, but they've had some lessons and want to play now (they won't be any good, but I'll let everybody play through). They are 9 and 11.
---
bajaguy

-

8-23-2006 at 04:25 PM



Not sure, Dan-O...I know Lizard Lips brings his son out and he is 13, I think. You could check with Jose Luis Vasquez....he is the honcho that runs the place...tell him you know a homeowner......hahaha......I do know that the rates are cheap and you don't need a cart on Monday, Tuesday and Wednesday
PS:....if you go out, check on my place...it's lot #337

[Edited on 9-9-2006 by bajaguy]
---
movinguy

-

8-23-2006 at 04:38 PM



Wow - a real estate development that some Nomads actually like! I may have to check it out - driven by many times but never stopped . . .

---
DanO

-

8-23-2006 at 04:44 PM



Probably has something to do with the fact that it's got a gravel pit on one side and many square miles of farmland on the other.

---
bajaguy

-

8-23-2006 at 04:47 PM



Movinguy...we looked for several years....this place has it for us. Dan-O is right...there won't be too many neighbors and developments crowding you out. Looking forward to some fresh veggies from the local farmers. Only scheduled for a total build-out of 350 homes. Jose is great to work with, and the company is the same one who operates the Marena development in Rosarito. check out the BCC site that was posted above. a 3 bdrm/2 & 1/2 bath, 2 car garage...about 1700 sq ft for $149k

[Edited on 8-23-2006 by bajaguy]

[Edited on 8-23-2006 by bajaguy]
---
movinguy

-

8-24-2006 at 11:30 AM



And, given the recent posts here, I gotta ask - what about security?

---
bajaguy

-

8-24-2006 at 04:58 PM



gated, guards, ID check, sign in at gate....plenty of employees around. I think that this is far enough off the beaten track to be passed by.

[Edited on 8-24-2006 by bajaguy]
---
cabo golf
CaboBrian

-

8-25-2006 at 05:50 PM



I will be in cabo from 9/4-9/11 and i was wondering if there are any special rates going on at cabo del sol/ cabo real/ eldorado or anywhere else?

Thanks
---
bajaguy

-

8-26-2006 at 09:10 AM



Maybe you should try a new topic poat regarding Cabo........
---
bajabound2005

-

8-26-2006 at 02:41 PM



LizardLips, Bajaguy (or anyone who knows) do they offer lessons at Baja Country Club? Nothing on the website.

[Edited on 8-26-2006 by bajabound2005]
---
bajaguy

-

8-26-2006 at 09:14 PM



Dunno.........you could ask Jose Luis at the CC.....or maybe Lizard Lips could give you lessons.......all I do is drive the cart
---
bajablue

-

8-26-2006 at 10:58 PM



I am glad to see they have been putting a few bucks into the course. I was there about 3 months ago and it needed a little work you are correct though, you can't beat a wide open golf course. Played Bajamar last Tuesday and ran into a tourney. The bad part was the Ocean 9 was wide open, but we had to wait on the Vista 9... Lips, will let you know next time I am in the area, so we can tee it up..
---
lizard lips

-

8-28-2006 at 07:11 PM



Bajablue---send me a u2u and let me know when you will be here and I will enjoy playing with you. Bajabound--I have a nine handicap and the only person I have taught is my son who is now a pretty good golfer. I dont think there is a teacher at the course as yet but I think you should ask Jose Luis in the club house and he may direct you.Dan-O--If you want your children to start playing golf you should take them here on a week day if you can. Hardly anyone is there and I dont think you will see another group of golfers on the course. This is really heaven right now. You can play and have no one in front of you or behind you. If you want go play the last hole you just played, play it again and again......This however will not last forever like everything else in Ensenada. There is not another course down the road to Cabo for a long drive and going north you will have to wait at every tee and play 5 1/2 hours to get 18 in. Not here. 3 1/2 hours and that is even on the weekends. I played yesterday and they were having the "Corona Open" golf tourney and they fit my son and my brother in law in with no problem. It took a little longer to play but we played!Im really concerned that if I tell all of you die hards what I have said about this place it will take 6 hours to play soon and there goes my fun and the rest of my day....but come on down and really enjoy a great day. My son and I always bring a sack lunch and sit under a tree and eat lunch. These are the days he will never forget, I know I wont. Please u2u me and let me know when you will be down and I will play with you. For those who are looking to purchase a home or are thinking about it contact me. This is not a sales pitch! I was at one time the sales manager there and can answer your questions. I am a private investigator and work all over the world so if you email me and I dont reply soon Im gone for awhile. Play on boys! (and girls)
---
dune155551

-

10-18-2006 at 11:03 PM



Hello all,

Just discovered the site; looks like bajaguy and I will be neighbors



Sent you a u2u bajaguy.
---
bajaguy

-

10-19-2006 at 08:32 AM



and a reply back to you!!!!!
---