Canadiense

-

9-19-2006 at 06:38 AM



Any tips or pointers to resources on day hikes around San Jose Del Cabo?

I understand there are some waterfalls near town, but the guy who described them to me sent me on a wild goose chase (or I got lost), and I never saw him again to ask for clarification.

Any help would be appreciated.
---
Hola Canadiense
frizkie

-

9-20-2006 at 05:14 PM



There are some beautiful day hikes within an hour's drive of San Jose del Cabo.
One in particular is just by my property in El Chorro.
You could drive to Santiago, and stop at the Palomar Hotel, and ask them for directions to the Hot Springs at El Chorro. You should really have a beer and/or lunch there as well, and they will give you all kinds of useful info on how to get there, as well as a nice little map that they make themselves, so you won't get lost.
If you promise to inform me on the condition of the little town of El Chorro, post Hurricane John, I may let you stay overnight there so you can hike, or enjoy the Hot Springs for more than a day



From another Canadiense
Barbara
---
Canadiense

-

9-21-2006 at 12:29 PM



Hey Barbara,

Thanks for the offer. Sounds like a great reason to go a little farther afield.

I'll have a little rental car, but not 4WD. Hopefully, the HPs will be accessible with the wheels I have.

Unfortunately, I wont be there 'til the middle of March, so my report might be a bit belated!

I'll copy and archive your post and keep you in mind.

Thanks again,
---
Canadiense
frizkie

-

9-21-2006 at 07:22 PM



Check your U2Us
---
wilderone

-

9-22-2006 at 11:37 AM



Frizkie - I'm going to Rancho Leonero in April 07 to fish. I think we'll have a rental car and a couple days to explore. What else shall we not miss while in the area? Was thinking of going to some special snorkeling spots. We're not into the city scene. Have taken note of the hotsprings hike. thanks.
---
Any more suggestions?
Canadiense

-

3-4-2007 at 01:13 PM



Just thought I'd resurrect this post as my travel date is getting closer.

Does anybody have any other suggestions for day hikes around SJD?

Alternatively, can anyone recoemnd any guide books?
---
Osprey

-

3-4-2007 at 02:39 PM



Wilderone

If you come by my house I can show you how to get up to the water canyons above Santiago.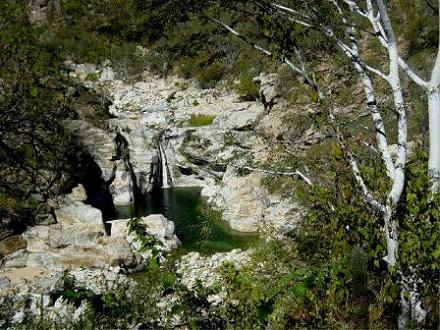 ---
Sallysouth

-

3-4-2007 at 03:17 PM



WOW! Osprey that is such a beautiful picture! Can I go too??????Awesome, to say the least....Sally
---
Osprey

-

3-4-2007 at 03:28 PM



Just a 10 minute ride above Santiago -- one of 4 canyons, all different, all wonderful.
---
oxxo

-

3-5-2007 at 07:49 AM





Where is your house? I've been wanting to do that hike for quite a while now.
---
Osprey

-

3-5-2007 at 08:04 AM



I live in La Ribera, just about 10 miles from Santiago. U2U and I'll explain more.
---
Hiking at Rancho La Venta
twogringos

-

3-14-2007 at 11:49 AM



We had a nice day at Rancho La Venta, located between San Antonio and San Bartola on the eastside highway. The ranch has many miles of horse trails (you can rent horses, too) that are fun to walk. Some of the arroyos have running water year 'round. Lunch in a palapa covered, 100 year old adobe ruin, is part of the package. Email Bob and Liz at rancholaventa(at)yahoo.com for details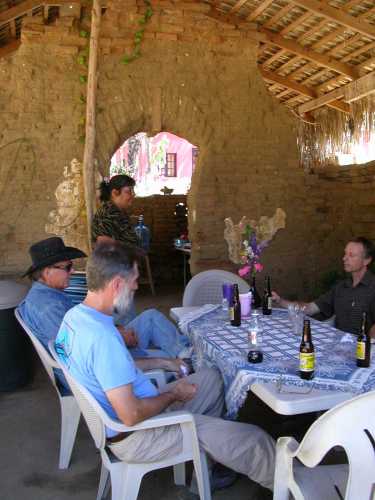 ---
I want to communicate directly with frizkie karenk@usa.com
karenk

-

5-27-2007 at 08:08 AM




---
karenk

-

5-27-2007 at 08:14 AM



Hi Frizkie,
My name is Karen. And Bob and I have a home in the mountians of Jalisco. Have sailed the Baja for 2 yrs and love it. We are very interested in any info about land in your area. Also interested in a possible house swap to check out your area. We look for way way out of the way places,love hot springs,camping ,hiking and own a 4 wheel drive. We plan to be in your area oct. or Nov. Any info you could give would be so appriecitaed. Would like to e-mail you directly. Thanks for your time Karen K
---
Bajabus

-

5-27-2007 at 01:45 PM



Those canyons above Santiago are spectacular and we have hiked them many times. I have aways wanted to take them to the very top and try to enter the park that sit's atop the sierra laguna there. Never had the time. During the winter be prepared to run into some very gnarly live off the land strange gringo freaks that make camp up there. kinda territorial and clanish but we have never been threatned, just kinda startled.

Some of the pools are deep enough to dive into from the higher rocks.
---