Baja Bernie

-

4-27-2007 at 10:26 AM



From Mi Baja No Hurry No Worry


Lots and Lotes



Sue Connolly, the wife of that guy, Joe, who supposedly had hidden gold bars in his garage, owned several vacant lots scattered around camp. When she, suddenly, saw a 'newcomer' beginning to build on one of "her" lotes she went ballistic. She challenged the poor guy and threatened to have him arrested for squatting on her lot. He produced a bar napkin that conveyed title to the lot; signed by Jack Speer—this was not at all uncommon during the early days of camp life. Jack would scribble the lot number, the date, down payment, and the total cost of the lot. This would suffice until his secretary could type up a formal lease agreement.

Sure, it was kinda of loose but it normally worked. OK! Well, this time it didn't and Sue ranted at anyone she could find about how that 'rotten bastard' Jack had deliberately sold "her" lot and pocketed the profit. David Medina, then President of the Corporation, could not placate her because he found that Sue did own the lot in question and that Jack had sold it to a third party. David promptly put a stop to any further construction on the twice-sold lot.

You should all know that when Jack usually wandered into Camp he was normally well along the path to oblivion via demon rum. Jack returned to camp a couple of weeks later; and fortunately he was relatively sober. He readily admitted his error! He got together with the third party guy and got him to agree to move to another vacant, and unsold, lot by agreeing to reimburse him for the cost of the construction on the lot that really did not belong to him. Jack then contacted Sue and assured her that, "No harm had been done," and in fact the incomplete construction on her lot had actually enhanced her property with 'no cost' to her. Sue didn't buy that at all. Thinking that she had Jack over a barrel she had him hauled into court in Tijuana.

Several of us ended up testifying that we 'knew' that this was just a simple paperwork mistake and that it was not a common form of doing business. After many questions the Judge threw the case out and advised Jack to pay more attention to business when he was selling lots. He also advised him to drink a 'little' less when conducting proper business.

This reminds me of the time Frenchy blew his stack when he found that the kitchen of his house was not on his lot and in fact was five feet over onto Art Mc Laren's lot. It seems that when Don Paschal originally built the house he had misread the northern property line. This was not very hard to do because in the beginning there were 'no clearly defined' lot lines. That's true! The ocean front lots were all supposed to be 40 feet wide by 100 feet deep (except for McLaren's which you'll remember was to biggest lot because he and Jack cast stones to determine its layout) but in reality some became 41 feet wide by 100 feet deep. Others became 38 or 39 feet wide. A few buildings are even intruding into the main road.

It really didn't matter (still doesn't) to most people, after all this is Baja. Frenchy never had gone along to get along. So he threatened to haul Jack and the Corporation into court.

A few days later Jack and Art were having a few drinks in the Cantina when Jack told Mac of his problem with Frenchy. Art laughed and told Jack that, "it was no problemo, just give the Frenchman six feet of my property and that way he can't complain and he can still wash his windows without coming onto my property."

So that's just what they did and another land dispute was nipped in the bud.

P.S. Seems so simple and easy compared to today's approach with an abogado here and an abogado there.
---
Martyman

-

4-27-2007 at 01:43 PM



Love those stories Bernie! Keep 'em coming
---
Okay--it is only leasing
Baja Bernie

-

4-28-2007 at 11:47 AM



Thanks...............Marty de Man for the nice words
---
DENNIS

-

4-28-2007 at 12:53 PM



Bernie ----

I enjoy your words now, more than ever. As fast as Baja is changing, the appeal to me lessens. How it used to be is why I'm here but, that may be changing in the future as well.
I love the way things used to be eveywhere. I read Tortilla Flat and Cannery Row often. more as I get older.
Im sure there will come the time when old folks like us will say, "Remember Rosarito when the buildings were only thirty storys high? And you could buy a house for less than a half million?"
For me, watching progress here is like having something taken from me. But, they can't take my memories.

Thanks again Bernie.
---
Dennis
Baja Bernie

-

4-28-2007 at 03:20 PM



Steinback is my favorite author and I have read everything of his that was published, may times. Grapes of Wrath is my favorite...........A socialist, and perhaps a communist, he still stands the test of time in breathing life into characters and telling it like it was back then...................

I can never get over the scene where the bartender is poring all the left over booze (of every kind) thru a whole in the bar and into a jug so that he can take it home to share with his buddies.

And then there is poor grandpa, layed out on the mattress on the roof ot the car and tied in place until they can get someplace to 'leave' him.

Yes, the man could feel and he sure could write!

O'Henry is another of my very good friends and I collect all of his stuff also.
---
DENNIS

-

4-28-2007 at 04:08 PM



You have good taste, Bernie.....

Chuy [ DEP ] at Los Gordos bar in La Bufadora used to pour the " just a li'l bit left " in every bottle of every kind into his jug of rattlesnake tequila. That poor snake never tasted a drop of real tequila but some said it was the finest tequila they ever tasted.

Thanks again Bernie
---
Paulina

-

4-28-2007 at 05:06 PM






Dennis,
Chuy's Rattlesnake "tequila" was the first thing I thought of as well. This is a photo of Chuy serving up a shot for Dern's dad Joe, taken Nov.'05.

DEP Chuy y Joe!

P<*)))><


---
Paulina
Baja Bernie

-

4-28-2007 at 05:17 PM



Do you have a story or pictures to go with this part............

"And then there is poor grandpa, layed out on the mattress on the roof ot the car and tied in place until they can get someplace to 'leave' him."




---
Paulina

-

4-28-2007 at 05:35 PM





Actually Bernie I kind of do have a story along those lines:

Joe was supposed to go with us to the Tecate Baja 1000 race last year. The week before we were scheduled to leave he came over to visit, saying that he was going to have to cancel his trip. His blood pressure meds were off and he thought it best that he stay home to get it straightened out, etc. We were disappointed, tried to get him to change his mind, but he said that he didn't want to die on us, ruin the race. We told him not to worry, if he died we'd keep him in the Villa Vita freezer until the race was over, then tie him to the top of the truck to get him back home. We all got a giggle out of it.

Two days after the race Mia found us in town with the bad news.

So, that's my story. On a lighter note, heres a photo that has something to do with Chuy's tequila. It was taken at his memorial, this patron had just one too many...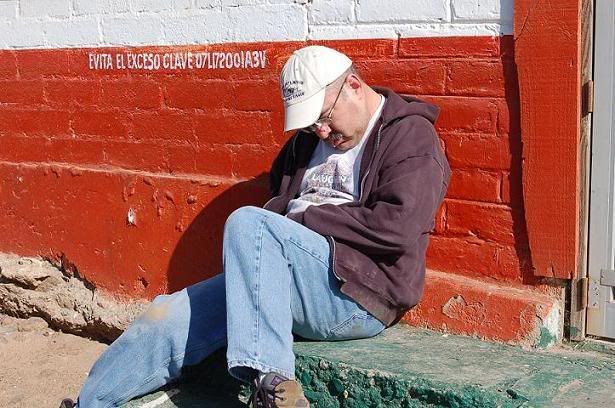 P<*)))><
---
Iflyfish

-

4-28-2007 at 05:56 PM



Great stories, what wonderful memories. Real characters and character disorders in the old baja. Salud amigos!

Iflyfish
---
Paulina

-

4-28-2007 at 06:19 PM



Oh and Bernie,

If you can't tie 'em to the roof, there's always duct tape.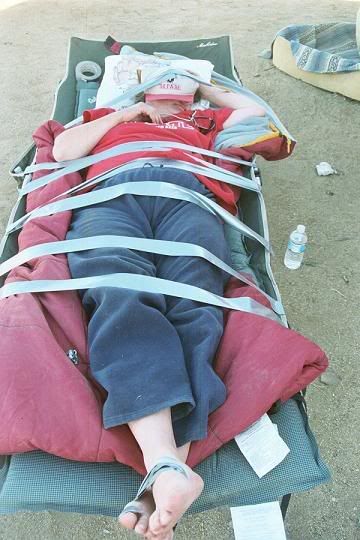 P<*)))><
---
Paulina
Baja Bernie

-

4-28-2007 at 06:32 PM



Had absolutely no doubt that you would rise to the occasion.

Do you remember the story of the guy whose mother-in-law died on him in Baja. He stuck her in a sleeping bag to get her across the border. He made it and stopped to call his wife. While on the phone someone stole his rig and neither the rig nor his mother-in-law have never been found.
---
Paulina

-

4-28-2007 at 06:36 PM



Fred Hoctor told me that story, so I always took it with a grain of sal!

Did you hear the story of the fisherman who died in Bahia and was kept in the Villa Vita freezer? They took $ out of his wallet for each day he was in the cooler, same rate as a room. He should have gotten a discount!

P<*)))><
---
Baja Bernie

-

4-28-2007 at 07:30 PM



Sylvia would applaude you good sense.
---
FARASHA

-

4-29-2007 at 02:34 PM



Hey - Bernie, great funny story, and fun thread - after busy weekend, a good timeout reading for me.
---