Baja Bernie

-

6-29-2007 at 03:06 PM



From Mi Baja No Hurry No Worry



One afternoon Cayo came by the house and asked if I would like to join him and his brother Joe in "caza de pulpo." I had not idea what in the world he was talking about. What the heck, he had asked me go with him several other times and I always learned something about Mexico and had a ball doing it.

"Sure why not!" I kinda thought that he was talking about fishing because he kept saying del mar (the sea).

The next morning he and Joe, a short Mexican version of "Hoss Cartwright," came by to pick me up. That is they came by, got into my pickup, and told me to drive over to the Mercado in La Mision Village. No, we were not going fishing because no one brought fishing poles. Joe crawled in the back; he was just too big to fit in the cab. I still didn't know what we were going to do. I became even more confused when Cayo told me to buy some "blanquear" and some cerveza. The beer I understood but what was "blanquear." Turns out its bleach. So I got a gallon of that and a case of Modelo. When I got back in the truck I asked Cayo what in the Hell the bleach was for—he just laughed and Joe popped a cerveza for each of us.

We headed to the cove just south of Angel's camp. Parking on the cliff overlooking the rock-strewn beach we each had a couple more beers as we waited for the tide to go out. We wandered down to the rocky cove.

Cayo carried the beer, I had the bleach, and Joe had an old burlap bag draped over his shoulder. We talked for a while and I suddenly understood. We were hunting for octopus!

But what about the bleach? Cayo took the bleach walked over to a half submerged rock and poured some of the bleach next to it. Our first pulpo came roaring out. Joe grabbed it by an arm (tentacle), slammed it against a rock, and stuffed it into the bag. This went on until the bag was so full of octopus that only Joe (Hoss) could carry it back up to the truck. You guessed it, octopus hate bleach. Not a very fair way of hunting, but if you know any Mexican guys then you know that harvesting comida (dinner) is not a game!

With our caza over we relaxed on the rocks and talked for a while before heading back to camp. Cayo showed me how to clean the pulpo and I got to take a few of the tentacles home as my part of the hunt. I had a wonderful time! I learned three new words that I almost never have occasion to use and I made Octopus Stew for the potluck at the Cantina that night.

This trip reminded me of the time Lu and I stopped at Raul's Restaurant many years ago. It was during a time of tension at the border, the Mexicans were threatening to stop all Americans and make them get inoculations (I don't remember what for) before entering Mexico. You can guess that Lu and I were about the only gringo's wandering around Baja on that weekend. Anyway, when we stopped at Rauls Café and Yolanda asked us if we wanted to try some fried Octopus. I said sure and Lu just turned away. When I asked Yolanda how she got the octopus she said that she just dove down and stuck her hand in a hole in the underwater cliff and an octopus would grab onto her arm. I asked her what she would do if a really BIG octopus were to grab her arm. She looked at me as if I were an idiot and said; "you don't put your arm in no BIG hole."

Enough said!
---
woody with a view

-

6-29-2007 at 03:39 PM



great story Bernie

our friends out at "Spot X" showed Regan and I on a warm winter's day the effectiveness of "blanquiador" on the local octopus population. they worked up 4 octopi in very short order. we would have never known why there were so many bottles of bleach laying around. ask and you shall receive... kinda makes me grin when i think about HOW this method was first realized...

---
woody
Baja Bernie

-

6-29-2007 at 03:47 PM



Grinning IS good!
---
woody with a view

-

6-29-2007 at 05:28 PM



yes....can't grin enuff!

here is a foto from that warm winter's day. note the Santa Ana's that were BLOWING!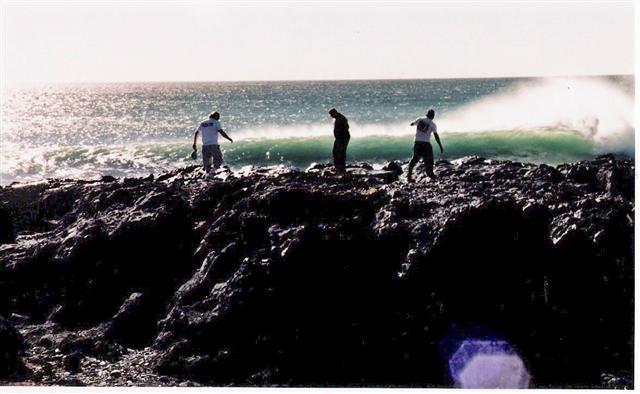 ---
DianaT

-

6-29-2007 at 05:37 PM



That certainly is a different way to hunt pulpo than we experienced!

Thanks Bernie, a very interesting story---oh, working on my new Avatar.




Diane
---
Diane
Baja Bernie

-

6-29-2007 at 06:35 PM



Look forward to it and all that it means!
---
FARASHA

-

6-30-2007 at 10:41 AM



Great Story Bernie - reminds me ( like ususal) on some of my experiences with Octopus LOL Thanks >f<
---