Pages: 1 2

bajabound2005

-

1-3-2008 at 10:28 PM



Bajacat -- Lupita will be thrilled to see you and your family again! She is SO HAPPY we are doing this!!!
---
fdt

-

1-4-2008 at 08:58 AM



It's only 2 days away.

---
how many
sylens

-

1-4-2008 at 09:47 AM



nomads are coming down from north of the border?





how many are going from ensenada?




inquiring minds want to know

---
fdt

-

1-4-2008 at 10:32 AM



Yes, how many tamales need to be prepared for nomads?
---
BajaNomad

-

1-4-2008 at 01:11 PM



Fernando...

When is the last opportunity for Nomads to drop off toys at the Chula Vista location... or has that point in time now passed?

--
Doug
---
fdt

-

1-4-2008 at 03:38 PM



Last time for drop off in Chula Vista 1655 Broadway is 7PM.
Tomorrow till 1PM.
---
fdt

-

1-4-2008 at 04:35 PM



bump
---
bajabound2005

-

1-4-2008 at 04:42 PM



This event is on come hell or high water! Bring your umbrellas and rain slickers


and don't forget that India Bonita is BYOB if you so choose.
---
Thanks Nomads
BAJACAT

-

1-4-2008 at 09:19 PM



You know who you are, I wont mention any names, but thank you for making this possible,you guys are going to make some kids very happy this uncoming Sunday.

Pix #1
---
BAJACAT

-

1-4-2008 at 09:21 PM



pix#2
---
BAJACAT

-

1-4-2008 at 09:22 PM



Pix #3
---
BAJACAT

-

1-4-2008 at 09:29 PM



I also pick 10 bikes today thanks Nomads,,,
---
ELINVESTIG8R

-

1-4-2008 at 09:40 PM



Thank you for picking up the presents BajaCat and may they bring smiles to the children who receive them.
---
BAJACAT

-

1-4-2008 at 09:51 PM



Yes David Im going to help ferna smugle the toys and bikes into mexico,I fell a bike ride on sunday um maybe Ensenada,do you get the picture(thats what I will tell custom official in the SY border crossing. he he he
---
fdt

-

1-4-2008 at 09:56 PM



Thanks BAJACAT, you really came thru today since I could not go over today to pick up, Gracias mi Amigo and thanks to all of you for all your help and support and making this all posible.
---
BAJACAT

-

1-4-2008 at 10:00 PM



My pleassure Vato, any day for a good cause,
---
fdt

-

1-4-2008 at 11:52 PM




David;
Are you meeting us at 8:30AM Sunday for the caravan?
---
fdt

-

1-5-2008 at 09:44 AM



Mañana is Dia de Reyes and the rain is light in Ensenada and satelite immage shows that Ensenada will be ok with scatterd showers.
Drop off of toys is till 1pm today at the 1655 Broadway, Chula Vista location only.
---
David K

-

1-5-2008 at 09:50 AM





Sorry, but no... I am sick with a cold so I will not bring my germs to Baja... You guys have a great day... the niños are sure lucky to have you thinking of them! I nominate you Saint Ferna

---
DENNIS

-

1-5-2008 at 10:19 AM




Good idea, and he won't even have to go through the primarys in New Hampshire.
---
sylens

-

1-5-2008 at 10:36 AM



but there already is a san fernando



oh yeah. this will be santo ferna.



missed that

---
fdt

-

1-5-2008 at 10:56 AM



But you are forgetting the most important part wich is it is the Baja Nomad Dia de Reyes toy drive, so it would be Los Santos Nomadas
---
David K

-

1-5-2008 at 10:59 AM



You know, in the early days of Baja Internet (Amigos de Baja, bajanet.com) I thought Ferna was female, not learning it was short for Fernando until later! We met in 2000.

Santo Ferna or Santa Ferna is good, right? I mean Santa Claus is a man, right?
---
fdt

-

1-5-2008 at 05:24 PM



Here is the last update at 4:20PM Pacific
Rain is tapering off.

The last of the mudslide folks that will be there tomorrow:
Humberto & Amalia (parents)
Angel (18)
Gloria (9
Enrique (4)
America (6)
Amalia (8)
Rosario (12)

Maggie (parent)
Jose Luis (10) needs bike
Jose Angel (8) needs bike

Rosalie (parent)
Pedro (1)

Elodia (parent)
Marta (12)
Faviola (10)

Liliana (parent)
Marisa (14)
Miguel (13)
Jonathon (12)

Socorro (parent)
Rose Angel (12)
===========================================

And here is the prevoius list
Carlos, age 4
Nevy, age 17 (girl)
Gerardo, age 15
Esteban, age 5
Elisa, age 6 months
Ramon, age 12
Abram, age 7
Mavis, age 8 months (girl)
These children are mudslide family victims
And here is the original list again

Boys

Tereso, 10
Juan, 10 or 11
Rotilio, 10
Samuel, 10
Rafelio, 10
Ricardo, 9
Reynaldo, 9
Jose, 8
Benito, 8
Bernardino, 8
Jaime, 7
Luis Miguel, 7
Cristobal, 7
Jose Alfrede, 7
Nelson, 6
Juan Manuel, 5

Girls

Julia, 10
Elicia, 10
Carmen, 10
Emelda, 10
Graciella, 10
Jaqueline, 8
Diana, 6
Celestina, 6
Fetinica, 7
---
MrsFDT

-

1-5-2008 at 08:09 PM































---
ELINVESTIG8R

-

1-5-2008 at 08:10 PM







---
bajabound2005

-

1-5-2008 at 08:49 PM



OK. I must be really stupid. What is the purpose of all the laughing faces? This is SERIOUS stuff; and we had a lot of rain today. We've no idea what we'll encounter when we head into "town" tomorrow...
---
fdt

-

1-5-2008 at 11:24 PM































---
MrsFDT

-

1-6-2008 at 12:04 AM



Laughing is the best thing to take your mind off the stress of the "what if's" Trust me we have all had them this last week.

We are very aware of the weather and I have no doubt that everything will be ok, including whats left for these families.

I wish we could do more. Somehow, a gift and a meal just doesnt seem enough, but it will help with one day. I hope it will be a memorable one for them.

We can all take back with us, a hope. One that reminds us that mankind isnt all bad and some people really do care about a fellow human being. Although we cant do a whole lot, we did think to do something for someone else.

Thank you guys for all the support, gift and donations. YOU, the NOMADS did this. Fernando just had an idea.


---
BAJACAT

-

1-6-2008 at 12:15 AM



Aren't you supposed to be asleep? is a early wakeup call tomorrow,Im ready.Right on your coment Simone We help b ut it was fernando that made the wheels go round and round.So tanke you and your family for making this happend and also all the nomads,see you guys tomorrow..
---
fdt

-

1-6-2008 at 07:15 AM



Feliz Dia de Reyes a todos


---
ELINVESTIG8R

-

1-6-2008 at 07:49 AM




Dia De Reyes. Remembering the day when the Three Wise Men following the star to Bethlehem, arrived bearing their treasured gifts of gold, frankincense and myrrh for the Baby Jesus.



Ay, ay, ay, ay, Feliz Dia De Reyes


Feliz Dia de Reyes to all the wonderful people who gave from their heart and also to those who couldn't but were there in spirit. And to all the behind the scenes people who travel to and fro picking up the gifts, delivering them, cataloging them, wrapping them. To those who stay up late nights fretting if it will come off or not. To those who do anything to bring this day forward you deserve a round of applause for your hard and dedicated work.

May this day, "Dia De Reyes," bring lots of smiles and sunshine to the children who through your generosity and caring make this day possible!

[Edited on 1-6-2008 by ELINVESTI8]
---
fdt

-

1-6-2008 at 07:55 AM



Thank you for those in Ensenada preparing all of this, gathering children, preparing the gathering place and meal and organizing everything on that end.



[Edited on 1-8-2008 by fdt]
---
Paulina

-

1-7-2008 at 12:54 AM



Unfortunately we were not able to stay in town for the gathering. We asked Dennis to pass on our hellos to those able to attend. We left Punta Banda this morning at 6am under rain and cloudy skies, and are finally home and online again at almost midnight. Flash flood warnings here.
I hope that the event went well and will await a report.

P<*)))><
---
Informal Dia de Reyes Report/w-pictures
BAJACAT

-

1-7-2008 at 12:05 PM



All started on january 6 ,about 8:30am.A number of Nomads meet up in the lloyds Bldg,across the Border.The mission was simple,to deliver toys that we smuggle across the SYborder, to some happy kids in Ensenada.There I meet Mark(grover),dough(him,self/w-familiy),Fernando(FDT) y familia.
On to Ensenada via the Libre rd,no bad weather was going to stop us.we encounter some rocks in the road due to heavey rains,with no problem we reach the toll road in Popotla.In Ensenada Fdt a short but very interesting sight trip .Fraccionamiento CHAPULTEPEC was firts for a different view of Ensenada.Quick stop to take pictures and to learn that Fernando learn how to swim in one of those houses in the hill.Next a quick drive to Town untill we reach La Riviera del Pacifico,A Historical Bldg atribbuted to Al cappone,in the late 1930's.The Place was close due to some maintenance, But Fernando with is scharm convice the Administrator to open it for us for a quick tour.The group left with a quick stop for some Ensenada tacos and then off to are destination LA INDIA BONITA, there the kids were ready for us.It was a full house every body behave ,specially the kids.They were feed and latter the gifts and then the Rosca,Note some of this kids have never had Rosca de Reyes or being to a restaurant,so they enjoy every minute of it.All the gifts went fast and on to the Bikes.It was handle with a list of neady kids,they got their bikes/with elboe and knee and head protection(at least most of the kids got this,not enough for all of them lol)thanks for donnations from Nomads.I left with a smile and with a promisse to ROTILIO(this kid didn'd get a bike so I promise one) .Thanks to All nomads that help,with the gifts with the$$$$ with their time,No names need to be mention here you guys no who you are.Thanks Ferna I will be back next year if possible to do this again I had a BLAST IN BAJA........



Thanks to Lupita in La India Bonita
Thanks to all the Nomads in Punta Banda
Thanks to All Nomads that colaborated,with this event....

[Edited on 1-8-2008 by BAJACAT]
---
BAJACAT

-

1-7-2008 at 12:07 PM



The bikes are ready lets gooo!!
---
BAJACAT

-

1-7-2008 at 12:08 PM



Bad weather so whattttttttt hehehe...
---
BAJACAT

-

1-7-2008 at 12:10 PM



Colonia Chapultepec,stunning view..
---
BAJACAT

-

1-7-2008 at 12:12 PM



La Riviera del Pacifico
---
BAJACAT

-

1-7-2008 at 12:14 PM



Nomads in History mode
---
BAJACAT

-

1-7-2008 at 12:16 PM



LRDPacifico#2
---
BAJACAT

-

1-7-2008 at 12:18 PM



Full house in la India Bonita
---
BAJACAT

-

1-7-2008 at 12:21 PM



Nomads making a Plan,Dough,HoseA,Deniss and a mistery nomad in the back
---
BAJACAT

-

1-7-2008 at 12:24 PM



Bike gave away the Main event
---
BAJACAT

-

1-7-2008 at 12:25 PM



He's ready for anything,notice hands and head gear.
---
BAJACAT

-

1-7-2008 at 12:30 PM



Like I say on all the ends on my trip reports Back to Reality
45 minute crossing in San ysidro/With a reminder about my Passport last date june 2008..
---
DENNIS

-

1-7-2008 at 12:45 PM



That can of Tecate is still in Dougs pocket, just a bit lower. I wonder what happened with that?
---
ELINVESTIG8R

-

1-7-2008 at 01:33 PM



Thanks for the report and the pictures BajaCat. You, Fernando and the rest of the guys and gals did one hell of a job. Congratulations to everyone who participated and did all the hard work.


[Edited on 1-7-2008 by ELINVESTI8]
---
bajabound2005

-

1-7-2008 at 02:32 PM



We just came back from town where we saw 5 of the kids out riding their new bikes! They even had their helmets on! School was canceled today due to the severe winds and rains all through the night so the kids really had the chance to have some fun. Wish we had the camera with us so you could see their smiling faces!
---
Dia de reyes report
fdt

-

1-7-2008 at 04:06 PM



Thank you all.
Before anything else, I'd like to thank everyone that made this years Baja Nomad Dia de Reyes Toy Drive a success, again it is just an idea that took form and hopefuly it will be always an annual event.
We had our first event in Lomas Taurinas (Tijuana) and this second one in Punta Banda (south Ensenada) and it was decided that way with the feedback received from you. This toy drive was for the children whose families lost everything due to the mudslides that were followed by the October fires and for some very very needy children some of wich had never been inside a restaurant.
The Punta Banda nomads were / are great, they organized the kids, the restaurant and made it all posible on that end. The Nomads up north provided us with toys and some even provided us with economic support $ that even thou was not required, insisted and yes, it did come in handy. Without the help of all of you this would not be possible, you are all one heck of a bunch of beautiful people. Thank you all, thank you all.
I don't want to exclude any names so I am not going to mention them. I have to wait for Simone to post her message. but I can say that from the bottom of my heart I love you all.
I'm going to post a few pictures that Simone took at the event, I'm sure Doug and bajamigo who were also taking pictures will post soon (it took Doug 2 months to post last year's pictures

) And once again I can say proudly that I forgot to take pictures because I was to busy giving out toys.
This was also a great opprtunity to put faces on the names we all know from here and I have to say, they are all beautiful ones. One Nomad had a special gift for me, an official boy scout knife, beautiful, and then I got all emotional, you see, just to see those wonderful children, to see in theire faces and feel with them the expectation and share in the joy of the new toys is something that tops even the greatest earthly experience. I sometimes have said that touching a whale is something everyone has to experience in life, well join us next time on the Baja Nomad Dia de Reyes Toy Drive and you'll know what I mean
fernadetijuana
---
bajamigo

-

1-7-2008 at 04:13 PM



Beautiful!
---
fdt

-

1-7-2008 at 04:20 PM



We all met at Lloyds parking lot , loaded the bikes on to the trucks, stoped at Hotel Pueblo Amigo to pick up the freshly baked Rosca de reyes and of course took the free road south, no armed comandos to be seen, thire scared of rain.
Those on this trip learned how to avoid the Rosarito toll booth by entering the infamous toll road in Puerto Nuevo.
As the proposed tour stated, our first stop after entering Ensenada on 10th street was Chapultepec hills for the view.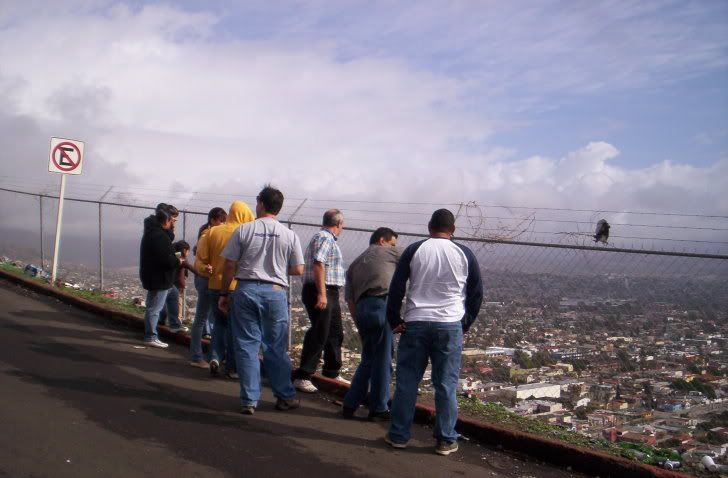 Then it was on to the Riviera del Pacifico for a historical tour and then the must have tacos before hitting the road south to Punta Banda. Once there the kids were already beeing served, the introductions were made and it was on to eat and afterwards hand out toys

Here is grover, Danielle, Fernando and in the background Doug, Ryland and Sofia




Danielle sorting out gifts




Kids getting in line (very orderly) to start receiving gifts




Bike recepients getting ready for theire surprize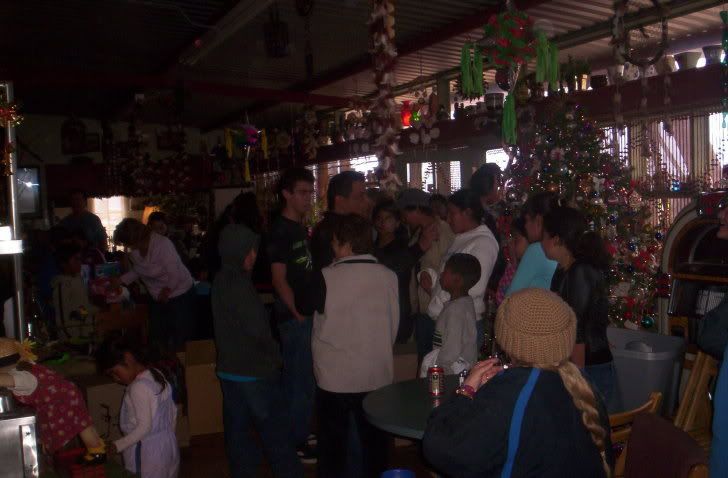 Outside for the bike giveaway, grover making some final adjustments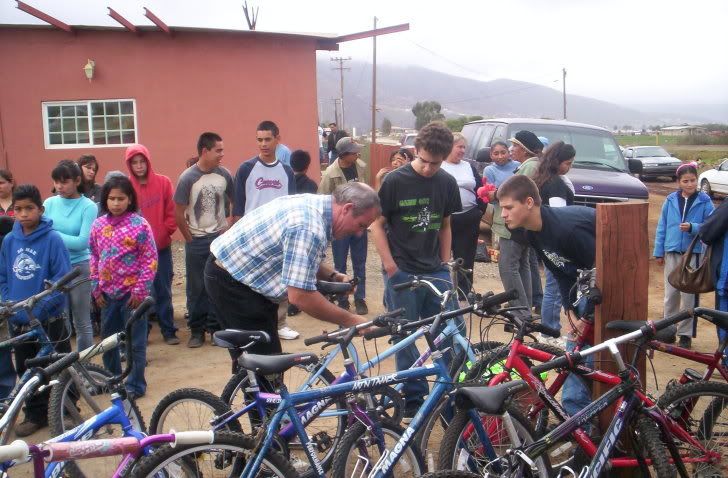 ---
fdt

-

1-7-2008 at 04:31 PM



Everybody lgathering arround to get theire bikes, WOW
( Dennis, notice the back pants pocket, is it a wallet or a can? )




One happy little person




Another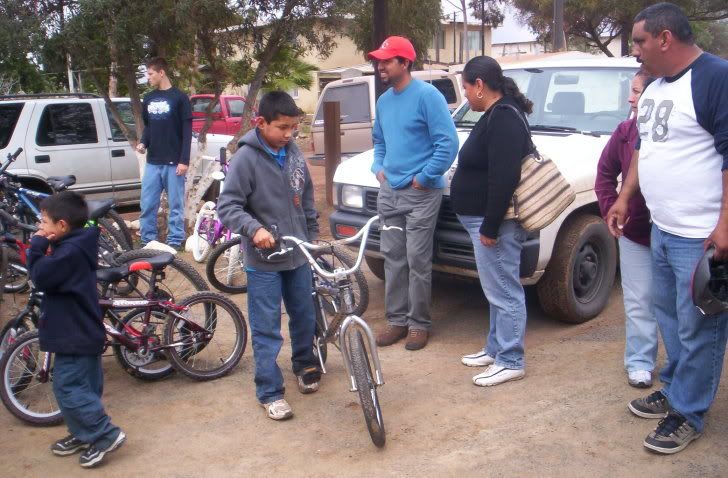 Hmmm? Should I have picked a different color?




Getting a good fit




Check out this small future Motocross Champ getting ready, look at the expresion on his face.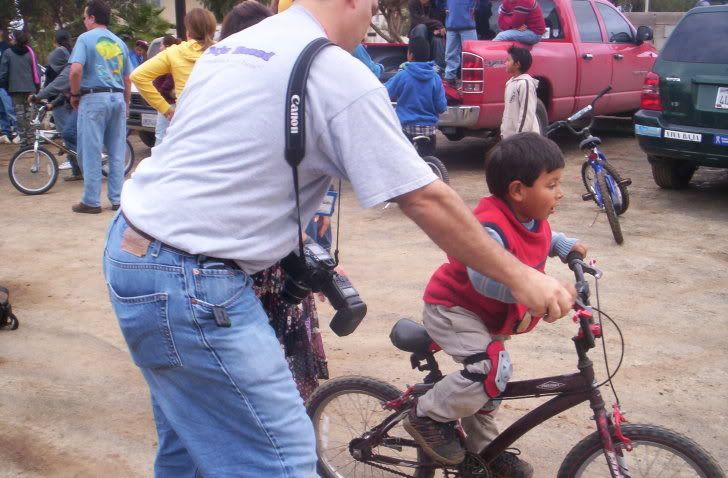 Look at him hit that curve


---
fdt

-

1-7-2008 at 04:32 PM



BAJACAT, bajamigo, Doug, add your pictures.
---
DENNIS

-

1-7-2008 at 04:49 PM



Thanks Ferna......

Seems like only yesterday.

That may be Dougs wallet. He usually carries his can of Tecate in the left pocket.

I went back for a look and now I'm not sure. Kinda looks like a can.

[Edited on 1-7-2008 by DENNIS]
---
tripledigitken

-

1-7-2008 at 04:56 PM



Looks like a can of pepper spray in the right pocket.




---
bajamigo

-

1-7-2008 at 05:02 PM





I'm about to learn how to post multiple pics, but in the meantime, here's a link:

http://good-times.webshots.com/album/562044739zKUDfI
---
ELINVESTIG8R

-

1-7-2008 at 05:26 PM



To all the wonderful people who gave from their heart and also to those who couldn't but were there in spirit. And to all the behind the scenes people who traveled to and fro picking up the gifts, delivering them, cataloging them, wrapping them. To those who stayed up late at night fretting if it would come off or not. For those of you who organized everything on the Ensenada side by preparing the food, securing the gathering place, and getting the children to the designated place. To those of you who did anything to bring this day forward you deserve a round of applause for your hard and dedicated work. I can only hope that the "Dia De Reyes" brought lots of smiles and sunshine to the children who through your generosity and caring made it all possible.
---
Thank you, Grover!
bajamigo

-

1-7-2008 at 06:10 PM



The kids are getting excited.



Saying grace. (Many never saw the inside of a restaurant in their lives)



Dennis, Bob and Big Mike enjoying a champurrado



BajaCat arrives with some of the loot!



Let the games begin..



BajaCat makes a kid happy as Grover looks on



Ferna tries to make a getaway!



Thanks also to Cardon for the great video on multiple posting.
---
BajaNomad

-

1-7-2008 at 06:10 PM



A HUGE thank you to Fernando, Simone and family for all your efforts to make this happen now for two years straight.

As well, enough can't be said about the fine location, abundant Dia De Reyes food, and gifts provided for the kids yesterday by those in the Punta Banda area. That was great! Thank yous (and kudos) certainly to BajaBound2005, Bajamigo, and Dennis for championing things locally. You certainly went above and beyond with all your efforts, leadership and support.

Thank you to the Pueblo Amigo in Tijuana for providing 2 large Roscas de Reyes for yesterday's event. Very much appreciated.

And more than anything else, THANK YOU to EVERY BAJA NOMAD that participated - one way or another, large or small, in-person or simply through your good thoughts for the day. Your support is what made this a successful event again this year. What a wonderful way for us all to come together.

And now, some more photos....

There was a substantial cloud/fog bank along the toll-road at El Mirador. This is on the way down the hill from El Mirador, past Salsipuedes.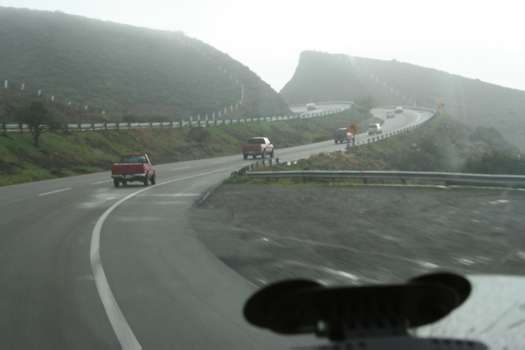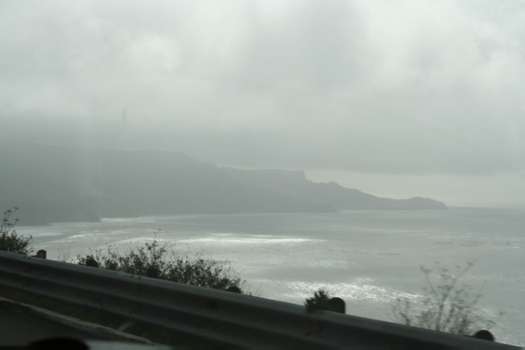 The stop for the view on the way into Ensenada: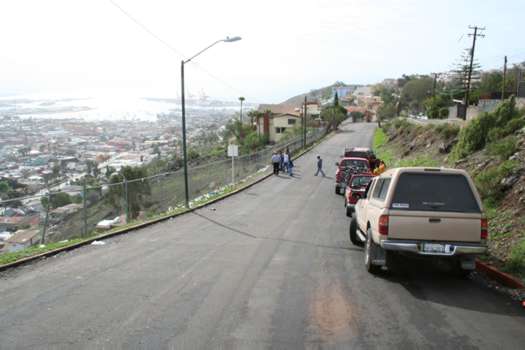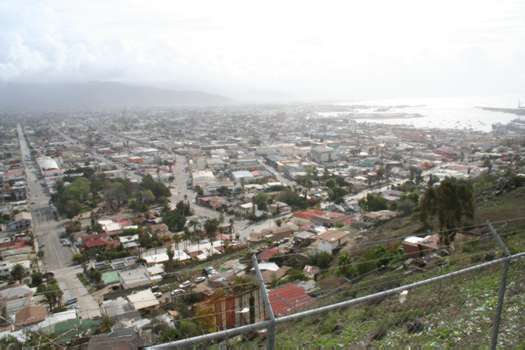 The bikes in the back of Bajacat's truck...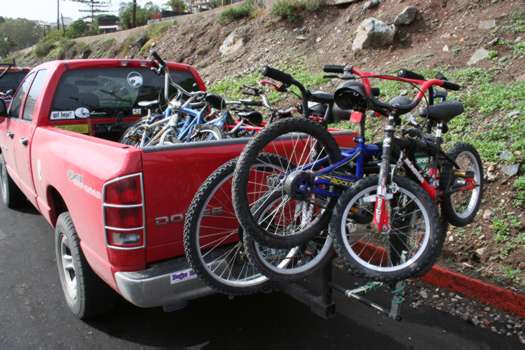 Inside the room of the Riviera where the casino action took place...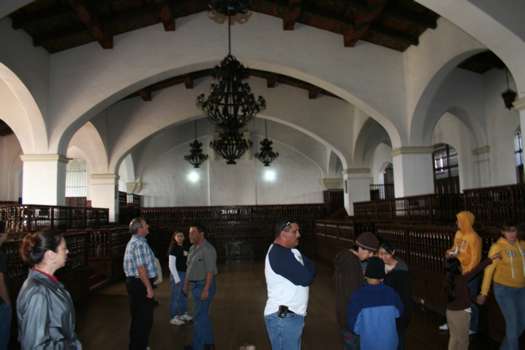 Detail of a painting on the wall at the Riviera...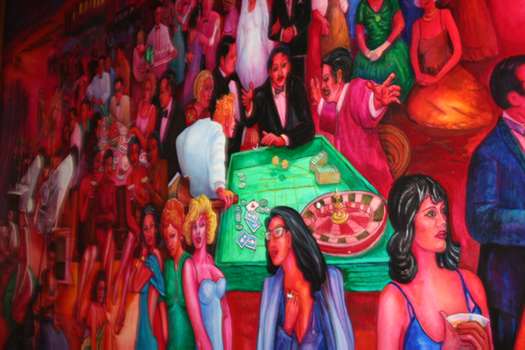 Old photo on the wall showing the Riviera at the time was beachfront property....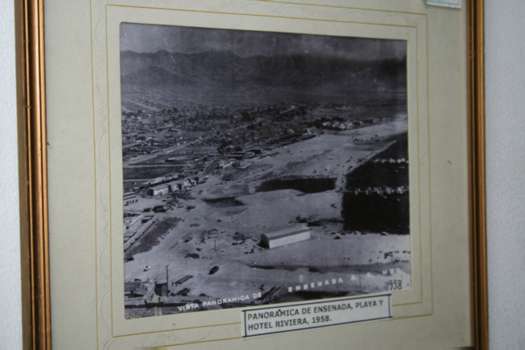 And a picture yesterday showing a mutli-story building being built on what was formerly the beach (or in the bay?). Anyone know what they're building? Just curious.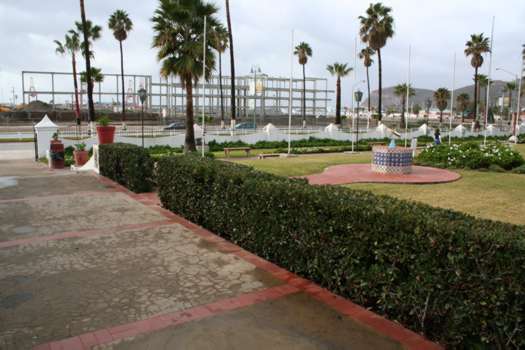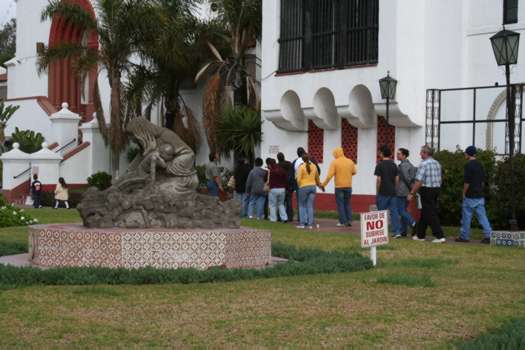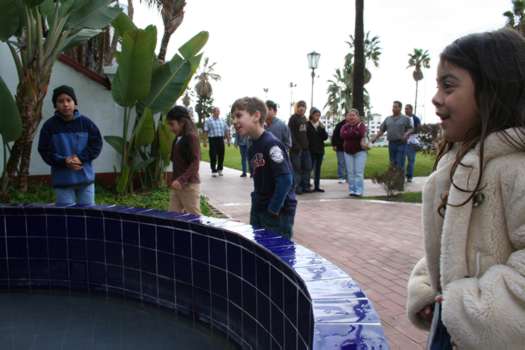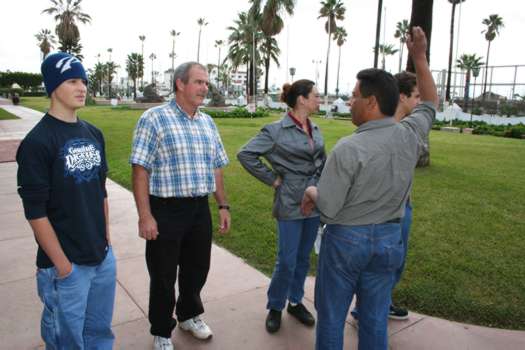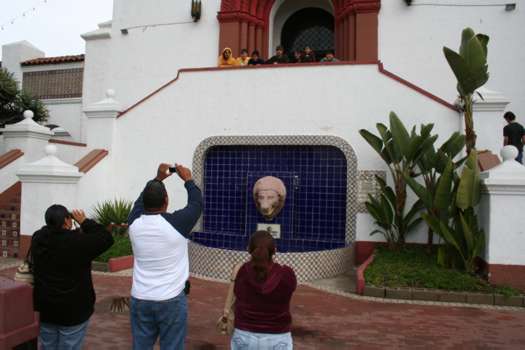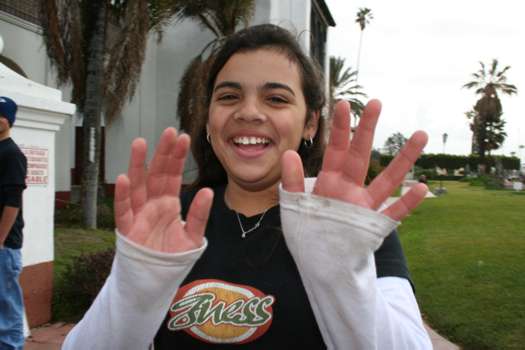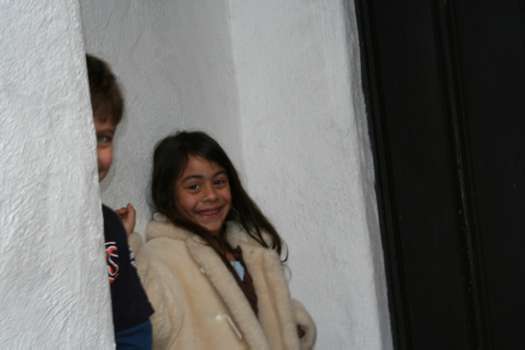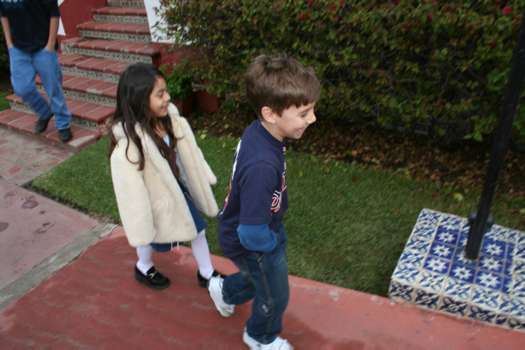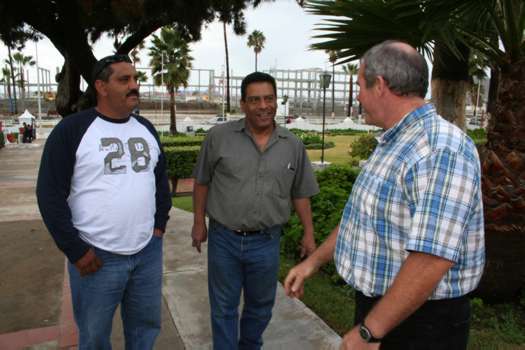 A plaque at the Riviera states the Margarita c-cktail was invented at the bar here in 1948 (there are many claims as to where this drink originated however):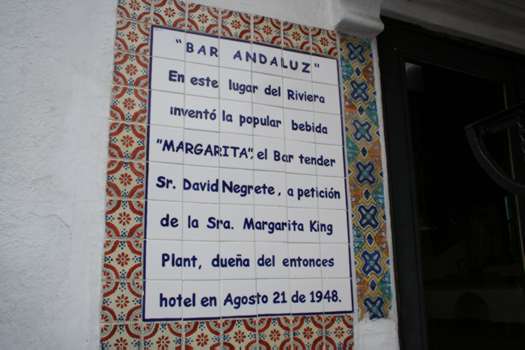 The outdoor patio and fireplace...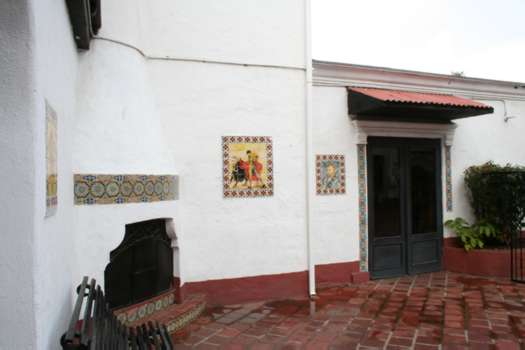 Bajacat checking the tire pressures on the bicycles when we arrive...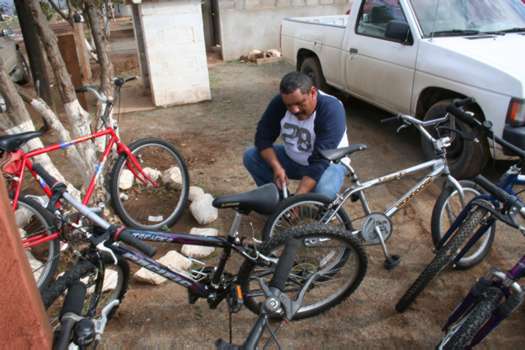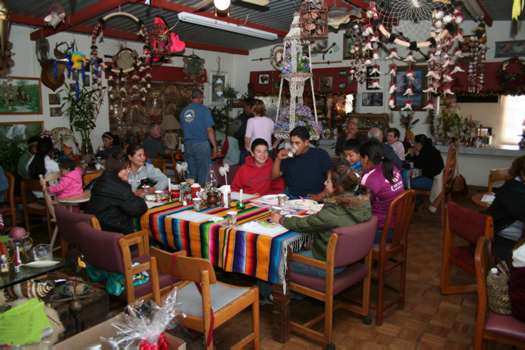 BajaBound2005 (pink shirt), Bajamigo (standing, blue shirt) and Dennis (seated, right)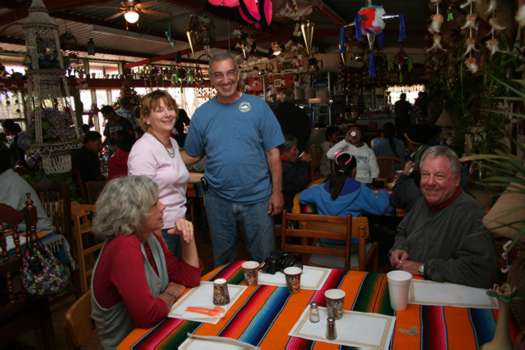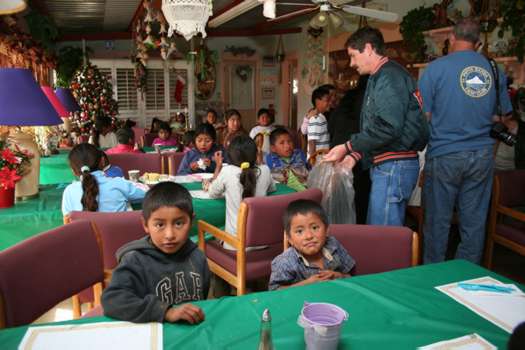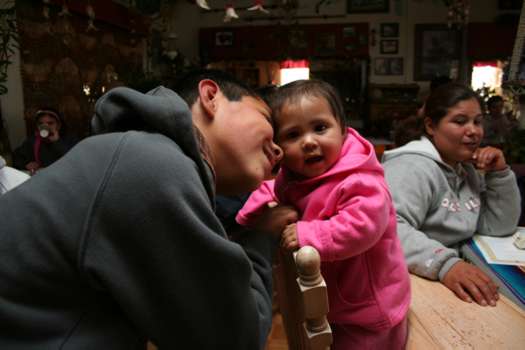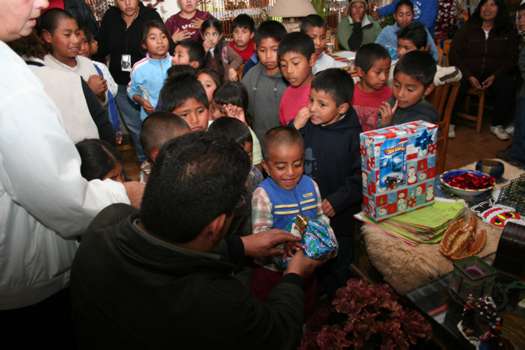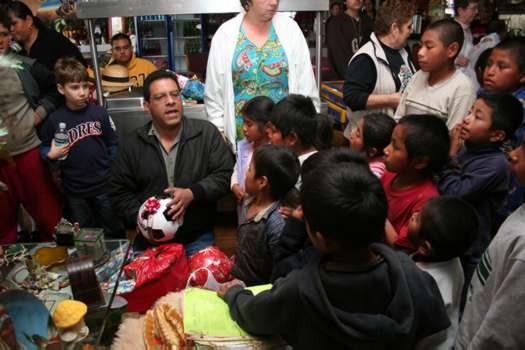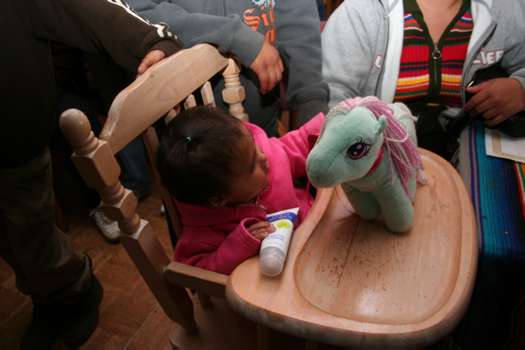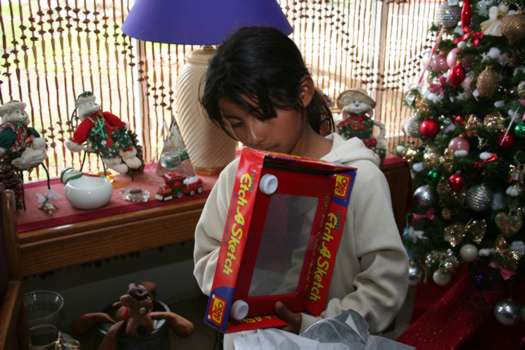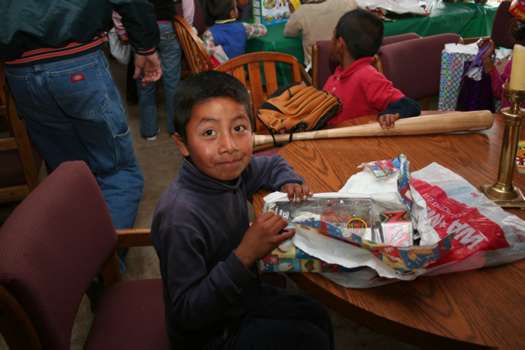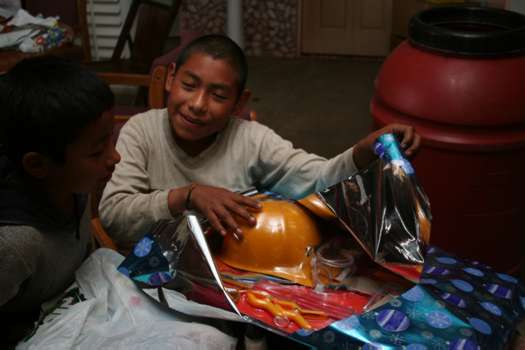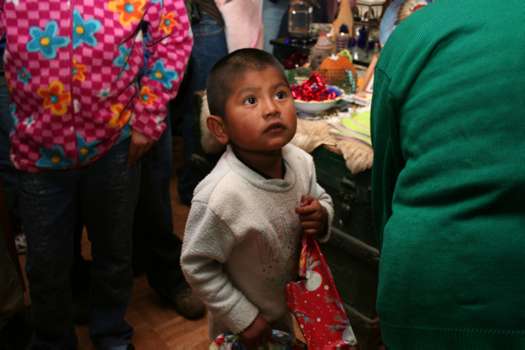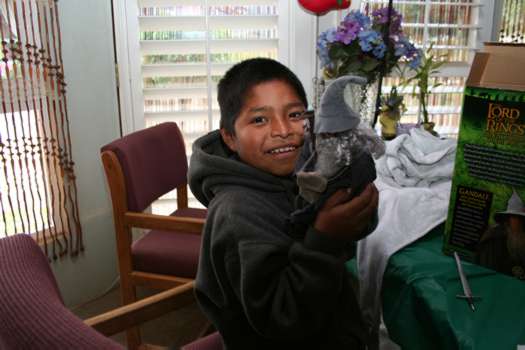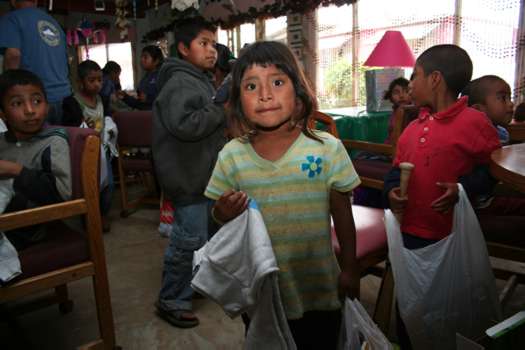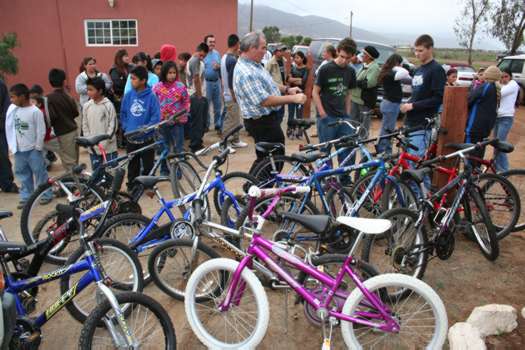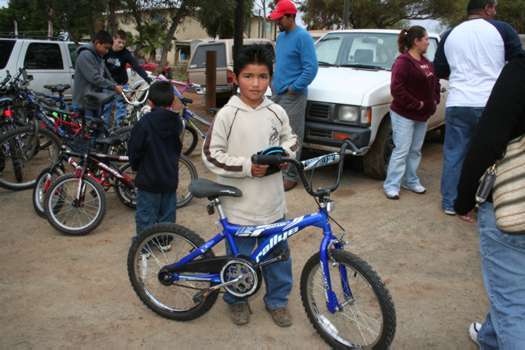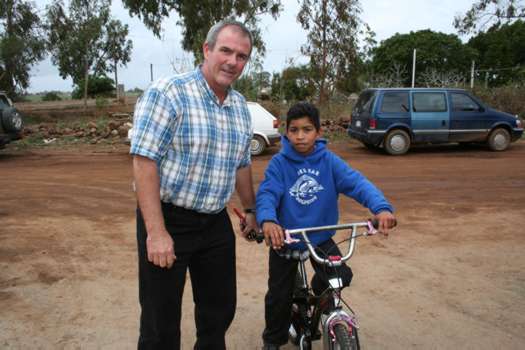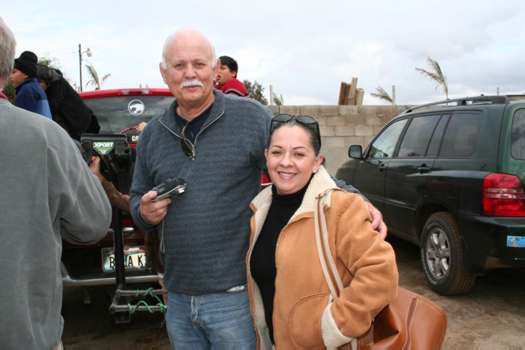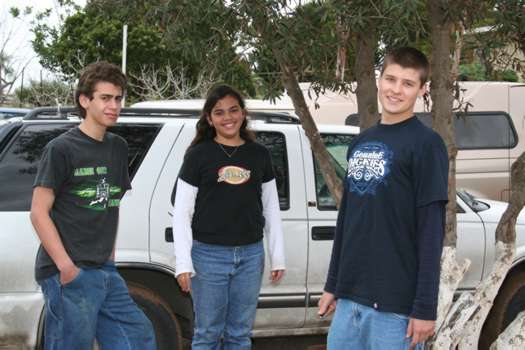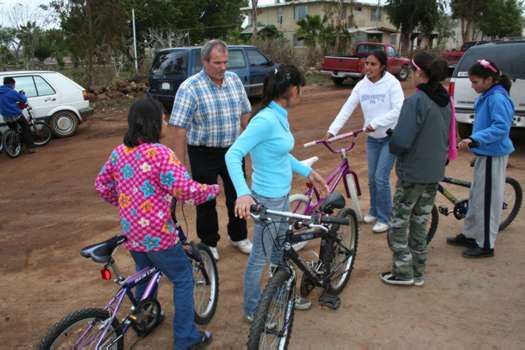 Sylens: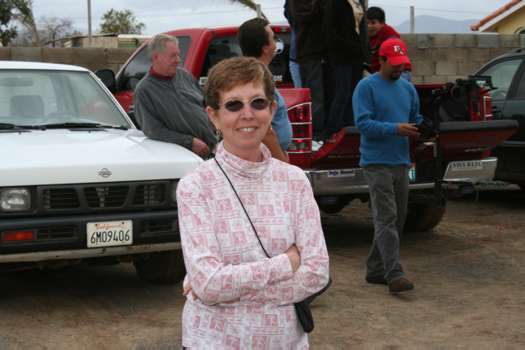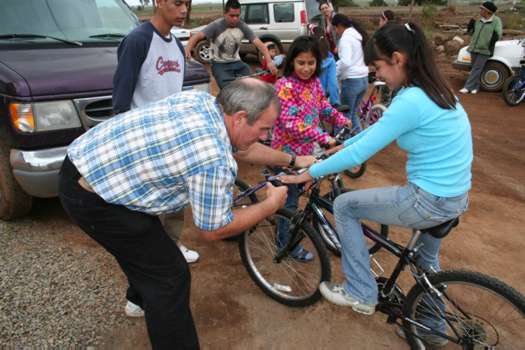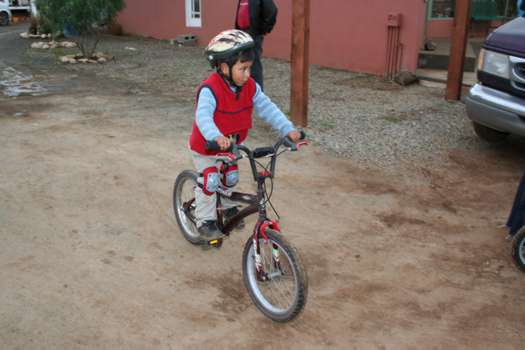 MrsFDT: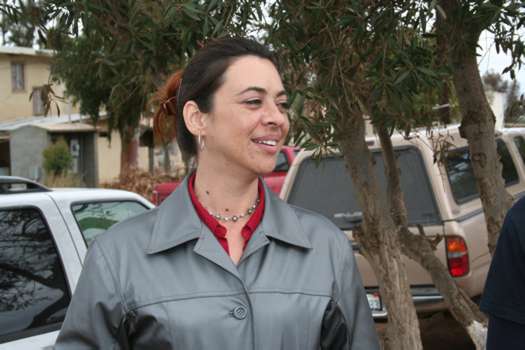 FDT / MrsFDT's son Fernando - taller now than both mom and dad: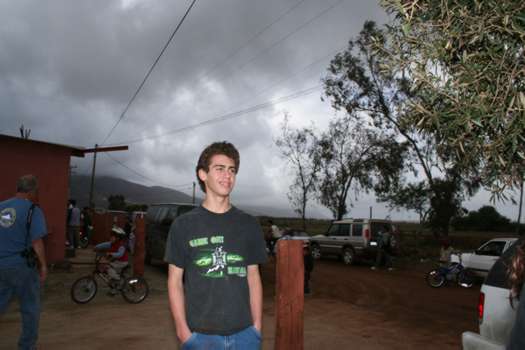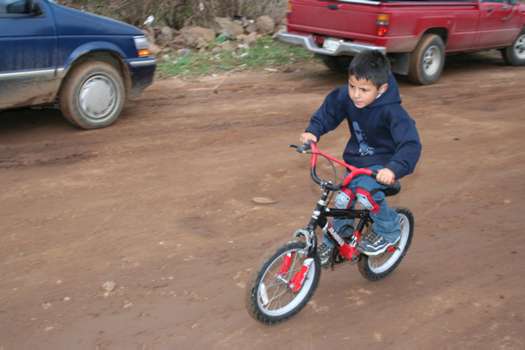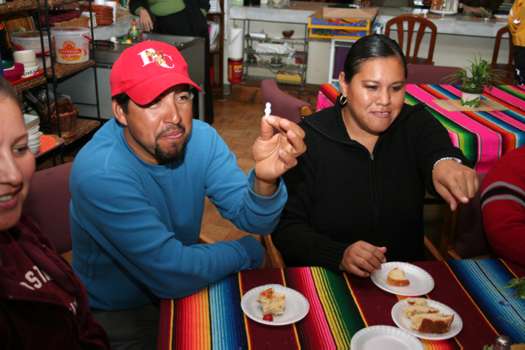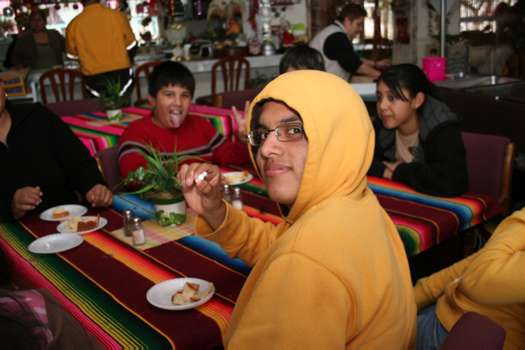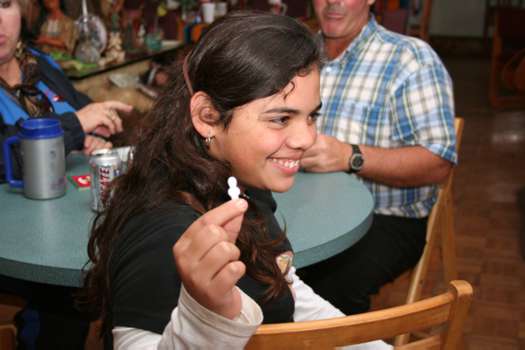 View of the mountains in the vicinity with the clouds along the peaks...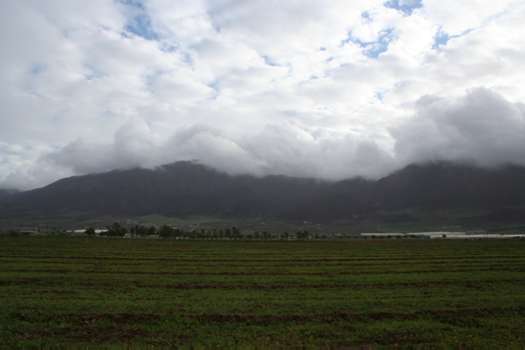 [Edited on 1-8-2008 by BajaNomad]
---
bajamigo

-

1-7-2008 at 06:16 PM



Wonderful pictures, Doug. So great to meet you and the guys.
---
BajaNomad

-

1-7-2008 at 06:19 PM






Just wanted to recognize Grover as well, who spent significant time in 2007 acquiring bicycles from others - and then fixing them up to be in very good, usuable condition... and then made multiple trips to Chula Vista to drop these off in the past few weeks.

Your contributions and efforts were truly above and beyond. It was very good to have you join us yesterday. Thanks so much.

--
Doug
---
David K

-

1-7-2008 at 07:04 PM



Great stuff... award winning... shows the high character of Baja Nomad members! Sorry we missed being there, but thanks for sharing with the great photos!
---
BAJACAT

-

1-7-2008 at 07:44 PM



Wow you guys did a better job with the pictures,thats way on my report I stated that it was a informal report,I will leave the better work for the pros. Some day i will learn how to do that.
---
BAJACAT

-

1-7-2008 at 08:16 PM



I belive you , don't worry.Those kids are going to enjoy this bikes for a long time.I will see that for next year event I will start looking for bikes in November.I will like to make a challenge to collect 30 bikes for next year,Im down for 5 and thats a promise..



BAJACAT...
---
fdt

-

1-7-2008 at 10:56 PM



Ok, It's time for the truth to be known, last year we had an annonimous bicycle donor and that donor has now come out in the open so I have to tank Nomad grover as he was also the bike donor from last year

---
BAJACAT

-

1-7-2008 at 11:33 PM



So Grover has come out the closet? thats what you mean FDT






---
BajaNomad

-

1-8-2008 at 03:11 AM



For those interested, here's a 511MB zip file of all 205 pictures I took on the day (in hi-res). This was just a straight transfer into a zip including photos that didn't turn out well...

http://forums.bajanomad.com/images/events/070106ddreyes/2008...

--
Doug
---
Radio Show
fdt

-

1-8-2008 at 07:11 PM



I'll be talking all about the toy drive in tonights show.
Conected and ready to go.

---
DENNIS

-

1-8-2008 at 08:28 PM



Good one Grover.......

5-7-5 perfection. As content goes, I've had a lot of High Tech Haiku cars in my day.
---
fdt

-

1-8-2008 at 10:55 PM



Thanks for listening to tonights broadcast and my report of Dia de Reyes.
---
You are Beautiful!
MrsFDT

-

1-27-2008 at 10:20 AM



Im sorry for having been so scarce on here since Dia de Reyes. Many of you know I have begun the new year with a new job, which has me leaving in the early morning and returning late evening. But I would like to add my thoughts.

It was a wonderful day. We, the Nomads, accomplished what we set out to do, but I still cant help but feel that I could have done more.

I was very sadened to see children so close to the richest country in the world with no shoes or coats. Those are so basic of necessities that we take them for granted. It was certainly a wake up call for me. I will never complain about my children wearing handme downs again. They are warm, safe and happy and now complaining about anything seems so petty.

Some of the wonderful pictures were a raw reminder for me. Im just now seeing them.

Im on a new mission:

I am going to take the picture of the children with no shoes or coats to my new office and hit everyone up for their goodwill stuff.

If any of you want to send your giveaway stuff too I would most humbly except it. I will put a list of most needed items at the end of this post.

Even now it's raining and I think about these kids and theyre families in soggy wet shanties doing their best to keep the fire, while avoiding filling the place with smoke.

The honest truth..... I remember rainy days in a tent watching my father do the exact same thing for me. I was just a kid and he did the best he could. And no, we werent camping, we were living. I had shoes and a coat.....So we werent that bad off. But no child should have to think about things like that.

While we were there, Doug and I chatted casually with the woman who runs the orphanage with her husband. She filled in a lot of the back ground of who and where these kids come from. They are the children of mostly Oxacan indians that are here working the fields. They setup make shift homes right in the fields and do with what they have. Which obviously isnt much.

The orphnage is pretty much a day care with only a few children that actually live with the couple. None of them are actual orphans, from what I understood.

I feel badly that I havent contacted her, since I promised when we were there. I will do that right after I post this.

She does read this board from time to time and was very happy and surprised to find out that it was the Nomads that had come that day to give gifts to her kids.

See... you never know who you are giving to. It I suppose it doesnt matter who, so long as you recognize the need and if you are in the capacity to fill it, then you do. Life can be so simple if you let it.

Blankets or sleeping bags
Cloths
Childrens shoes all sizes
Coats
Gloves
Socks

These are the most basic and immediate needs for the kids and theyre parents. Remember that they are small people so even older childrens (teenage) cloths would do well to fit the parents.

The orphange will have a website soon, that will list these and any other items they have an immediate need for. I will post any new information in a new thread, after I have had a chance to talk with them.

Thank you so much. ALL OF YOU! Fernando and I started with an idea but YOU brought it to fruition. He and I in no way would have been able to come up with so many items on our own let alone find these people, transport and give.

The blessings are yours, my hope is that you see them returned to you throughout the year.

Thanks
Simone
---
bigmike

-

1-28-2008 at 06:35 AM



It was a wonderful day, but as you say it was heartbreaking seeing somemany children without shoes and jackets, we need to keep this going to continue to help these people, not just at the holidays, please let us know when they have their website up and going.
---
BAJACAT

-

1-28-2008 at 11:05 AM



They say,behind a great Man is a great Woman.SIMONE you are that great women.You and Ferna are good people,you guys did good.And like BigMike said, lets not wait for holidays to help.
---
Iflyfish

-

4-20-2008 at 10:31 PM



What a treat to read this thread. I would be interested in throwing some bucks at this. From Oregon it's the best I can do...$$ for paint, parts, helmets ?????

Someone set up a PayPal for Manolo andd that made it so easy, any chance you could do that for this project?

It's really a gift we give ourselves isn't it? I love this sort of project.

Iflyfish

Iflyfish
---
fdt

-

4-21-2008 at 09:12 AM



Thanks a lot Youflyfish, there will be one but I think it's kind of early at this time.
Gracias
---
Pages: 1 2