Cardon Man

-

4-25-2008 at 08:19 AM



Here's a question that I could easily answer myself if I wasn't always in such a rush when road tripping down the Peninsula. Since I'm not sure when I'll be driving Baja again I'll turn to the experts....

As you come into Loreto heading south on Mex 1 there's an old truck, a Willy's Jeep I believe, that has been placed on the road side as though it were a momunent of some kind. I think there might even be a plaque there explaining the whole thing but I always drive right past it and have never learned the story of this odd roadside monument.

What's the story behind that old truck?
---
Truck
tehag

-

4-25-2008 at 11:05 AM



Local lore says that it is supposed to be the vehicle that Ed Tabor, founder of Flying Sportsman's Lodge, used to go to San Javier and was the first motor vehicle to make the trip. It does not match the photo of said vehicle that is in a published work about the area. It has been moved north from the intersection of the San Javier road where it was originally enshrined.
---
Cardon Man

-

4-25-2008 at 11:13 AM



Thanks for the background info Tehag. I figured there was a local historical connection behind that old vehicle.
---
bajalera

-

4-25-2008 at 11:29 AM



Another story--it was owned by a priest who was active in improving the road from Loreto to San javier.
---
the plot thickens...
Cardon Man

-

4-25-2008 at 11:37 AM



So, what exactly does the plaque say? Does it claim to be the Tabor vehicle or the priest's vehicle?

If only i had stopped to read it!

---
Bob and jane

-

4-25-2008 at 12:15 PM



Ann O'Neil devotes a section of her book, "Loreto, Baja California Sur, First Mission and Capital of Spanish California" to Padre Modesto Sanchez Mayon, who built the church near where the jeep now rests, rebuilt the mission in the center of town, and built the road to San Javier---------with help, of course. He was an amazing person, much loved by the people of Loreto. The jeep is supposed to be the one he used while living in Loreto but looks different than the photo in Ann's book. Perhaps I should read the plaque myself!!!
---
bajalera

-

4-25-2008 at 01:01 PM



What the plaque says:

"junio 26 de 1997 de Jesucristo
Este jeep pertenecio al Sr. Cura Dn. Modesto Sanchez Mayon,
llego a Loreto el 29 de nov. de 1947.
Este veiculo fue un instrumento util en la
reconstruccion de la Mission de Loreto B.C.S.
Quedando terminada el ano 1955.
Fue el primer veiculo que entro por este
camino a la Mision de San Javier, el 26 de nov. de 1952.
Como un homenaje del Pueblo de Loreto a los
10 anos de su fallecimiento el 26-6-1987.
Loreto B.C.S. 300 anos de evangelizacion y cultura."

He was apparently the priest who fixed up the church after winning the lottery.
---
Jeep
tehag

-

4-25-2008 at 01:40 PM



I was wrong about that supposedly being Tabor's jeep. The story about the priest is the one that is in the Ann O'neil book, and it is probably closer to the truth than the Tabor story. The enshrined jeep is not the one the padre is pictured in on page 245 of Ann's book. That one is clearly a pickup-style body.

I'm sorry I got that mixed up.
---
bajalera

-

4-25-2008 at 01:46 PM



Hey, tehag, we're talkin' Baja here, and on that subject we all get mixed up from time to time. No need to be sorry.
---
bajajudy

-

4-25-2008 at 02:10 PM



Well throw this into the pot and smoke it
That vehicle is now beside the church north of town.
---
capn.sharky

-

4-25-2008 at 08:50 PM



Belonged to the Priest from the Mission. He used it to do the mid day service every Sunday in San Javier. He was very well liked by the people of Loreto. I suppose it could have belonged to someone else before he got it. It was south of town for many years and moved to Col. Mira Mar a few years back.
---
Juan del Rio

-

4-28-2008 at 04:45 PM



Was in Loreto yesterday and took a few photos of it: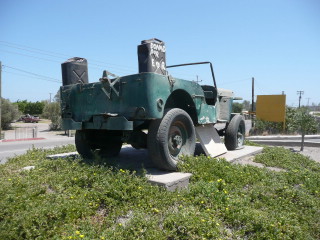 ---
Juan del Rio

-

4-28-2008 at 04:46 PM



Another view: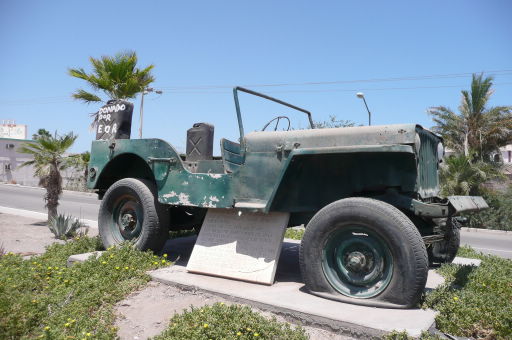 ---
thanks!
Cardon Man

-

4-28-2008 at 04:47 PM



Great information and a photo to boot. Can't beat that.
---
Jeep
tehag

-

4-29-2008 at 02:26 PM



Here is the photo, c1948, of Padre Sanchez at the wheel of his Jeep that is supposedly the one enshrined on Hwy 1. Compare with those posted previously of the actual Jeep at the monument, and obviously there is something not quite right in this deal.


---