Pages: 1 2 3

BajaNomad

-

8-4-2009 at 05:07 PM



"5 o'clock Charlie" - feel free to contact him and share your thanks and appreciation for all he's done.

The more the merrier I'm certain.



Pierce O'Shaunghessy
Greenville/Spartanburg, South Carolina

Email/cell# posted in public on the 'net among these locations:
http://www.mulege-mls.com/pages/ContactUs.html
http://stores.shop.ebay.com/Salvage-RV-and-Dodge-Cummins-Par...
http://www.ripoffreport.com/reports/0/383/RipOff0383994.htm
http://www.cumminsforum.com/forum/buyer-seller-feedback/1364...
http://funfindersales.com
http://cumminssalvage.com
http://pelicanreefrv.com

864-590-5696 (cell#)
pelicanreefbaja@hotmail.com
cumminssalvage@live.com


[Edited on 8-5-2009 by BajaNomad]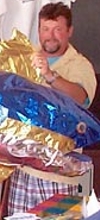 ---
Russ

-

8-4-2009 at 05:21 PM



???
---
BajaNomad

-

8-4-2009 at 05:29 PM



.


---
comitan

-

8-4-2009 at 05:35 PM



Doug

It looks like you have been busy, good work.
---
Curt63

-

8-4-2009 at 05:36 PM



Are you suggesting that we spam this burro that visits under a new name every night and spews? Fishsaver right?

If so, I'm in!
---
flyfishinPam

-

8-4-2009 at 05:36 PM



entiendo
---
soulpatch

-

8-4-2009 at 05:39 PM



That's funny.
I'm flying in to Greenville/Spartanburg on Friday. You want me to drop a gift off to him?
---
Russ

-

8-4-2009 at 05:41 PM



ya entiendo

[Edited on 8-5-2009 by Russ]
---
comitan

-

8-4-2009 at 05:51 PM



I wouldn't send an email he could come back at you and hassle you.
---
Hook

-

8-4-2009 at 05:58 PM



So, THIS is what became of Pierce and Val???

Or this is what they were always like???

I'm so confused...................

[Edited on 8-5-2009 by Hook]
---
DENNIS

-

8-4-2009 at 07:12 PM



Awww Jeeeezo, Charlie.....I expected more from you.

Well, you arn't who I thought you were so, I'm glad for that. AMF
---
Sharksbaja

-

8-5-2009 at 12:35 AM



Well well well. I guess this proves what a low life lying cheating a-hole Pierce is. Oh and don't forget why he split from Baja.

Looks like Ebay closed his store as well. I wonder if using Logos like Dodge and Cummins and being crooks would interest these companies lawyers.

This guy is a real loser.

The ultimate Troll!
---
Russ

-

8-5-2009 at 06:43 AM



Come on everybody... Trolls are very sick and in need of some special attention. That said... Who's got the rope?
---
vandenberg

-

8-5-2009 at 06:48 AM





Yeah !
David , get going on your computer puppets and string'm up.


---
ELINVESTIG8R

-

8-5-2009 at 06:48 AM



Don't hate him, Pity him!
---
Santiago

-

8-5-2009 at 06:49 AM





Why did he? This guy looks vaguely familiar.
---
Sharksbaja

-

8-5-2009 at 01:19 PM



He'll be baaaaaaaaaaaaaaack...........

---
arrowhead

-

8-5-2009 at 09:30 PM





Well, I Googled him and I think I found the reason for his angst:



After I found this, I also found a link to this same posting here from about a year ago. So apparently some people here already know his story, but choose to ignore it.

The guy got raped by Mexico. He's not the first and won't be the last. I may not agree with everything he did here, but I sure understand his motives now.
---
Sharksbaja

-

8-5-2009 at 11:27 PM



So I guess that's all there is to it!
He's a saint afterall



I wouldn't say that paragraph sums it up either. There is much more to the story.

Apparently Arrowhead you are not up on your Mulege history or Nomad history either. It's in here somewhere.
It also seems like you are defending this guy just by believing that rant. . +Do you actually know anythang about his legacy?

btw, I don't think they kill you if you never pay the toll fees.

---
arrowhead

-

8-6-2009 at 09:06 AM





Well, why don't you impress us all with your brilliance and tell the story? Santiago asked and you did not respond, and now I am asking. There is nothing on BN about it. All I can find is a post by him after hurricane John telling somebody to empty his pila and distribute the water to the needy and another post where his office set up a fund to help victims of the hurricane.

I see that he had a restaurant in Mulege and you have one in Oregon. Is there some kind of interpersonal squabble going on? You didn't have any qualms calling him an A-hole here on the Internet, so you shouldn't have any reservations in telling the story.
---
Crusoe

-

8-6-2009 at 09:46 AM



Bottom line is ....If a person needs to hide behind a false identity to attack other people he may not agree with on a public forum such as this, there is something seriously wrong with that person. Like a severe personality disorder!! How does anyone know, if the rest he is claiming is even true? What was the name of his restaurant/bar in Mulege? Loreto?What happened? There are enough people on this website that could obviously identify this man and is saga. The energy you create ultimately attractcs what will happento you. ++C++
---
mtgoat666

-

8-6-2009 at 10:31 AM





how funny. one of the websites above lists him as a RE agent for mexico. on one hand he advises against mex property for gringos, and on other hand he is selling property on website (pelican reef) targeted at gringos

[Edited on 8-6-2009 by mtgoat666]
---
Pelican Reef Bar/Restaurant
tripledigitken

-

8-6-2009 at 10:42 AM



No longer open! (Photo taken 11/2005)




[Edited on 8-9-2009 by tripledigitken]
---
DENNIS

-

8-6-2009 at 12:20 PM






I think Bruce Leech could add a lot to this story but, he's not posting anymore. Wish he would.
---
ELINVESTIG8R

-

8-6-2009 at 12:23 PM



Whatever happened to Bruce Leech? He was a regular poster.
---
DENNIS

-

8-6-2009 at 12:25 PM





He's up here now after a long time in Mulege. I don't see him but, I can feel his presence.

---
Once a troll, always a troll...
Sharksbaja

-

8-6-2009 at 12:35 PM



That would be nice Dennis.
AH, why do you think Doug generated this thread? Pierce is/was like a cancer here. Logging on with various identities and salting many posts with harmful and disparaging words, over and over and over again. Besides that he ripped off a friend on mine and he hates anyone who loves Mulege.

That's enough for me!



btw, his 100's of posts and subsequent replies have all been deleted. Let me look and see if I saved any of those sweet words.
---
Trolls
Mexrick

-

8-6-2009 at 02:02 PM



Arrowhead, you make a good point. Sharksbaja has been spewing a lot of venom and innuendos here lately but he is woefully short of FACTS! As you mentioned, Pierce and Val did a LOT of charitable things here in Mulege. You mentioned that they helped after the hurricane. Actually, they set up and ran a collection and distribution center for the victims, collecting food, clothing, household items and cash. I know that for a FACT because I was there and was helping them.

They also helped the community by sponsoring and organizing numerous charitable events including fishing tournaments, food drives, pig roasts and barbecues. I know that for a FACT because I was there... helping! The Bomberos, Old Folks Home, orphanages and many individuals were the recipients of Pierce and Val's charity and good work. I know that for a FACT because I was there and helped them.

They weren't "run out of town" as Sharky and others has inferred. They left of their own free will to save their hides from unscrupulous persons (one in particular but who must remain nameless) who had "bought" officials who were going to throw them in a Mexican prison for trumped up charges. I know that for a FACT because I was there helping them to defend themselves against these people and to help strategize countermeasures.

I've known Pierce and Val for many years and have found them to be honest, caring and extremely generous people. I don't know of anyone who has gotten "screwed" by Pierce. On the contrary, I know of many who have been helped by them. If Sharky would care to provide some FACTS and proof instead of pure rhetoric, I'd be happy to set the record straight.

As for Pierce being the Troll, it isn't true and Doug knows it. It is my understanding that Doug has contacted Pierce stating that he (Doug) made a mistake by identifying Pierce as the Troll. That should put an end to it. I'm sure none of you guys are man enough to offer up your apologies also for the malicious and unfounded venom that you have been spouting... all without an ounce of proof or FACTS I might add.

I told Doug in an e-mail that we all need to take a step back, take a big breath and drink a cool Pacifico. The kind of behavior that many of you have been party to could, here in Mexico, have VERY serious consequences. Next time, you all had better use your heads before you commit your unfounded garbage to paper. You ALL owe Pierce an apology but, I am practical enough to know that I shouldn't hold my breath waiting for one.

If anyone wants to provide me with some FACTS to refute what I've said, you all- or most of you anyway- know where I live and my door is always open.
---
Sharksbaja

-

8-6-2009 at 02:26 PM



So as it were, you are saying he has done nothing wrong.

Perhaps Rick some of us do not like being dissed by someone who won't reveal themself, that's my beef.

How does someone prove intangible goings on unless people raise there hands to your declaration.. Frankly I think he scares people. Does Doug need to post any and all his info to assauge any misdeed you think he's done?


Where were you Rick when he was lamblasting anyone living on the rio? Why did you not defend your friend back when his venom was spewing all over this board? When he swore up and down he wasn't _____ or _____. Did you reply in kind?

Is it just a matter of taking sides or are there real crimes at hand. How would YOU actually know and what kind of proof could be provided on your end besides being a character witness? Isn't it a matter of "he said-she said" ?


btw, I am waiting for an apology from him.

---
vandenberg

-

8-6-2009 at 02:28 PM





If there is any truth to this, why hasn't Doug stated so in this thread.
Maybe it's on the way.


We're waiting.
---
flyfishinPam

-

8-6-2009 at 02:28 PM



As one of those here who was at the receiving end of palmetto99 (Pierces) nasty words I can say that even after the repeated insults and intent to hurt and discourage me and others here, for whatever reason, I feel sorry for the guy.

The photo of the bar looks like it would be a cool place to hang out. I don't drink anymore but I LOVE places like that, local hangout with locals and their stories, memories hanging all over the walls etc. Have to wonder what went wrong (figure of speech here as I really don't give a crap).

After many years of living in Mexico and being married with a Mexican and his family, bringing up a multinational family, doing business here etc., there are many many differences between our languages and cultures. We are neighbors in that we are on the same continent but in so many respects Mexico may well be on the other side of the planet we are that different.

When there are differences that are potentially devestating to one who does not fully understand them, the person who is becomes affected sees themselves as a victim when in fact they may not be. Examples are one that I have personally lived through, the employee lawsuit and the lay federal del trabajo and serving hamburgers to friends on good friday (oops), other examples are land issues. There are ways in which our cultures views differ as in how people should act what's acceptable what's not, others have to do with verbal respect like using correctly the tu and usted forms that do not exist in English.

Anyway what I am trying to get at is that things are SOOOOO different here we cannot apply the knowledge or procedures from where we came and expect them to work here. So when one does not see this, or jumps in with both feet without looking because they are moving too quickly then one can expect to encounter "problemas".

I never met this guy Pierce as far as I know yet he felt the need to push buttons in such a way as to want to affect me personally. Well it did work but only to the extent where when I got together with other nomads from Loreto the ubiquitous comment was "what an a-hole" regarding this offender. I am not sure why this guy dished out the abuse to me that he did but I knew one thing for sure, there was no way in hell anyone could have had a beachfront view of Carmen and Coronado as he claimed, and spew the kind of hatred he did, no way.

I sure hope he finds some peace within himself and can move forward.
---
Finis
Mexrick

-

8-6-2009 at 03:20 PM



I can only say that pierce and Val are 100% real, honest, caring and giving people. They are #1 in my book and that's all I'm going to say.

Viva Baja
---
DENNIS

-

8-6-2009 at 03:25 PM






OK....you said all you're gonna say so, now that that's over, give us some insight on your evaluation. Fill in some blanks for all of us.......Please.
---
BajaNomad

-

8-6-2009 at 03:31 PM



My email reply to Mr. O'Shaunghessy in its entirety:


-------- Original Message --------
Subject: Re: Nomad
Date: Wed, 05 Aug 2009 17:09:28 -0700
From: Doug Means <bajanomad@escapist.com>
To: pierce oshag <cumminssalvage@live.com>

Dear Pierce:

I received your e-mail. I am certainly sorry if any angst has been
misdirected to you as I never intended any harassment.

As far as your threats toward me, my business and my livelihood are
concerned, I surmise that your lawyer did not review your e-mail as it
is apparent you are shooting from the hip at this stage. Please get
advice from a California attorney as I am quite confident that you are
mistaken with your assertion that my cost of defense will exceed your
final expenses associated with this matter.

I am hopeful that you will reconsider your position as you can rest
assured that there will not be a default judgment in this case. Why
would I allow that when you have already admitted this is a case you
can't win? Certainly the Court will not take your admitted waste of the
Court's resources lightly.

I am ready to move on beyond this incident and I hope you are as well.

Regards,
-
Doug Means
---
arrowhead

-

8-6-2009 at 04:00 PM





I don't know what to make of that email. While it is an expression of regret, it is not an admission of error nor an apology. It appears to have been carefully crafted by an attorney to minimize damages.
---
arrowhead

-

8-6-2009 at 04:07 PM





Yeah, well if Mexrick is correct, you libeled an innocent person. That letter you get just may not be an apology. Based upon the emails, it looks like Pierce is considering some legal action.

You are one person who really needs to learn how to STFU.
---
Crusoe

-

8-6-2009 at 05:23 PM



Soooooo Mexrick.......What were Pierce and Val accused of doing or not doing? Why did they leave Mexico? Please clear this up. Thanx ++C++
---
BajaNomad

-

8-6-2009 at 05:59 PM



Someone doth protest too much, methinks:

-------- Original Message --------
Subject: RE: Nomad
Date: Thu, 6 Aug 2009 15:49:11 -0700
From: pierce oshag <cumminssalvage@live.com>
To: <bajanomad@escapist.com>

Dear Mr. Means,

You do not mean any harm and you leave the posting up. That way the
marooons on your site can do your dirty work. This is going to be a long
email so read it twice as I do not want you to misunderstand.
I have a girl in my office that works for me that is great on computers.
She is not as good as you but she is sharp. I pay her to do invoicing
and the like and she spends most of her afternoons playing on the
keyboard so time is not an issue. Yesterday I gave her all the info we
received on both you and <redacted> from our lawyers skip trace
subcontractor. She spent most of today tracing all of your meeting
groups in San Diego and also your Facebook listing. She will
be compiling together a list of all of your visible contacts and
confirming contact info such as emails and phone numbers on all of
them. A narrative on your posting my info on your website in a
malicious effort to cause my family,employees and myself harm is being
prepared by her with the offending posts and that will start to go out
when she has it complete. I have also received from a member of your
forum some pictures of you and your family which we will also be
posting with both your home address and phone numbers to the websites
and blogs that we feel will give you the most bang for the buck. Nice
looking family. Your total lack of concern for my family leaves me no
choice but to show the same concern for yours. I have told my girl Lisa
to spend a minimum of four hours a day to get you the most exposure we can.
I have been told you are a pompous ass and it is most apparent with
your last email.
It seems that you really need the networking groups to get customers and
we just have to get a few of them to take a hard second look at your
questionable actions and a social recovery should not take less than two
years by my estimate. Lisa also says that the IT blogs for the smaller
tech companies is also one of our targets for a disinformation campaign
that should have the desired impact. While getting all this going might
seem a bit extreme, going after my family is not something I take lightly.
On another note, we have two of three of your credit reports and a fair
bit of information on you and <redacted>. Can you believe <redacted> owns
<redacted> and several <redacted> in California. Who
would have thought. All that money and he still drives a 5 year old
<redacted> 4 door.
Speaking of money, what the hell have you been doing since you left
school in Arizona twenty years ago. I thought you had some money. Filing
suit against you would have been a waste of time given your financial
condition. Its no wonder you are trying to network as much as you do.
You know Doug, its not that I cared about being mentioned on your site,
its the contact numbers and the nasty emails and calls that I got but
you will soon see what that feels like. I know that you think you are a
pretty sharp guy but I just will not let things go. Its a disorder of
some sort but I use it like an asset.
As you know, I called both your home and your office today to hash this
out but you did not want to talk. In light of that, I have moved up a
planned trip to Point Loma in the fall and should now arrive in a few
weeks. Maybe then we can have a nice face to face and go over how all
this is working out for you. I can use that time to firm up some lose
ends in terms of information while there as well .
In the meantime, call me when you think I have made my point. Enjoy the
ride.

Please note, we do not intend to do anything which might be considered
against the law in California or any other state. If we happen to do
something that you think is not right, please call us and we will take
it under advisement.

Regards
---
BajaNomad

-

8-6-2009 at 06:04 PM














---
Mexrick

-

8-6-2009 at 06:25 PM



Hey Doug. Don't shoot question marks at me. The guy is innocent and you peeed him off. You made the bed. Lie in it!
---
BajaNomad

-

8-6-2009 at 06:33 PM



Rick,

I admire your loyalty here.



-
Doug
---
Sharksbaja

-

8-7-2009 at 01:37 AM



Really hard to judge a book by it's cover Rick but we've already met and I was amused about that partt of your dialog that day consisted of ragging on Nomads for deeds you deemed unjustified.



Personally tho, I have nothing against you, I found you a gracious and generous host, tokesjokes and all.


---
IF THE PERSON DID WHAT IS WRITTEN HERE THEN THIS HAS CRIME SCENE WRITTEN ALL OVER IT!
ELINVESTIG8R

-

8-7-2009 at 05:16 AM




---
DENNIS

-

8-7-2009 at 07:09 AM






That can be taken a couple of different ways, David. Splain, please.
---
ELINVESTIG8R

-

8-7-2009 at 07:22 AM



Dennis it appears that federal and state laws may have been violated. By crime scene I mean this can be used against the author. Let's put it this way. I would not want to be in this person's shoes if and when it gets to the point of being prosecuted in federal and/or state court. The consequences are very costly. Court costs, attorney's fees, possible incarceration and/or fines. Not to mention people aiding and abetting the person may be prosecuted too. Just not worth it.
---
DENNIS

-

8-7-2009 at 07:50 AM



Thanks, David....... Well splained.
---
Crusoe

-

8-7-2009 at 09:21 AM



OK RICK---Why won't you come clean and explain to us why Pierce and Val had to leave Mulege, and Mexico? Should be easy enough. +++C++
---
Crime Scene ?????
Mexrick

-

8-7-2009 at 09:27 AM



Now I'm confused. Nothing Pierce said violated any laws, federal or state. He didn't threaten anyone and he is protected by the First Amendment for his views. If I'm missing something, perhaps ELINVESTI8 would care to enlighten us and, perhaps, explain any legal background he has to provide validity to what he inferred.
---
Redo for Crusoe:
Mexrick

-

8-7-2009 at 09:32 AM



Crusoe: I explained that on the second page of this thread but, here it is again:

They weren't "run out of town" as Sharky and others has inferred. They left of their own free will to save their hides from unscrupulous persons (one in particular but who must remain nameless) who had "bought" officials who were going to throw them in a Mexican prison for trumped up charges. I know that for a FACT because I was there helping them to defend themselves against these people and to help strategize countermeasures.

There were other reasons, of course, but the aforementioned should suffice. It sure would for me.
---
Martyman

-

8-7-2009 at 09:32 AM



yeah...what happened?? Why did he hightail it out of baja? The one time I met him in Mulege he came off as a pompous a$s.
---
Crusoe

-

8-7-2009 at 09:40 AM



Thanks Rick---We have all read this before. " Unscrupulous Persons? Bought off officials?" Sounds very vague! We need solid facts from you!Just exactly what were these trumped up caharges? Please be more specific. Thanks again. ++C++
---
tripledigitken

-

8-7-2009 at 09:47 AM





Seems like he is good at countermeasures judging from the published email to Doug.
---
DENNIS

-

8-7-2009 at 09:53 AM





Maybe this is where Bruce should jump in....to round out the story.
What do you think, Rick? Could Bruce add anything to all this?
---
ELINVESTIG8R

-

8-7-2009 at 10:00 AM






Mexrick I do not have a dog in this fight between the two parties. I commented out of compassion and tried to be a Good Samaritan. I only wished to point out something in hopes that this would cease and desist before someone did something that could not be reversed. Unfortunately it may already be too late. That is all I have to say about this matter. Thank you.
---
Marty !!!!
Mexrick

-

8-7-2009 at 10:23 AM



You disappoint me! You are a bad judge of character! That was just his sweet bubbling personality shining through.




---
Dog Fights
Mexrick

-

8-7-2009 at 10:29 AM



Understood. I just wanted to clarify that, IMHO, nothing, so far, has escalated to a level that is going to cause anyone grief. I am only trying to point out that, while Pierce was outed as the Troll, it wasn't true and there was absolutely no evidence to show that he was responsible. Many people owe him an apology but none has been forthcoming. That's too bad. I would like to think that people are bigger than that.

I don't have a dog in this fight either. I am just sticking up for my friend.
---
Crusoe

-

8-7-2009 at 10:42 AM



Ok Rick......So why won't you tell us what he was accused of doing, that made him leave Mexico? What is the problem? Inquiring minds would like to know. ++C++
---
tripledigitken

-

8-7-2009 at 10:48 AM



Rick,

Are you saying that Pierce was not Palmetto?
---
DENNIS

-

8-7-2009 at 10:57 AM





Maybe this has something to do with it all:

http://forums.bajanomad.com/viewthread.php?tid=20937&pag...
---
DENNIS

-

8-7-2009 at 11:35 AM





I have confidence that Doug has a way of knowing but, I'm having trouble with that as well. Most of Palmetto's tenure here seemed to be spent on the OT side, wallowing in a vitriolic monologue. Vile stuff, even for OT. Spreading the filth to the main board was too much.
If Pierce did in fact write the letter above, it seems to me that a huge effort would have been necessary to deteriorate his writing quality to that of Palmetto.

My My....Nomad has been a hotbed of drama lately. Keep it up folks.
---
Hook

-

8-7-2009 at 11:43 AM



They weren't serving turtle soup at the Pelican, were they?



Real estate strongarming, restaurant angle, jail threats.

You dont suppose that...............nah, what are the odds???
---
Mexican Law
Mexrick

-

8-7-2009 at 11:45 AM



Hey Guys... ease off. If you knew anything about Mexican law you would know that I can't say any more about why they left or who was responsible than I have without exposing myself to SERIOUS consequences. Here in Mexico, you can't say squat about anyone without putting your neck on the line and I'm not going to do that.

Those of you who know me know that I tell the truth... even if it hurts me or my business. I don't shade the truth and I tell both sides to a story. Those of you who know me also know that I tend to be blunt and don't add a bunch of extraneous BS to anything. If you don't want the answer, don't ask me the question because you may not like it but I guarantee it will be the truth. I can't, however, expand on what I've already said because of liability issues. I'm not trying to be cute, I just want to remain here without any more problems than I already have.
---
No Ken...
Mexrick

-

8-7-2009 at 11:53 AM



No Ken. Pierce is NOT Palmetto and Doug know that. Doug has all of Pierce's IP addresses and they don't match.

Now can I go back to my Tecate Light?
---
JESSE

-

8-7-2009 at 02:14 PM



Well, maybe the letter was written in normal american legal protect my ass lingo, but to me as a Mexican, this guy is threatening my family.


JMHO
---
arrowhead

-

8-7-2009 at 02:49 PM





Jesse, that post makes absolutely no sense, unless you are the person referred to as "<redacted>" in that last email Doug posted.
---
Crusoe

-

8-7-2009 at 04:49 PM



Thank You Dennis for that thread link of Nov. of 06. That clearly explains what is really going on here. ....MY OH MY!!!!! ++C++
---
Hook

-

8-7-2009 at 05:09 PM



I dont think that old thread explains a thing. It addresses why Bruce was unable to sell his property and why Pierce and Val decided to delay their return to Mulege till December; specifically, because of the flood.

How that explains the gist of this thread is beyond me.
---
DENNIS

-

8-7-2009 at 05:12 PM






If you have something better, let's hear it.
---
Crusoe

-

8-7-2009 at 05:26 PM



Hook.... Whoever knows the real story is not saying at this time. It is a bit odd that Bruce can't or wont. Maybe their were others beside Bruce? Anybodys guess. ++C++
---
DENNIS

-

8-7-2009 at 05:38 PM



Besides....We were led into this drama so, in the absence of facts, we're allowed to speculate. The whole truth and nothing but the truth doesn't really matter at this point. The plot has taken precedence.
---
KAT54

-

8-7-2009 at 05:39 PM



Is not Mexrick amd Pierce partners in the Pelicanreef Realestate Co?
Is their office closed? Out of Business?
Did not Pierce threaten to kill several Mulege residents?
He did.
The police were going to jail him.
Jesse, Mexrick is lyiing.
---
flyfishinPam

-

8-7-2009 at 05:59 PM





oh my gawd this may become the sequel to turtle bust thread! man you folks in Mulege need to write up a screenplay to Mexico's next smashingly successful telenovela!
---
flyfishinPam

-

8-7-2009 at 06:03 PM





well if you check out Mexrick's profile the real estate url (web address) is listed!

at this point I am thinking of a good catchy title for this novela

---
rpleger

-

8-7-2009 at 06:31 PM



To start with, MEXRICK and I don't agree on much...saying that ,

Pierce and Val were always my friends and as Rick has said they have done a lot of good things in and for Mulege and its people...bad things have been said here about Pierce and Val and I for one don't believe any of it...Always good to me and I can not think of anything that they have done wrong to me or any persons that I know....Lots of rumors here in Mulege but thats Mulege, most of the people talking are not full time people as Rick and I are....
---
Clarification
Mexrick

-

8-7-2009 at 06:32 PM



FOR THE RECORD: Pierce and I are NOT in business together. The Pelican Reef Real Estate Center is my sole property and I have NO partners. Pierce is still listed on the web to provide access to those former customers who care to keep in contact with him. Pierce is my friend and I am keeping that link up for him and his former business associates as a favor.

No Kat. Pierce was not run out of town for threatening to kill anyone.

No Kat. I am not a liar. If you can prove that I have lied about ANYTHING I will formally apologize to you and the group. I attended the U.S. Naval Academy and I STILL take the Honor Code as sacred.

Lastly, Pelican Reef Real Estate Center is not closed. I closed the office on the highway for business reasons. It wasn't getting the traffic I wanted. I will shortly be opening a new office in town. Feel free to stop by. I promise not to bite.
---
oldlady

-

8-7-2009 at 06:33 PM



At least I started this while it was in the pilot phase. Turtle Bust was going into syndication by the time I tuned in.
---
Richard
Mexrick

-

8-7-2009 at 06:34 PM



Richard is right. He and I don't agree on much but on this we do. On his behalf, thanks for standing up for Pierce, Rich.
---
Crusoe

-

8-7-2009 at 06:42 PM



Still no ansewer as to why Pierce and Val left town?... THE PLOP THICKENS. ++C++
---
A Message From Pierce
Mexrick

-

8-7-2009 at 06:43 PM



Because he has been prevented from publishing it, Pierce asked me to post the following for him:

To the members of Baja Nomads,

I am sure you are all as sick and tired of the events of the last few days as we are but we would like to announce a new development in the saga.

We have now secured the web site www.bajanomadforums.com and hope to have it up and running in the next two weeks. I am sure you all think this is impossible but it is a fact and those of you who are as sharp as my computer girl at the office can go check it out and confirm back to the others here. We have shaped the site along the lines of the Drudge Report and its mirror site that came along later, the Drudge Retort. Those in the know will understand the reason for and the legalities of the comparison.

We also have a new Supermoderator on board from the member ranks on the Nomads site here and will be adding sub moderators for each section of the new site. We have already secured two Mexican based sponsors as well as a US based sponsor although it was not required for start up. I am now a reluctant forum site owner and but will turn it over to all the members once it up and running.

This idea came from several of the members here who contacted us in recent days and suggested it would be what is known as some form of poetic justice. As I stated before, this new site will be much like the original Nomads site but with more of a member oriented direction rather than the dictator formula that seems to be in play here.

I invite all of you to contact the new Supermoderator by email at bajanomadforums@live.com with both your comments and suggestions. This person will make his identity known in the next two weeks for obvious reasons.

I hope that some of you will treat this as a learning experience. If someone offers an olive branch and gives you a chance to fix a mistake, take it. A trucker once told me that if you are on a steep hill and you lose your brakes, the first ditch is your only ditch so save yourself before all is lost. Never has there been better advice.

I hope you all have as much fun with this new site as I am having bringing it to you.

Please feel free to call me to discuss the new website as I am sure you have my phone number.

Pierce
---
DENNIS

-

8-7-2009 at 06:57 PM



I stand corrected on that. Spelling error on my part.
---
For Cruesoe
Mexrick

-

8-7-2009 at 06:58 PM



GET A LIFE BUDDY
---
cabobaja

-

8-7-2009 at 07:02 PM



Really......... I'll stick with Doug and BajaNomad!!
---
Crusoe

-

8-7-2009 at 07:04 PM



Rick..I have a fine life. Thank you..... Just tell us why Pierce and Val had to leave Mexico! What is your problem? ++C++
---
arrowhead

-

8-7-2009 at 07:18 PM





Don't you mean there is no answer that you will accept? Yesterday I posted an answer that I Googled up. Here it is again, seeing that you are running a little slow:



By the way, it was your buddy Sharksbaja who first said here that Pierce had a "legacy" in Mulege. He was asked twice after that to explain his comment, but he has refused. Basically, his cojones tucked up inside and he backed out of the room.

[Edited on 8-8-2009 by arrowhead]
---
Crusoe

-

8-7-2009 at 07:37 PM



Arrowhead...Thanks for that. Now it is clear. ++C++
---
a message from a SANE person
flyfishinPam

-

8-7-2009 at 08:03 PM





WTF?

this is credible?

anyway Jesse got some novela images of some of the characters here?

what about arrowhead you came up with an appropriate one last time.
I think you can find another one up yer sleeve.



---
Mystery Dinner Internet Theater
Gypsy Jan

-

8-7-2009 at 08:36 PM



Doug,

Here is my two cents (for free).

You have a great marketing opportunity here to start up an internet mystery theater (virtual c-cktails, hors d'oeuvres and a virtual meal (meat, chicken or vegetarian options).

Pay to enter, a portion of the fee goes as prizes to the sleuths who find the villain.



Gypsy Jan
---
DENNIS

-

8-7-2009 at 08:45 PM



Lemme be the first to tell you, virtual c-cktails don't work.
---
Gypsy Jan

-

8-7-2009 at 09:08 PM



Dennis,

Please, this is an artistic participation concept.

You can modify according to your own reality or virtual identity (but, I must ask you to certify an ID that states you are over 21; if you are to be admitted to the reality modification module that serves real alcohol.
---
bajaguy

-

8-7-2009 at 09:11 PM



Jan....could you please add grilled Salmon with a garlic butter sauce to the menu???
---
Mexrick

-

8-7-2009 at 09:11 PM



I'll have a virtual Tecate

---
Gypsy Jan

-

8-7-2009 at 09:16 PM



bajaguy and Mexrick - Done and Done!
---
rts551

-

8-7-2009 at 10:09 PM



www.bajanomadforums.com


The biggest question is going o be will David be te number one poster?????

By the way where is the number one protector of baja nomad?
---
coho

-

8-7-2009 at 10:14 PM



The good and the bad....Pierce and Val were perceived to be good people and had in the past been great citizens of the Mulege community. They had enhanced everyone's day to day existence with a great meeting place....Pelican Reef. Good food, good people. Fishing tournaments, charities involvements and all of the things associated with being good citizens and pillars of the community. Times were good and the money flowed. Pierce was the acknowleged master of real estate values and the pulse of the community. Inflated property values....inflated beyond belief, became the downfall of a well intentioned entrepreneur. Deals went bad...credibility slipped. Pierce started exihibiting a violent attack mentality towards anyone who questioned his ethics. He became a threatening violent presence to anyone who questioned his fiefdom. Question Pierce's integrity? Totally aggressive retaliation was in order. Bordering on the criminal. This is the reason, in my opinion, that Pierce was forced out of Mexico. You cannot threaten people and get by. This behavior continues with the latest threats against Doug and Bajanomad. Pierce, you are a good guy, but you need help....anger management help. Please understand I am only trying to prevent further disaster for you and your lovely wife.
---
Sharksbaja

-

8-8-2009 at 12:24 AM





No Nancy, still here. It seems yer on the right track here though. Sorry the posts and discussion were not there for you to scrutinize and I'm also sorry you couldn't have been a part of the original dialog, it was sooooo much your type of gritty garbage.
Anyhoo I see commonality with Rick as he is quite accurate as to the ramifications from divulging condemming info or being in collusion with the wrong folks. If you missed it the first round don't blame me. If you want more info than that that's posted I suggest you try to secure that in other ways.

Just because I stated there was a legacy(which is obvious) and Pierce is/was acting as a ____ doesn't give me more details than I learned outside this forum. That is, to say the least, condemming info which I will NOT provide. \


hint: it's been mentioned here twice...

To be fair, Rick has suggested a rational way to discuss this. He said prove what is being said yet he himself cannot w/o worry, do the same. We don't want a double standard here.

I respect that and would be more than happy to share MY info with him in a more friendly enviro. Nancy, you are not welcome!



You are just a derelict sensationalist from another time. You sound like a broken record most the time. This forum wouldn't look good on many peoples' dossierre including yours.




As far as cajones go..
If you were a dude I could understand but you have much more testoterone than most manly men I've known. I suppose you wax your lip too.



tootles....
---
DENNIS

-

8-8-2009 at 06:02 AM






You are, of course, referring to this thread....right, Jan?

---
arrowhead

-

8-8-2009 at 10:43 AM





Let me give you a short lesson, Corky:

(1) Mexico decriminalized columny awhile back. It is only a civil matter now, not a criminal matter.

(2) You could have described Pierce's "Legacy" without mentioning any names, and thereby avoiding the make-believe issues you want to hang your hat on as a reason to BS your way through this.

(3) Pierce is not a Mexican and neither are you, and you are not in Mexico, so what you say about him has nothing to do with Mexico and its legal system in any event.

(4) You are just a chismoso pretending you know something, but are really just blowing smoke. You really don't fool anybody with an IQ above room temperature.

(5) I don't think this Pierce person is this Palmetto person. I found a few more posts by "Pierce and Val" on the internet related to the memorial for Peter Clarke, who drowned in Hurricane John in September, 2006. Here they are:



He sure doesn't look like the person you think he is. You just can't take some person, accuse him of doing a bunch of bad stuff and post his name on the internet and then tell everybody to go get him. That is not a protected free speech area. I think the owner of this website has some real legal exposure, although Pierce seems to be saying in his email that he doesn't think the owner has the assets to make a lawsuit worthwhile.

If you legal geniuses want to know what the tort is, it is called "false light invasion of privacy".
---
DENNIS

-

8-8-2009 at 10:53 AM





OK Nancy. Why don't you take a break from beating people with your law degree. With every alter-ego you've shared on this site in the past, you have eventually gone from participating Nomad to abusive lawyer.
Give it a rest.
---
Hey Arrowhead
Mexrick

-

8-8-2009 at 10:57 AM



I was unaware that Calumny had been decriminalized. Can you provide me some documentation? I'd REALLY appreciate it.

BTW... is Corky the Corky I knew that lived in the Oasis but left Mexico 5-7 years ago?
---
Sharksbaja

-

8-8-2009 at 11:01 AM



I'm impressed. Particularily how you can determine a persons' character through a smattering of posts. I do hope you've read all mine.

Tell you what tho, you or Rick or ? provide the facts to actually prove the poster who attacked me and others is not the same and I will apologize and retract my words.
---
Pages: 1 2 3