Pages: 1 2 3 .. 16

BajaGeoff

-

9-17-2010 at 09:27 AM



This is a great story! Hope some Nomads can help out along the way!

http://tinyurl.com/24yyvmy

Kudos to Graham for being a big influence and mentor for this!
---
It's 'spi619'
David K

-

9-17-2010 at 09:33 AM





He is a Baja Nomad! Look: http://forums.bajanomad.com/viewthread.php?tid=44343
---
BajaGeoff

-

9-17-2010 at 10:04 AM



Ah.....how did I miss that back in Feb?
---
David K

-

9-17-2010 at 10:13 AM



Thanks for posting the article Geoff!
---
shari

-

9-17-2010 at 10:20 AM



We are really looking forward to monitoring Mike's progress on his fantastic land voyage....we're with ya amigo!!!
---
mtgoat666

-

9-17-2010 at 10:27 AM





does he have a blog?
---
DENNIS

-

9-17-2010 at 10:47 AM



How many times did Graham come close to death on the first effort? I read the book and I can only see that he had an adventure....not a very good time.
Of course, it's all good when it's over.
---
David K

-

9-17-2010 at 11:21 AM



Here is Mike and his burro (Graham's photo from other thread)...


---
measomsan

-

9-17-2010 at 12:26 PM



can we get him to wear a gps device ? so we can track him
---
MikeYounghusband

-

9-17-2010 at 01:30 PM



I will be wearing one and Shari will keep all of you up to date. Its called a Spot device.
---
TMW

-

9-18-2010 at 02:36 PM





Tunaeater, his dad, me and a few others will be down pre-running the 1000 and for the race in late Oct and Nov. If Shari keeps us posted on here we will help anyway we can if needed.
---
Juanita

-

9-19-2010 at 06:31 AM



A well-planned adventure; the best kind. I will be following the progress of Mike, Don-Kay and the two dogs and hoping to learn more about the peninsula in the process. Mike, if you need anything in San Ignacio, I'll be here. Juanita
---
BajaGeoff

-

10-1-2010 at 12:22 PM



And he's off....wearing a Baja Nomad t-shirt! Go Mike!

http://www.signonsandiego.com/news/2010/oct/01/baja-adventur...
---
David K

-

10-1-2010 at 04:43 PM



Go Mike go!

As Shari is pre-occupied with being a new grandma, I will be happy to post the progress when she cannot... Mike also has me receiving his daily location from his SPOT GPS.

---
AmoPescar

-

10-1-2010 at 06:24 PM



Miguel..."Buena suerte y vaya con Dios!"

...and I hope your journey is all you want it to be!!

I'm close to your age and I know it's a bit harder for someone our age to make a journey of these proprtions and I'm in awe of you for being brave enough to take on such a challenge!

Take care and be safe!
Another Michael, Miguelamo




---
Cypress

-

10-1-2010 at 06:35 PM



Good luck with you and your burro's adventure Mike.

---
805gregg

-

10-1-2010 at 07:33 PM



Another nut goes to Baja.
---
BajaBlanca

-

10-1-2010 at 09:55 PM



Every journey starts with the first step and his was today. October 1, 2010.
---
Cut & Paste About Another Baja Adventurer
DavidE

-

10-1-2010 at 11:06 PM



From The San Diego Union Tribune



Baja adventure for a man, his burro and two dogs
By Ed Zieralski

Originally published September 17, 2010 at 8:28 a.m., updated September 17, 2010 at 8:59 a.m.


Ed Zieralski
Mike Younghusband, 61, El Cajon, plans to trek the length of Baja with his burro, Don-Kay, and two dogs.
Pack up a bunch of late-life crisis. Stow away some empty nest syndrome. Mix in an aching wanderlust for dirt roads and sandy white beaches less traveled.

El Cajon's Mike Younghusband says those are a few of the factors propelling him to hike the length of Mexico's Baja Peninsula starting Oct. 1 with a burro and two dogs.

Younghusband, who is an El Cajon native and former policeman there, plans to start at Hernan Ibanez Bracamontes' Rancho Ojai in east Tecate. He'll walk approximately 1,500 miles with his white, 4-year-old burro, Don-Kay, devoted dogs, 9-year-old Max, a Chihuahua-dachshund mix, Rusty, a 4-year-old Jack Russell terrier and an adventurous spirit he hopes is a match for rugged Baja.

"I've done my duty to God, my family and my country," said Younghusband, 61, a Vietnam War veteran (Navy) who has been working for Elite Security. "My family (three daughters) has grown, and they're all successful with kids (six grandchildren) of their own. I'm done. Now it's time for grandpa to go out and have fun. The world is mine, and I intend on grabbing a big chunk of it."

He has been preparing for this late-life adventure for over a year, traveling to Baja to place supply caches of food, water and even whiskey in 25 key and remote areas.

"The whiskey is for drinking and trading," he said.

There's also dog food for the pups and processed dog bones for Don-Kay, who Younghusband said will stop and munch on just about anything along the way. In between caches, Younghusband will camp and live off the land. He has a Daisy BB gun (legal in Mexico) for taking quail or other small critters for table fare, and fishing gear to catch fish from shore during the many days he'll walk Baja's pristine beaches.

He has taken classes at REI in GPS and compass and topographic map reading. He has Search and Rescue and extraction insurance and a SPOT satellite GPS messenger so friends and family will always know where he is. He spent eight months "bonding" with Don-Kay.

"In the last seven, eight months, I've learned more about this than any one subject in my whole life," said Younghusband, who has battled high blood pressure, gout and a twitchy back, but says hiking has cleared all that up.

"I've got my health issues," he said. "I'll need to take some medication, but I feel better today than I have in a long time."

He was introduced to Baja in the 1950s by his father, Ken, who once owned homes in Punta Colonet and Bahia de Los Angeles.

"I was 7 or 8 years old the first time I went to Baja, and I fell in love with the place," Younghusband said.

He has no grand cause for his trek, but he would like to show his fellow Americans that Baja isn't all about drug wars, guns and kidnappings.

"One of the things I'm hoping will happen is that American citizens who live in San Diego and other border communities will see, if I get enough exposure, that Baja isn't as dangerous as many think it is," Younghusband said. "Baja is full of the nicest, friendliest kindest people you'll ever meet, and I run into them all the time on my drives and walks there."

Bracamontes at Tecate's inland oasis, Rancho Ojai, said it will be great for Baja for a man like Younghusband to live out such an adventure.

"I sold him my best burro," Bracamontes said.

No one has really tried to talk Younghusband out of it. His family is supportive. But he said he has encountered doubters.

"It's hard for some people to believe," Younghusband said. "People roll their eyes. One guy, a retired cop, said it was the most ill-conceived, ridiculous pipedream he ever heard of anyone doing. It really hurt me at the time, and I told him. He didn't know me or anything about the work I've put into this. Since then we've had time to talk, and now he understands."

Younghusband has spent more than $1,000 in gear, with most of it from Southern Missouri Mule to outfit Don-Kay with the best in pack accessories. He paid Bracamontes $750 for Don-Kay. He is selling his mobile home in El Cajon.

"I'm all in on this," he said.

His mentor and good friend, San Diego author and adventurer Graham Mackintosh , hiked Baja's entire 3,000-mile coastline in the mid-1980s and was the winner of the Adventurous Traveler of the Year Award. He also hiked Baja with a burro. His books "Into A Desert Place," "Journey With A Baja Burro," "Nearer My Dog To Thee," and "Marooned With Very Little Beer," truly are Baja adventure classics that inspired Younghusband and many before him.

"Graham has been a great help and has become a great friend," Younghusband said. "I'm hoping he'll join me for some sections of this."

Younghusband plans to reach Cabo San Lucas by April, with a short layover in Loreto, where he owns a home, one that eventually will be Don-Kay's residence. But for the next six months, they're going to be travelling buddies – Younghusband, Don-Kay, Max and Rusty -- a man, his burro and two dogs. The Baja Fearsome Foursome.
---
Skipjack Joe

-

10-1-2010 at 11:20 PM



Good luck. I admire your spirit.

You're never too old to live your dreams.
---
David K

-

10-2-2010 at 07:26 AM





When Desert Rat walked Baja: http://www.vivabaja.com/desert_rat/index.html

How are you doing D'Rat? Been over 9 years since we traveled together... that was a fun trip! http://vivabaja.com/van1 with El Camote, Debra, DavidE, my kids and the Humfreville's tagging along... Neal Johns was with us a lot, too.
---
Graham

-

10-2-2010 at 06:34 PM



Mike,

The adventure begins. Hope all's well on the second night of your long walk to Cabo San Lucas. Wishing you safe and comfortable campsites with your burro and two dogs. And good luck with all the challenges and tough decisions ahead.

Above all, may the Lord smile on you, may you find kindness and encouragement every step of the way - as I did - and may all your whiskey stashes be undisturbed.
---
BajaNews

-

10-3-2010 at 07:38 AM



http://tinyurl.com/2abudxf

David Moye
Sept. 30

When Mike Younghusband decided to get his ass moving by hiking 1,500 miles down Mexico's Baja Peninsula, he chose to do it with the help of a burro.

On Oct. 1, Younghusband, a 61-year-old Vietnam vet who lives in El Cajon, Calif., will start a six-month journey accompanied only by his two dogs -- a Chihuahua-dachshund mix and a Jack Russell terrier -- and the aforementioned burro, whose name is "Don-Kay."

It's a dream trip for Younghusband, who has loved Baja all his life, but only became inspired to take the journey after reading a book by friend and Baja expert Graham Mackintosh, who accomplished a similar odyssey.

"I know Baja and love it, and when I decided to do the trip, I knew I wanted the burro," Younghusband told AOL News.

But not just any burro would do.

"I could buy a green burro, one that's never been ridden or trained to carry items, for around $300, but mine is trained and that cost me about $700 -- in Mexico!"

However, when it comes to burros, Younghusband quickly discovered it's a seller's market.

"There aren't that many burros for sale," he lamented. "I looked for months and I couldn't find one in San Diego, Los Angeles or Phoenix."

Fortunately, he got lucky about eight months ago and found Don-Kay, a 4-year-old burro at a ranch just across the border near Tecate, Mexico.

Younghusband has been going to visit Don-Kay twice a week in order to bond with the burro before the trip.

"When Graham made his trip, it was on a burro he met the day he started his trip -- big mistake!" he said. "I really want to become friends with him so that he trusts me. The hardest part will be leaving the ranch. He's the only male among a few females and he has kids and his own stall, so I will have to coax him along until we're finally away from the ranch."

After that, he says the hardest part will be keeping Don-Kay away from any females he meets on the estimated six-month trip.

"Burros roam free in Mexico, and that's a big concern of mine since he's an un-neutered male. If he hears a female, he goes crazy and ears go back on his head and he wants to get away," he said. "I've been through it before.

"It won't be easy dealing with that, but I didn't want to [neuter] him before the trip because A) the operation is difficult and risky for burros and B) there are more females than males, so I am hoping I can barter goods and services from farmers in exchange for letting him sleep in a pen with their females."

When Younghusband isn't hiking or pimping out his burro, he plans to hunt for quails, clams, lobsters, rabbits and other food found along the coast. Still, he has been preparing for the trip by visiting predetermined spots on the route and burying caches filled with items like whiskey, coffee, flavored waters and other goodies.

"I am also bringing along protein bars for Don-Kay just in case there isn't enough places to graze," he said. "I hope he likes them."

Younghusband figures he'll be traveling up to 10 miles per day, but some days, like when he reaches a mountain range or 100 miles of mangrove trees, he'll be happy if he makes it four miles.

"The hardest part will be the mangroves down near Cabo San Lucas," he said. "They go into the water and they attract lots of mosquitoes and flies."

Younghusband won't be completely out of the loop on his trip. In deference to his three daughters, he will be using a GPS messenger so that his whereabouts are known at all times.

"I know a lot of people who live in Mexico who plan to use GPS to meet up with me while on my journey for beers and such," he said.

Although Younghusband is taking the trip for his own enjoyment, there is a higher purpose to the journey.

"I love Baja. It has some of the nicest people you'll find anywhere," he said. "But I got a lot of negativity from people when I announced the trip and I want everyone to know that once you get past Tijuana, Baja's a peaceful, happy place."

Younghusband expects the trip will take six months, but his friend, Mackintosh, suggests it may not work out to schedule.

"My first trip was scheduled for around six month," he said. "But it took me almost two years. I was having so much fun and surrounded by so much beauty and peace that I was in no hurry to come back."



---
tripledigitken

-

10-3-2010 at 09:59 AM



Glad to see from this video that his backback isn't close to the 50#'s that was mentioned in the newspaper article. I wish him well!
---
MexicoTed

-

10-4-2010 at 09:00 AM



Can't wait to read any updates from Mike on his great adventure. Also, will be exciting to hear from other Nomads as they meet him along the way.
---
DENNIS

-

10-5-2010 at 03:31 PM



Mike should have taken a Sat Phone with a solar charger. More and better contact would have made a more and better book.
---
shari

-

10-6-2010 at 12:48 PM



thanks David for posting his locations...keep it up as I am up to my ears in work backlog plus I cant figure out how to read his spot thingy....wonder if he got some nice rain so Don Kay will be happy with fresh green shoots instead of power bars!!
---
David K

-

10-6-2010 at 03:13 PM



That's what I figured Shari... no worries, if I don't post it because I am actually away or not online, go right ahead. I hope he can get the pace up a bit so he is out of the sierras before winter weather starts!
---
Following Mike and Don Kay
David K

-

10-6-2010 at 05:53 PM



The dots are the approx. SPOT points transmitted (with date) and the route line is MY estimate of the course based on the points and roads.

I got a point for Oct. 1, Oct. 3 am and Oct. 3 pm, then Oct. 5 & 6...


---
wessongroup

-

10-7-2010 at 07:37 AM



Jack Russell.. a good choice for a dog.. on a trip like this...
---
DianaT

-

10-7-2010 at 08:04 AM



Using a map like that will be interesting to follow their progress, and it will be interesting to see how close David is in marking his course.

How Mike and all the animals are enjoying the journey.
---
David K

-

10-7-2010 at 08:40 AM





The SPOT data comes to me on Google Earth, so the location is 'spot on'. You can zoom in and see the road they are on, so it is pretty easy for me to either find that road on the AAA map or add it in.

His Oct. 3 PM location was just outside (southeast of) the big prison at El Hongo. Not shown on the AAA map, but clearly seen from space is a road that continues south from there then turns east to meet the road running south of El Condor... which is what I added in.
---
mtgoat666

-

10-7-2010 at 09:10 AM





DK:
Could you start a map feature in Google Earth so people can view route/dates in Google Earth? Google Earth also allows people to upload georeferenced photos, so would be nice way for people to follow his progress, check out photos, etc
---
DENNIS

-

10-7-2010 at 09:19 AM



Perhaps Mike would like to ration the reports on his day to day activities so as not to relegate his forthcoming books as anti-climactic.
---
shari

-

10-7-2010 at 09:43 AM



David, I am swamped with work so it would be great if you could design something like goat suggests and maybe we could get an idea how many miles he is covering in an average day....Mike is looking forward to having visitors and some cold beer so maybe you could predict somewhat about when he might reach an area that is accessible to folks who might want to meet up with him...ideas???
---
David K

-

10-7-2010 at 03:06 PM



In as much as Mike hasn't requested such detail, I am going to stick to posting his approx. SPOT locations and estimated course of travel, on the AAA map... which has mileages along all roads shown.

You will be able to see his daily progress. On days I get a SPOT email and days I am at home to shatre them.

So far, he has averaged only 4-5 miles per day. However, it is early and I am sure he and Don Kay will get their rythem aligned and cover more ground daily.

Perhaps if Graham (the all time expert at this) could comment on the daily progress Mike should be making?
---
BajaNomad

-

10-7-2010 at 05:22 PM



He's communicated this is a 6 month trip... and as such, 4-5 miles a day is probably all he needs to cover each day (on average), no?



---
David K

-

10-7-2010 at 05:34 PM



Yup... I guess I need to re-read Graham's second book ('Journey with a Baja Burro') to get a feel for the pace Graham made?

He did want to touch base with as many missions as he could, follow the Camino Real, etc.

The El Niño year of 1997 just poured on him and Mision the burro. He was stuck for days at places like San Isidoro trying to get up to Mision San Pedro Martir... never made it.

Graham also couldn't get 'Mision' from the Santa Maria mission down to the Gonzaga Bay desert and on to Calamajue, because the trail was just too dangerous for the heavily packed burro... He returned to Hwy. 1 and followed it to San Borja... again stuck there because of the heavy rains.
---
Graham

-

10-7-2010 at 07:32 PM



I probably averaged about ten miles a day. I seem to remember getting off to a slow start leaving Tecate, mainly because I was carrying, or rather my burro was carrying, a case of beer that the brewery donated. And then I had to learn all the ropes with packing and dealing with an ornery burro that was more interested in grazing and chasing burras than eating up the miles.

Mike is better equipped than I was, with state of the art gear, but then again he has two small dogs to care and look out for. So I'm sure he's dealing with quite a learning curve and will probably have to make some tough decisions in the days and weeks ahead. I think he'll be giving away some of his gear.

Having followed Mike's preparations for so many months I know how absolutely determined he is to do this. And if he makes it to Cabo it is going to be one heck of a story.

So glad you're posting on this David as I'm up in the North Woods and will be out of touch for a week or so.
---
David K

-

10-7-2010 at 07:39 PM



Thanks you Graham! I am sure he is taking it slow before getting into the flow...

Here is a satellite view of his trek so far... Took a while to make, but it seems what was wished for...




Laguna Hanson is near the bottom... Guadalupe canyon is to the right and tonight he is near the head of Tajo Canyon.

[Edited on 10-8-2010 by David K]
---
shari

-

10-8-2010 at 10:41 AM



thanks for this david...the last map makes it easier to understand where he is and where he might be in the next few days...Mike did want people to visit so I'm sure he wouldnt mind folks knowing where he is and will be so some can plan to rendevouz.
---
Mike's Trek Oct. 8
David K

-

10-8-2010 at 09:44 PM



AAA Map:




Above satellite view:




3-D satellite view north:




Mike and Don-Kay are above Guadalupe Canyon, on top and a day's walk from Laguna Hanson...

[Edited on 10-25-2010 by David K]
---
David K

-

10-10-2010 at 11:31 AM



Last night's GPS location of Mike and Don Kay... about halfway from Oct. 8's location to Laguna Hanson:


---
shari

-

10-10-2010 at 11:32 AM



guess he's not gonna take a bath in the hot springs then! looks like he's making good progress now.
---
David K

-

10-10-2010 at 11:38 AM



He can bathe in Laguna Hanson tonight, perhaps? The trail down to Guadalupe hot springs is probably one a heavy loaded burro should avoid?!
---
Oct. 9+ map
David K

-

10-10-2010 at 12:22 PM







He was about 3.5 miles north of the lake last night.



[Edited on 12-20-2010 by David K]
---
David K

-

10-10-2010 at 09:19 PM



Mike's GPS location remains the same tonight as last night... still just north of Laguna Hanson.
---
David K

-

10-10-2010 at 10:10 PM




---
David K

-

10-11-2010 at 07:42 PM



He hasn't moved... today's GPS is the same as the last two...??? Resting perhaps, but why not at the lake instead of just north?

[Edited on 10-12-2010 by David K]
---
DENNIS

-

10-11-2010 at 08:05 PM






Maybe he ran into Willard.

---
El Camote

-

10-11-2010 at 10:35 PM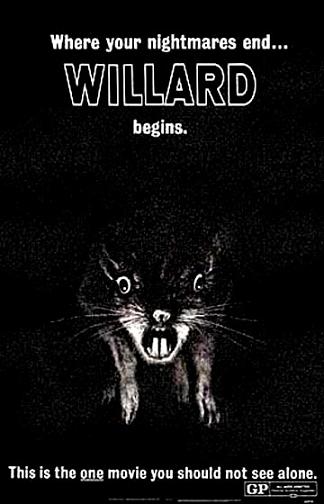 ---
Or worse yet...
El Camote

-

10-11-2010 at 10:38 PM



BEN!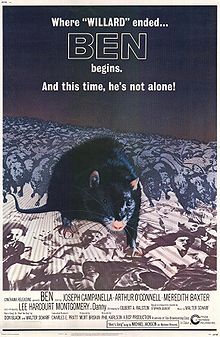 ---
n2Baja2

-

10-11-2010 at 11:34 PM



Do you think he felt the earthquake this evening?
---
wessongroup

-

10-12-2010 at 06:20 AM





With a Jack Russell .... no problem... suckers, will kill, by ripping the rats throat out, in a heart beat...

The Jack Russell is a "killer" no joke.. and rats are there favorite target .... along with just about anything else that should be around the place your staying...

Like all work "dogs"... they are something to watch in action... had a border collie ... that would herd anything given the chance.. ducks, chickens, kids and even used to try and heard our neighbors horses ... but think they were just playing... (ALL DAY) ....the horses loved to run along the fence, spin and go the other way .. and the dog, Trouble, would follow their every move ..

And super job DK... you will have to tell how your picking him up on Google Earth.. just tried ... no nothing on Spot.. see that it on Google Earth (thanks didn't even know that) ... but, is something else needed.. must ...

[Edited on 10-12-2010 by wessongroup]
---
DENNIS

-

10-12-2010 at 07:10 AM



Wiley...Isn't that a bit of overkill for a duck?
[read the Point Willard thread]
---
David K

-

10-12-2010 at 07:21 AM



Mike's location is emailed to me and the others that Mike has included on his list. We get the GPS waypoint and a link to Google Maps with a pin on that location.

Since Google Earth provides a 3-D image, I have been adding his locations onto my Google Earth page, then saving that page onto Photobucket, from where I can add the image here.

Glad you are enjoying it!
---
DianaT

-

10-12-2010 at 08:02 AM



Hope to see the "spot" move today----
---
wessongroup

-

10-12-2010 at 08:13 AM





Ya got me.. missed the thread.. and just read parts.. overkill for a duck?..

Trouble didn't kill them, he "herded" them... Scout was the killer... he didn't herd.. just killed...
---
David K

-

10-12-2010 at 08:30 AM





Me too!
---
He's MOVING again!!!
David K

-

10-12-2010 at 06:56 PM



Mike and Don-Kay have passed by Laguna Hanson and are camping near Rancho El Rayo tonight.


---
David K

-

10-13-2010 at 02:56 AM



If you were wondering, the yellow pins on my Google earth map are: Spanish California mission sites, the restaurant in Ensenada 'El Taco de Huitzilopochtli', and the town park or 'plaza' in Tecate.
---
Out to Hwy. 3 on Oct. 13...
David K

-

10-14-2010 at 08:12 AM






Mike and Don-Kay traveled over 12 miles yesterday!
---
DENNIS

-

10-14-2010 at 08:17 AM



HotDamn. This guy is truckin' right along. Did anyone throw him on a scale before he took off? He looked as though he may have been packin' a few extra kilos which may already be gone.
---
Curt63

-

10-14-2010 at 08:43 AM



Is that stretch possibly downhill?
---
David K

-

10-14-2010 at 05:19 PM



Yes.. first half uphill, and second half downhill... However, when you are walking with a burro at your side, the grade isn't that significant.
---
OCT. 14
David K

-

10-14-2010 at 05:58 PM



Mike is following along Hwy. 3, towards Valle de Trinidad:


---
shari

-

10-14-2010 at 07:22 PM



I wish a Nomad would try to meet up with him...bring him some cold beer and chips, take some photo and send us a report!!
---
mulegemichael

-

10-14-2010 at 07:25 PM



if the first half was uphill and the second half was downhill, it's level...am i right?
---
David K

-

10-14-2010 at 07:27 PM





If a Nomad would, please u2u me for the location of his previous SPOT point, and at least you will know where he might be... he is doing about 10 miles a day. Naturally, he may be camping out of sight of the highway or whatever dirt road he uses.
---
BajaGeoff

-

10-15-2010 at 11:23 AM



I am going to try and connect with Mike when I go down for the Baja 1000 next month. Based upon his current pace, he should be somewhere between San Quintin and El Rosario in a month. Definitely worth a shot.....
---
David K

-

10-15-2010 at 02:50 PM





Assuming he clings to the highway... if he uses the Camino Real or the mountain route, you may need some hiking boots (or a Toyota) to find him!



[Edited on 10-15-2010 by David K]
---
DENNIS

-

10-15-2010 at 03:02 PM



He may be seeing, as Graham did, this ain't a walk in the park.
---
Barry A.

-

10-15-2010 at 03:58 PM





Actually, Dennis, it may be a "walk" in two "parks"--------"Constitucion" and "Sierra de San Pedro Martir", but he better keep moving along less he encounter really cold and snowy weather in the San Pedro Martirs. Now THAT, as Graham can testify too also, IS no walk in the Park....

Oct. can be iffy on the plateau.

Barry
---
DirkEXC

-

10-15-2010 at 04:16 PM



Does anyone know his tenative track. If he is going to Valley T and then to the Pacific side he could take the easy way to San Vincente, or go to Mikes to get a steak and a beer and onto El Coyote or is going to the Gulf side and head to SF.

Or is his track unknown and he wants to keep it that way ??

If we new his possible track the off roaders could bring Don Kay an apple of something.
---
Graham

-

10-15-2010 at 07:06 PM



Mike is going to follow Highway 3 down to Valle Trinidad and then take the road to Highway 1 through San Isidoro and Llano Colorado emerging south of San Vicente.

I headed up to the San Pedro Martir trying to reach the mission site but Mike will be spared that. He'll be sticking close to the Pacific coast after he crosses Highway one.

I'm sure he'd love a visit. A highlight of my trip was meeting so many great folks along the roads of Baja. And I can attest burros love apples.

I can only imagine how he is coping with his two dogs beside the highway. It should be easier for him when he exits at Valle Trinidad. That's the route I took. This should be a good time to meet up with him. Like David said, he'll likely camp off the road, but he ought to be easy to spot during the day.

Every day will be a wonderful adventure for Mike... and I'm sure he'll have some stories to tell already.

Brings back memories of me and Mision tackling that route in 1997 ... with dozens of trucks and bikes pre-running the 1000.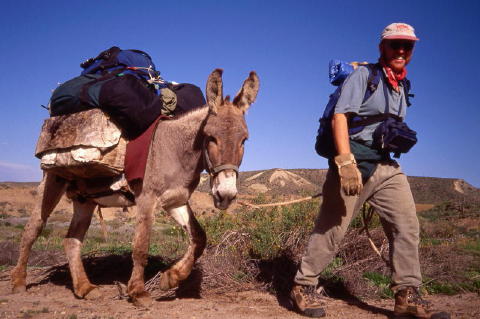 ---
David K

-

10-15-2010 at 08:29 PM



Thank you Graham... it is so great to read of your 1997 adventure while we follow Mike on his one!
---
BajaBlanca

-

10-15-2010 at 08:35 PM



Graham, I just started reading your first book and find that I need a glass of water or juice next to me to be able to read it .... I am glad you walked the peninsula and wrote about it !!
Best of luck to Mike and I do hope one of us runs into him soon ... and takes a picture.
---
Ejido de los Heroes de la Independencia
David K

-

10-15-2010 at 09:18 PM



Mike's SPOT signal for today is at the intersection of Hwy. 3 and the graded road to Santa Catarina (Paipai Indian village)... in the middle of Ejido de los Heroes de la Independencia. The site of the Dominican mission of Santa Catalina is on a hill above the cemetery, on the far side of town...


---
photo to follow
John M

-

10-16-2010 at 03:58 AM



We encountered Mike when he was near the lumber mill north of El Rayo - Don Kay - and three dogs - He was only beginning his trek and was in great spirits.

I will try to get a photo posted later today. What an adventure.

John M
---
Graham

-

10-16-2010 at 10:54 AM



Thanks for the update John. Looking forward to the pictures. Three dogs! Not sure if that's a typo or if he has picked up another friendly dog. Easy to do in Baja.

One of the concerns I had for him was encounters with dogs in the streets. Also easy to do when you have a burro and two small dogs in tow!

Here's a picture of Mike and his two dogs - 8 year old Max and two year old Rusty - on a training hike earlier this year.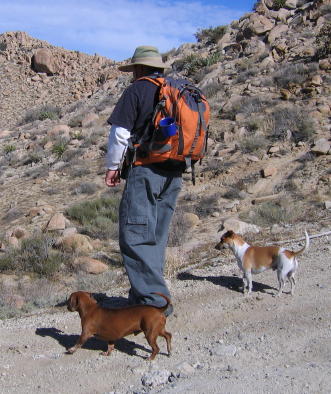 ---
BajaBlanca

-

10-16-2010 at 09:00 PM



those dog paws are going to be very sore .......
---
Oct. 16
David K

-

10-17-2010 at 02:17 PM



Last night, Mike and the critters were about 4 miles north of Valle de la Trinidad, along Hwy. 3...




Valle de Trinidad is the square symbol near the bottom.

[Edited on 10-17-2010 by David K]
---
Oct. 17 Valle de Trinidad
David K

-

10-17-2010 at 07:25 PM




---
redmesa

-

10-17-2010 at 08:19 PM



Thank you for doing this David. I find it totally amazing!
---
Brian L

-

10-18-2010 at 02:31 PM



Thanks for the updates David!
---
BajaBlanca

-

10-18-2010 at 05:26 PM



my gosh ... just amazing how fast he is trekking. No one has run into him recently ???? I wonder if the rancheros are talking about him on their radios ....
---
DENNIS

-

10-18-2010 at 06:53 PM






I'm sure they are, saying, WTF??
Hope he doesn't wander into a Weed farm. Wouldn't bode well.
---
wessongroup

-

10-18-2010 at 06:56 PM



Thanks for your efforts DK... and best wishes to the travelers ... sore paws and all...

[Edited on 10-19-2010 by wessongroup]
---
DENNIS

-

10-18-2010 at 06:59 PM






Yeah, Wiley. That has to be a concern. These arn't hooved animals.
---
Graham

-

10-18-2010 at 08:29 PM



Great work David with those maps. Thanks for taking all that time. Awesome.

Heard from Mike's family who'd made contact a couple of days ago that Mike is having the time of his life, picking up water from passing motorists, hay from ranchers, and being treated to the usual off-road Baja warmth and hospitality. Seems he spent Sunday night camped in a backyard in Valle Trinidad.

I guess in about three or four days he'll emerge onto Highway one and then work his way down to Colonet. Jack Russell Rusty seems to be doing well. Dachshund-Chihuahua mix Max is showing signs of tiredness and may need to call it quits if piggy back rides on the burro aren't the solution. Amazing old guy has managed over 100 miles.

There's a chance I might be able to drive down in the next couple of days and meet up with them. Maybe bring some of those apple treats my burro used to get on the highway.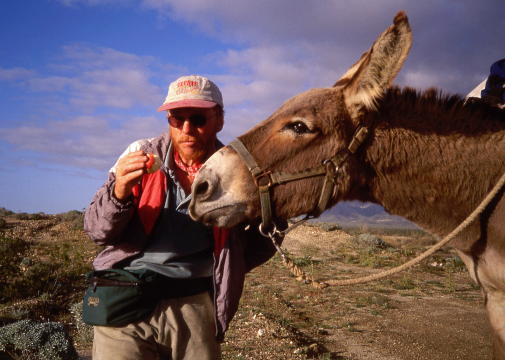 ---
Graham

-

10-18-2010 at 08:33 PM



Mike and Max - a pair of old soldiers on the great adventure!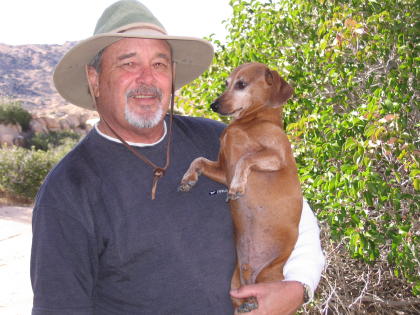 ---
Oct. 18
David K

-

10-18-2010 at 10:35 PM






Mike and the gang are headed out to Mex. 1, on the road that comes out by the vineyard, just south of San Vicente.
---
David K

-

10-18-2010 at 10:53 PM



Here is a high view, looking west with Mike's entire journey shown...


---
shari

-

10-19-2010 at 07:20 AM



thanks for the update on Mikes excellent adventure! Graham, if you do hook up...please give Mike and all the critters a big hug from me!!!
---
wessongroup

-

10-19-2010 at 07:33 AM



Thanks so much for the pictures Mike.... can't tell you how cool I think what your doing is.... man.. you have no idea how much I really like what your doing...

I like your thinking, your dogs and especially your donkey ... its what dream are made of... thanks for sharing.. and wish you and yours only the best...

Wiley S.
---
DENNIS

-

10-19-2010 at 08:00 AM



Mike may be getting a bit wet right about now. Hope the best for all of them.
---
David K

-

10-19-2010 at 08:04 AM



It is pouring very hard in Oceanside this morning...
---
wessongroup

-

10-19-2010 at 09:07 AM



Big time lighting and thunder here in Mission Viejo.. along with very heavy rain.. intermittent..

Had the same thought about Mike and company.. but, I'm sure he must have anticipated the possibility of rain.. and it you have shelter.. not bad to sit all snug and warm in your shelter with your pals.. not sure if the donkey gets inside...
---
Graham

-

10-19-2010 at 10:58 AM



Mike has been planning and training for this trip for over a year. He's read and re-read my Journey With a Baja Burro. So he's very familiar with the problems of precipitation. I did that journey 1997-1998 in what turned out to be the biggest El Niño on record. Sometimes it rained for days without a break, and I'd have to retire to my tent and wait for flooded rivers to drop.

It may not be much fun, but he's well equipped with tarps and ponchos to deal with the weather.

I'm sure he's getting very attached to that sweet white burro, but the poor guy will probably have to munch and bray out in the rain as there won't be a lot of room in the tent with Mike and the two dogs.

At the moment looks to be less rain forecast for Ensenada south. I'm watching it closely before deciding when to head down. I'm more concerned with not being able to find Mike if he's camped and sheltering in some quiet spot off the road and I can't track him.

Looking forward to returning and posting pictures of a happy and healthy Mike and Don-Kay… I will sure pass on all your greetings.

Picture of how I prepared for a rain storm.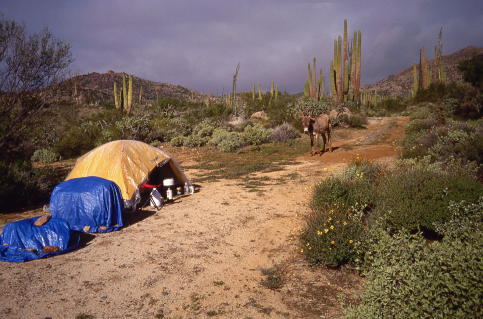 ---
Graham

-

10-19-2010 at 11:04 AM



And you can always rely on the local cowboys to help get the burro across a flooded arroyo.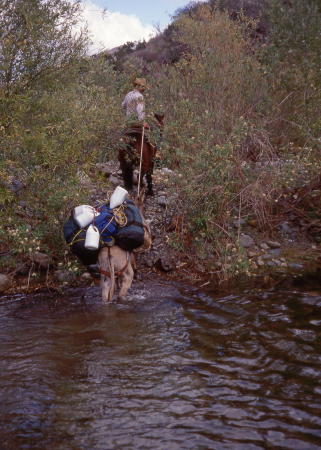 ---
Pages: 1 2 3 .. 16