Pages: 1 .. 14 15 16

Brian L

-

4-5-2011 at 11:27 AM



I am going to the Padres game today and plan to go meet Mike. Elite Security is getting some good press from this, I hope they continue to take care of him.
---
wilderone

-

4-6-2011 at 07:54 AM



"'I was on beaches where every cast was a fish.'"

Oh man. I wonder if he'll "tell all." Mike - will you tell me if I make more brownies? Ha!!
---
David K

-

4-6-2011 at 08:11 AM



Oh, this is going to be good...


---
desertcpl

-

4-6-2011 at 09:05 AM






he cant tell us remember its a secert spot



---
MikeYounghusband

-

4-12-2011 at 10:38 AM



Brownies huh? Thats mighty tempting. I'll se you at the presentation. But I warn you this place is pretty hard to get to. But I will show it to you on the map. Hint; Look at the southernly end of the mangroves.



---
wessongroup

-

4-12-2011 at 11:12 AM



Hope you find a home for Solo ..... that is some kind of friend...
---
David K

-

4-12-2011 at 04:56 PM



I am looking forward to the slide show (power-point show)... I hope Mexico Ted, BajaNomad and Mike can coordinate... Until they do, any San Diego County Nomads or lurkers can provide a viewing area with refreshments available, perhaps... like a restaurant meeting room, maybe? North County would make L.A. area Nomads more likely to come... But, anywhere would be great!
---
MikeYounghusband

-

4-17-2011 at 03:46 PM



Hey guys, just a note to let you know I will be on Ed Zieralski's radio show, All Outdoors Radio, on 1170 KCBQ from 4 to 6 today the 17th of April. It's a call in show so please call if you have the time. The number is 888-344-1170. Or you can go to KCBQ .com or alloutdoorsraDIO.COM AND HEAR IT LIVE. The station is at 1170 AM.

Mike Younghusband
---
bajacalifornian

-

4-17-2011 at 05:10 PM



Tomorrow, a special treat for Don-Kay . . .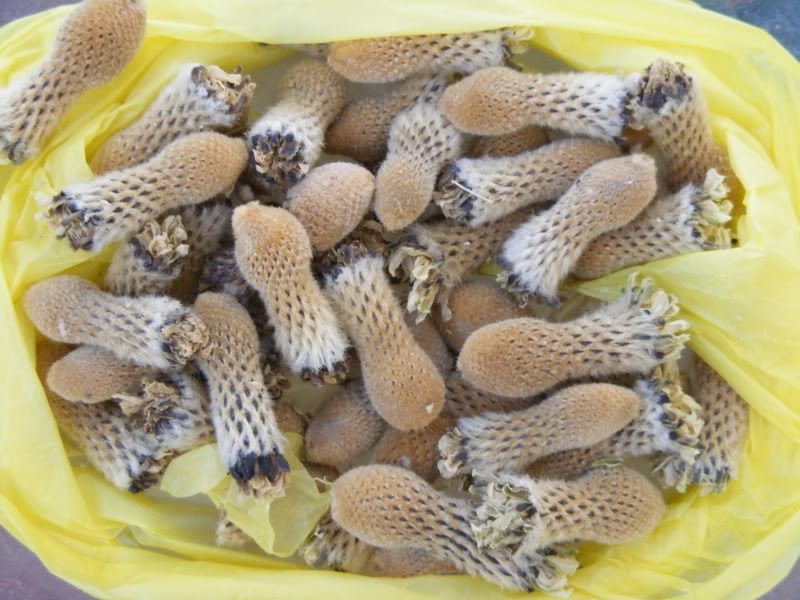 Came by this Fruit of a Cardon today, after he'd had about 15 orange casings from the juicer this morning.

Commin' to Loreto? Stop by for coffee or Tecate. Chop a couple stems & leaves of depua for El Donk.

He's fat & happy.
---
BajaBlanca

-

4-17-2011 at 05:18 PM



wish I had seen this post earlier .... hope it was a great show !!
---
Curt63

-

4-17-2011 at 05:22 PM



It is!
---
David K

-

4-17-2011 at 05:39 PM



It is on NOW Blanca (Pacific Time, one hour earlier than your time)...
---
sancho

-

4-17-2011 at 07:37 PM



I listened to the radio show, Mike is a good story teller,
look forward to the possible slide presentation/ get
together that was mentioned, by the way, that radio
show, alloutdoorsradio, archives their shows, so
you should be able to listen to Mike when it is
put up on the archived shows part of their website
alloutdoorsradio
DK, Did you hear Mike mention you? There was a mention
of your plotting his trek with GPS

[Edited on 4-18-2011 by sancho]
---
David K

-

4-17-2011 at 07:48 PM





Thanks Sancho... I only heard the last 20 minutes.

Hey Mike... some advance notice next time please!!

---
BajaGringo

-

4-17-2011 at 07:52 PM



I tried to listen to the show down here but the link would never work. Maybe it was ip blocked???
---
goldhuntress

-

4-17-2011 at 08:19 PM



I listened to the last hour and I really enjoyed it. Mike is a very positive, good energy guy. I did notice they archive the shows. I checked and this one's not archived yet but if you check in the next few days it may be so it's not too late if your interested. here's the link to the download archive page.
http://www.alloutdoorsradio.com/downloadshows.asp
---
TMW

-

4-18-2011 at 09:00 AM



Thanks for the link. I just finished the 1st hour. Interesting he didn't see any rattlesnakes or scorpions but he did run into packs of large wild dogs.
---
BajaBlanca

-

4-18-2011 at 10:56 AM



we see so many scorpions in the summer - just lift any garbage can or rock and voila.
---
goldhuntress

-

4-18-2011 at 11:28 AM



From what I understand snakes come out in full force late March, early April. I camped out for 3 weeks in Nov. 2010 and 3 weeks in the beginning March 2011 and saw no snakes. In April 2010 I was camped out for 3 weeks and saw 8 snakes, 2 rattlesnakes and several others including one with it's head lifted up, looked like a periscope, and MOVIN FAST along the road to El Arco. Anyway, point being, I think he went at the right time of year to avoid them.
---
TMW

-

4-18-2011 at 11:35 AM



I would have though he would have seen them in Oct and Nov with how warm it was.
---
Brian L

-

4-19-2011 at 10:15 AM



Listening to the archived show now.

Just heard the part about the parade given for him in Lopes Mateos. I remember the negative comments about it in this post, and wish the negative posters could hear Mike's tale of that day, and the folks involved. The kids there had made a great learning experience of Mike's trip. Great story!
---
BajaNomad

-

4-22-2011 at 04:11 PM



Mike will be giving Powerpoint presentation on his trip down the peninsula on May 21st, 2011 - at the Best Western Seven Seas on Hotel Circle in San Diego.

For more details - an to RSVP - please go to this thread:

http://forums.bajanomad.com/viewthread.php?tid=52485
---
Graham

-

4-24-2011 at 03:51 PM



Here's the link to the San Diego Union Trib story on Mike that appeared on Friday April 22. It's a slightly expanded version of the one that appeared in print on page one of the B section.


http://www.signonsandiego.com/news/2011/apr/21/baja-adventur...
---
David K

-

4-24-2011 at 07:17 PM



Thank you Graham!!
---
bajacalifornian

-

10-3-2011 at 05:02 PM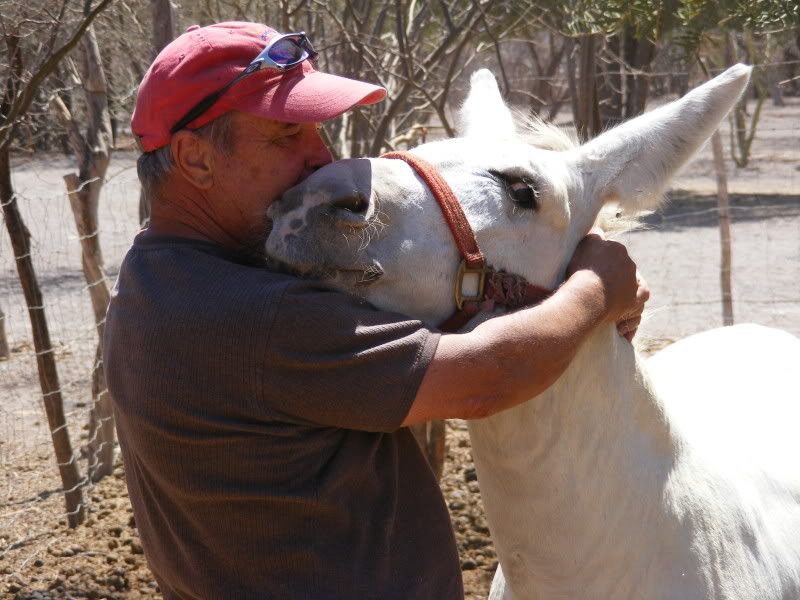 Full Circle . . . Mike, full time in Loreto now, reunited with DonKay.





AND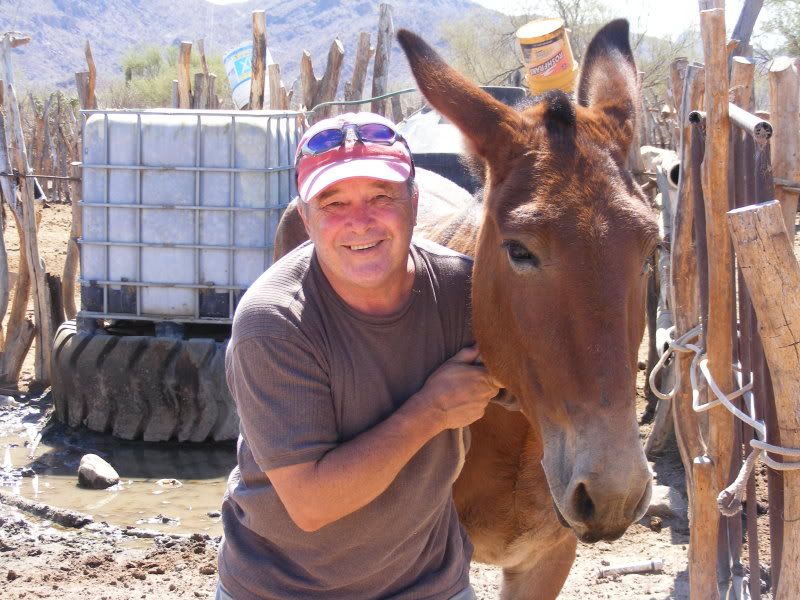 Mike has a new Mule!




Giving an impromptu lecture to the ranch hands, where he got his mule.
---
redmesa

-

10-3-2011 at 05:19 PM



Wonderful !
---
woody with a view

-

10-3-2011 at 05:28 PM



"you see that spot where the road ends, south of San Carlos? it's true!!!"





---
Felicidades
Mulegena

-

10-3-2011 at 10:10 PM



Welcome home, amigo!

No one knows more than you, Mike, how long and dusty the trail has been.

You've followed your heart back home.
---
shari

-

10-4-2011 at 07:40 AM



oh Mike...what a heat warming foto of you reuniting with DonKay...I bet he was just a bit nervous about you throwing that pack on him again for a little stroll!

Wow, your new mule is a big bugger eh! You can ride him...cant wait to see the menagerie sometime...is solo vino with you?
---
TMW

-

10-4-2011 at 08:32 AM



That's great, thanks for the update.
---
David K

-

10-4-2011 at 08:45 AM



It is a beautiful thing... the love between Mike and Don-Kay!



---
Bob H

-

10-4-2011 at 09:13 AM





YES... it's obvious!
---
bajacalifornian

-

10-4-2011 at 12:51 PM



Thanks for the thoughts guys. Don Kay and (Sin Nombre) are in a coeeal behind my house on my property. Its a great feeling to have him back in my life. The two of them are major amigos already. Solo is doing fine, I took her swtiches out yesterday from her Spay. Tommorrow she is going to the groomer to get a serious hair cut as it is real hot here.
ALL IS BUENO!!!!!!
Going on a ride from La Paz to Todos Santos on friday, lasts three days. Canīt waqit to get on the trail agian even if it is on the back of a mule.
---
Bob H

-

10-28-2011 at 06:29 AM



Bumping this up... good stuff here.
---
Ateo

-

11-20-2011 at 09:23 PM




---
Pages: 1 .. 14 15 16