Pages: 1 2

David K

-

1-23-2011 at 02:13 PM



The kilometer markers offer a convenient way to note places or side roads along the highway.

The markers re-zero every so often...

In Baja Norte: Tijuana, Ensenada, San Quintin (south), L.A. Bay Jcn. (Parador Punta Prieta), Eagle Monument/ State Border. The numbers increase as you drive south.

In Baja Sur: Santa Rosalia, Loreto, Villa Insurgentes, La Paz, Cabo San Lucas. The number decrease as you drive south.

I have several... and please add yours... I will try and re-organize them from north to south when everyone has had a chance to contribute...

There was a change to the markers south of San Quintin a few years ago that added 2-3 km. to the old ones.

I have a lot, and they are scattered through my notebooks and web pages... So give me a couple days to add to and edit the following list:

EDIT: The large list is posted here, from the end of this thread:

TW & David K's KM marker notes... Please add yours!



TW has the biggest list, and here I combined his with those I have:

Kilometer numbers for Hwy 1:

KM 0 TJ
KM 36 Rene's Restaurant before old toll gate
KM 52 Cantamar sand dunes
KM 60 Half Way house restaurant
KM 70 Beach area past La Fonda
KM 74 La Salina (harbor, marina, and cantina)
KM 78 Bajamar/ Jatay
KM 84 Overlook
KM 99 Last Toll Gate
KM 105 Jct with Hwy 3 from Tecate

Reset Kilometer to 0 at Ensenada:

KM 42 Uruapan
KM 50 Santo Tomas
KM 77/78 Paved road to Erendira
KM 102/103 Graded road to Valle de Trinidad
KM 140 Paved road to National Park and Observatory
KM 157 Camalu
KM 169 Access to Bahia San Ramon
KM 191/192 Several Hotels both sides.

Reset Kilometer 196/0 South of San Quintin:

KM 1 Old Mill
KM 3 Old Pier
KM 11 Los Pinos Pemex, paved road west to Hotel Mision Santa Maria and Motel Cielito Lindo
KM 16 Access east to Baja 1000 course
KM 57 El Rosario Pemex
KM 80 & 81 Access to Puerto San Carlos
KM 103 Access to San Juan de Dios and old road back to El Rosario
KM 106 El Arenoso
KM 116 Hector's Monument
KM 121 El Progresso/ Mission San Fernando
KM 132 Guayaquil, access to Puerto Catarina
KM 145 San Agustin
KM 146 Access to Puerto Catarina, joins road from KM132 above
KM 148 El Marmol access (9 miles)
KM 149 Sonora Cafe
KM 160 Agua Dulce access, (2 miles: go left 1.4 mi. to old main road, turn north for .3 mi. then turn right for .3 more.)
KM 168 Access to Pacific Coast & Baja 1000 route & San Telmo Onyx mine, mine turnoff left at 10.7 mi. in
KM 176 Rock Art parking
KM 179 Cataviña
KM 181 Rancho Santa Ynez
KM 209/210 El Pedregoso Rock mtn west side
KM 213 Access east to Turquesa Canyon Grade
KM 233 Jct Hwy 5 from Cocos (12.7 mi.) and Gonzaga Bay (35 mi.)
KM 234 Access west to Pacific Ocean at Playa Christie
KM 251 Access to Baja 1000 race course and Rd to Mission Calamajue (5.4 mi., 13.8 to mission)
KM 252 Access to Pacific at Bahia Blanco
KM 261 El Crucero, Calamajue Canyon road (15.3 miles to mission, 28.0 to Coco's, 50.3 mi. to Gonzaga Bay)
KM 270 Access SE to El Desengaño gold mine (AB), NE to Rancho San Luis.
KM 271 Access to Pacific Ocean joins Rd from KM252 in about 8 miles
KM 282/0 Jcn Hwy to LA Bay

On L.A. Bay Hwy:

KM 45 San Borja access
KM 65/66 L.A. Bay

On Hwy. 1, at L.A. Bay Jcn.: Reset Kilometer to 282/0:

KM 14 Punta Prieta
KM 39 Hwy to Santa Rosalillita
KM 53 Rosarito and access to Mission San Borja
KM 62/63 Access to Pacific Ocean by Altamira (AB)
KM 67/68 Access to El Tomatal and Miller's Landing
KM 70 Access east to El Marmolito Onyx mine
KM 95 Villa Jesus Maria

Reset Kilometer to 0/224 at Eagle Monument and note KMs get smaller going south, now in Baja Ca Sur:

KM 220 Guerrero Negro
KM 208 Access west to whale watching
KM 189 Jct hwy to El Arco
KM 154 Las Palomas/ Guillermo Prieto/ Santa Gertrudis/ San Francisquito access
KM 144 Vizcaino
KM 133 Access to old Baja 1000 course east side north bound
KM 124 Microwave tower Los Angeles
KM 118 Jct Road to San Francisco de la Sierra
KM 98 Jct Hwy to Punta Abreojos
KM 88 Microwave tower Abulon
KM 74 San Ignacio
KM 35 Microwave tower Caguama
KM 33 Jct Geo plant Tres Virgenes
KM 17/18 Microwave tower Almeja
KM 0 Santa Rosalia

Reset Kilometer to 0/197 at Santa Rosalia:

KM 189/190 Prison
KM 180 Microwave tower San Lucas
KM 168/169 San Jose de Magdalena access
KM 162/163 Boca de Magdalena access
KM 156 Palo Blanco/ Punta Chivato access
KM 133/134 Mulege
KM 120 Villas de Mulege
KM 118 Playa Frambes Resort access
KM 76 Access to east side of Bahia Concepcion. Note on one map it's KM74
KM 60 Jct road west to San Isidro and La Purisima
KM 30 San Juan Bauitista Londo access
KM 0 Loreto

Reset Kilometer KM0/120 at Loreto:

KM 94 Puerto Escondido
KM 84/85 Ligui
KM 71 Microwave tower Ligui
KM 63 Jct Road to Agua Verde
KM 0 Ciudad Insurgentes, left turn for south

Reset Kilometer KM0/234 at turn in Insurgentes:

KM 210 Ciudad Constitucion
KM 195/196 Jct Graded road east to Mission San Luis Gonzaga
KM 180 Access road west to Puerto Cancun
KM 173/174 Graded road west to Puerto Cancun
KM 169/170 Microwave tower el Torote
KM 157 Santa Rita and graded road west to Puerto Chale
KM 154 Road east to San Andres and beyond
KM 135 Microwave tower el Rifle
KM 128 Road west to El Estero joins road from KM110 Las Pocitas
KM 110 Las Pocitas east to San Evaristo & west to Sante Fe, joins KM128 rd
KM 82 Microwave tower el Coyote
KM 80/81 road west to Punta Conejo
KM 60 Microwave tower el Cardon
KM 56 road to Punta Marquez
KM 38 Access road to pacific at San Isidro
KM 36 Microwave tower Matape and access road to Pacific at Los Inocentes

=================================================

HWY 3 (Ensenada to San Felipe):
KM 19 Access to the Wall on race course.
KM 33 SCORE race course return route.
KM 39 Ojos Negros turn off.
KM 55 Laguna Hanson turn off.
KM 86 El Alamo.
KM 90 Independencia.
KM 108 The Summit access as well as Nuevo Jct.
KM 117 Goat Trail.
KM 120 Valle de Trinidad.
KM 130 Children Orphanage, Malcom Smith supports it.
KM 137/138 Mike Sky Rancho access (20 mi.).
KM 153 Access to Arroyo Grande.
KM 155 Access to Diablo Dry Lake thru arroyo.
KM 165 Access to Diablo Dry Lake by graded road.
KM 173 Access to Borrego pit area.
KM 179/180 Borrego crossing for races.
KM 197 Jct with hwy 5 KM141.

HWY 5:
KM 40 Access to Laguna Salada thru mtns.
KM 49 Access to Laguna Salada east side.
KM 87 Saldana I and Tres Pozos.
KM 89 Saldana II and access to Arroyo Grande wells.
KM 105 La Ventana.
KM 107 Access thru mtn to Arroyo Grande wells.
KM 123 Gold mine road.
KM 133 Access to race courses.
KM 141 Jct with hwy 3 KM197.
KM 142 Three Poles.
KM 149 Race course access.
KM 159 Race course access.
KM 168 Race course access.
KM 179 Zoo Road.
KM 188 San Felipe Arches.

South of San Felipe:
KM 0 Airport access
KM 20/21 Rancho Percebu access
KM 26 Shell Island access (1.9 mi.)
KM 31 Bahia Santa Maria access
KM 32 Nuevo Mazatlan/El Sahuaro access
KM 35 Colonia Delicias
KM 49 El Coloradito access
KM 52 Old Puertecitos Rd, race course.
KM 54 Campo Cristina access
KM 58/59 Los Olivos access
KM 60/61 Matomi wash at San Rafael.
KM 72 Playa Destiny
KM 74/75 Puertecitos access
KM 83 Bahia Cristina
KM 84.5 La Costilla
KM 99 Paved Pullout/Viewpoint
KM. markers were changed south of here in 2016...
KM 124 Campo Delfines (1 km. south of pavement end in July 2012).
KM 133 Punta Bufeo road
KM 143 Papa Fernandez' road
KM 145 Military Checkpoint
KM 147 Gonzaga Pemex/ Alfonsina's road/ Rancho Grande
KM 155 Arroyo Santa María bridge
KM 159 Las Palmitas road
KM 167.5 END OF PAVEMENT (July 2016)



[Edited on 8-10-2016 by David K]
---
Oggie

-

1-23-2011 at 02:42 PM



Almost to BOLA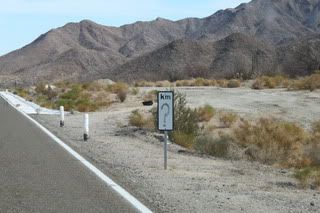 ---
In the real world
bajaguy

-

1-23-2011 at 02:43 PM



They start at one end of the state/highway and go to the other without re-zeroing.........that way you can tell where you are............

But we are not in the "real world"............

Your mileage may vary.........
---
BajaBlanca

-

1-23-2011 at 03:46 PM



KM 98 - exit to Blanca and Les's house





heading south between Vizcaino and San Ignacio
---
Russ

-

1-23-2011 at 03:53 PM



KM 156 at Palo Verde (To Punta Chivato)
---
ddawson

-

1-23-2011 at 04:11 PM



My new fave marker KM 96 South of El Rosario, taken Fri 1/21:


---
Bajahowodd

-

1-23-2011 at 04:52 PM



So, my question is why the renumbering? Maybe I could understand if each state had their own numbering system. That would only make two systems. Inasmuch as they regularly post mileage (kilometer) signs telling you how far it is to places that lie ahead, even when in somecases it get a little ridiculous (distance to TJ outside of Mulege, for instance), I would think that since Mex 1 is "the" transpenisular highway, it would make some sense that they numbered it consecutively from top to bttom or vice versa.
---
David K

-

1-23-2011 at 10:27 PM



Good question... Remember seperate road crews worked on the highway completion (~1968-Dec. 1, 1973)... most work was done in 1973 in a rush to complete before the president's term ended.

The most progress was done in Baja Sur heading north... Baja Sur was a federal territory then, if that mattered.

During 1972:

North to South crews started near Colonet and advanced to San Quintin by 1973.

South to north crews had built and paved the road from Insurgentes over to Loreto and north to Santa Rosalia... and were partway to San Ignacio by 1973.

In 1973:

By July, 1973 the north crew had paved past El Rosario to the El Progreso/Mision San Fernando rd. and a road bed was completed to near Agua Dulce (past San Agustin).

The south crew had paved past San Ignacio, to Guerrero Negro, Villa Jesus Maria, and in sections to Punta Prieta! Roadbed work was completed to Laguna Chapala.

The north and south bound construction crews met at San Ignacito (just south of Santa Ynez, near the site of what would become Cataviña after the highway was built).

Pavement was completed in November... the opening cermony was heald at the newly erected Eagle Monument, near Guerrero Negro on Dec. 1, 1973.
---
BajaWarrior

-

1-24-2011 at 05:17 AM



One Kilometer from Hwy. 1 heading toward Punta Santo Tomas...




[Edited on 1-24-2011 by BajaWarrior]
---
David K

-

1-24-2011 at 09:55 AM



How about when the Km. post is a cactus!?




This is the San Borjitas road, west from Palo Verde (north of Mulege).
---
akbear

-

1-24-2011 at 11:42 AM



km 108, just passed my drive way in Buena Vista, BCS.
---
BajaBlanca

-

1-24-2011 at 12:51 PM



I can't beleive they put the km marker on a cactus !! where is the biosphere protection agency when you need them ???!!!!
---
Bajahowodd

-

1-24-2011 at 05:30 PM





I know that most Nomads have seen the ridculous situation where over and over, there are virtually duplicate road markers along the highway. Any explanation for that? Often, they stand butting up against each other.
---
David K

-

1-24-2011 at 11:36 PM



Government make work project? Replace the old signs with new ones... only don't remove the old ones...



Hey, back on topic... anyone have Km. marker notes? TW, I know you have some... ??
---
mcfez

-

1-25-2011 at 07:29 AM





Great freaking idea David! This master list will benefit me in my future travels trying to find off the beaten path turn offs.

Now...maybe someone can take those marker points and add directions "from point a to point b" to any significant spots of that area....

Example: Marker 123 is Pointe Final. Whats at that end of that dirt dirt there? Hope I am making sense...it's too early for me to be thinking!
---
mcfez

-

1-25-2011 at 08:02 AM





Pointe = Punta = Punkt

---
bajacalifornian

-

1-27-2011 at 08:20 PM



Multiply by .6. Keeps me occupied and my brain trying to work.
---
David K

-

1-27-2011 at 11:32 PM



What's nice is they are every kilometer (or 6/10 of a mile), so just start looking for the turnoff as the numbers get close!
---
BajaGringo

-

1-30-2011 at 12:47 PM







We are just about due west from where it all begins...



---
Hwy. 1 Km. Marker List
David K

-

4-7-2011 at 01:21 PM



San Quintin South:

K0 (where Hwy. 1 gets narrow south side of Lazaro Card##as, the newest section of the transpeninsular highway, built in 1973)
K57-61 El Rosario
K80+ Punta San Carlos Road, Las Pintas access
K103+ Cafe, road to San Juan de Dios, Los Martires access
K106 El Arenoso site
K116+ Hector's Monument
K145 San Agustin
K148+ El Marmol Road
K149+ Rancho Sonora
K160+ Agua Dulce access
K176 Rock Art access
K179 Cataviña
K213+ La Turquesa Grade access
K233 Laguna Chapala
K234 Road to Pacific
K251 Calamajue Canyon access
K270 Old L.A. Bay Road east, just ahead road west to Pacific


L.A. BAY JCN. (Parador Punta Prieta) SOUTH TO EAGLE MONUMENT:

K53 Rosarito (Nuevo Rosarito)
K95 Villa Jesus Maria

EAGLE MONUMENT SOUTH TO SANTA ROSALIA (K220):

K220 Eagle Monument/ State Border
K189 El Arco Road (once paved Mex Hwy. 18)
K154+ Guillermo Prieto Road (remember the numbers run from south to north in Baja Sur, so 154+ means between 153 and 154)
K98 Punta Abreojos and La Bocana Road

SANTA ROSALIA SOUTH TO LORETO:

K168+ San Jose de Magdalena road
K162+ La Posa & Magdalena ruins access
K156 Palo Blanco, Punta Chivato road
K118 Playa Frambes Lighthouse Resort Road
K30 San Juan Bautista Londo access (to west)





[Edited on 1-18-2012 by David K]
---
David K

-

4-7-2011 at 01:24 PM



Thanks to Russ and Baja Blanca for their additions!

How about it Nomads... do you have a kilometer marker note that could go on this list?
---
bryanmckenzie

-

4-7-2011 at 02:45 PM



To quote 'Larry the Cable Guy' -- "Now that's funny, I don't care who ya' are, that's funny."


---
Naked Markers
bryanmckenzie

-

4-7-2011 at 02:49 PM



Again,

To quote 'Larry the Cable Guy' -- "Now that's funny, I don't care who ya' are, that's funny."

Km 1 on the road to Bahia de los Angeles. "Oops, didn't see that guy coming."


---
capt. mike

-

4-7-2011 at 02:53 PM



well now we certainly are aware of your shortcomings....



wonder what that approaching car was thinking. hahahaha.
---
David K

-

4-7-2011 at 03:10 PM



Not that it isn't fun... I didn't think of this post as a photo posting one, but as a list of the markers with where they are or what is there.

---
bryanmckenzie

-

4-7-2011 at 03:40 PM



OUCH, Mike. "Look honey, the moons are up early this evening."

I also have an airport series but I'll save those for another thread since DK "suggested" meaningful information at particular markers.

Besides, you'd recognize the ICAO ID's.

And, yes, I like to have some fun while driving the peninsula. It's a looooong drive if you can't have some fun.


---
TMW

-

4-7-2011 at 04:16 PM



HWY 3:
KM55 Laguna Hanson turn off.
KM86 El Alamo.
KM90 Indeoendencia.
KM108 The Summit access as well as Nuevo Jct.
KM117 Goat Trail.
KM120 Valle Trinidad.
KM130 Children Orphanage, Malcom Smith supports it.
KM137/138 Mike Sky Rancho.
KM153 Access to Arroyo Grande.
KM155 Access to Diablo Dry Lake thru arroyo.
KM165 Access to Diablo Dry Lake by graded road.
KM173 Access to Borrego pit area.
KM179/180 Borrego crossing for races.
KM197 Jct with hwy 5 KM141.

HWY 5:
KM40 Access to Laguna Salada thru mtns.
KM49 Access to Laguna Salada east side.
KM87 Saldana I and Tres Pozos.
KM89 Saldana II and access to Arroyo Grande wells.
KM105 La Ventana.
KM107 Access thru mtn to Arroyo Grande wells.
KM123 Gold mine road.
KM133 Access to race courses.
KM141 Jct with hwy 3 KM197.
KM142 Three Poles.
KM149 Race course access.
KM159 Race course access.
KM168 Race course access.
KM179 Zoo Road.
KM188 San Felipe Arches.

Sout of San Felipe:
KM52 Old Puertecitos Rd, race course.
KM60/61 Matomi wash at San Rafael.

I'll work on Hwy 1 tomorrow.
---
David K

-

4-7-2011 at 04:38 PM



That is awesome Tom... I knew you would have some good ones... When your Hwy. 1 list is added, I will incorporate it ito the master list.

---
TMW

-

4-7-2011 at 04:47 PM



I have to be careful on hwy 1 from San Quintin south to the LA Bay turn off because they re-did the KM markers to, I assume, reflect the road around the Santa Maria area where the Santa Maria hotel is. This was a few years ago. I think you have it right above since KM103 use to be KM99 for the turn off for San Juan de Dios.
---
David K

-

4-7-2011 at 05:12 PM





Yes, many guidebooks still have the wrong figures... it was changed by 2-4 km. over 10 years ago. Some guidebooks as recent as 2006 still have not been fixed.

Baja Cactus is 'legally' at Km. 55, but across from the Km. 57 marker.

The Punta San Carlos road was at Km. 77+ but now is at Km. 80-81.
---
TMW

-

4-10-2011 at 01:05 PM



Kilometer numbers for Hwy 1:

KM0 TJ
KM36 Rene's Resturante before old toll gate
KM52 Cantamar sand dunes
KM60 Half Way house resturante
KM70 Beach area past La Fonda
KM78 Bajamar
KM84 Overlook
KM99 Last Toll Gate
KM105 Jct with Hwy 3 from Tecate

Reset Kilometer to 0 at Ensenada:

KM42 Uruapan
KM50 Santo Tomas
KM77/78 Paved road to Erendira
KM102/103 Graded road to Valle de Trinidad
KM140 Paved road to National Park and Observatory
KM 157 CamaluKM169 Access to Bahia San Ramon
KM 191/192 Several Hotels both sides.

Reset Kilometer 196/0 South of San Quintin:

KM1 Old Mill
KM3 Old Pier
KM16 Access east to Baja 1000 course
KM60 El Rosario
KM81 Access to Puerto San Carlos
KM103 Access to San Juan de Dios and old road back to El Rasario
KM106 El Arenoso
KM121 El Progresso/ Mission San Fernado
KM132 Guayaquil, access to Puerto Catarina
KM145 San Agustin
KM146 Access to Puerto Catarina, joins road from KM132 above
KM149 El Marmol
KM168 Access to Pacific Coast & Baja 1000 route & San Talmo Onyx mine, mine turnoff left at 10.7 mi. in
KM180 Catavina
KM181 Rancho Santa Ines
KM209/210 El Pedregoso Rock mtn west side
KM213 Access east to Turquesa Mine
KM233 Jct Hwy 5 from Cocos and Gonzaga Bay
KM234 Access west to Pacific Ocean at Playa Christie
KM251 Access to Baja 1000 race course and Rd to Mission Calamajue
KM252 Access to Pacific at Bahia Blanco
KM261 El Crucero
KM270 Access to El Desengano gold mine (AB)
KM271 Access to Pacific Ocean joins Rd from KM252 in about 8 miles
KM282 Jct Hwy to LA Bay

Reset Kilometer to 282/0:

KM14 Punta Prieta
KM39 Hwy to Santa Rosalillita
KM52 Rosarito and access to Mission San Borja
KM62/63 Access to Pacific Ocean by Altamira (AB)
KM67/68 Access to El Tomatal and Miller's Landing
KM70 Access east to El Marmolito Onyx mine
KM96 Jesus Maria

Reset Kilometer to 0/224 at monument and note KMs get smaller going south:

KM220 Guerrero Negro
KM208 Access west to whale watching
KM190 Jct hwy to El Arco
KM154 Las Palomas
KM144 Vizcaino
KM133 Access to old Baja 1000 course east side north bound
KM124 Microwave tower Los Angeles
KM118 Jct Road to San Francisco de la Sierra
KM98 Jct Hwy to Punta Abreojos
KM88 Microwave tower Abulon
KM74 San Ignacio
KM35 Microwave tower Caguama
KM33 Jct Geo plant Tres Virgenes
KM17/18 Microwave tower Almeja
KM0 Santa Rosalia

Reset Kilometer to 0/197:

KM189/190 Prison
KM180 Microwave tower San Lucas
KM133/134 Mulege
KM76 Access to east side of Bahia Concepcion. Note on one map it's KM74
KM60 Jct road west to San Isidro and La Purisima
KM0 Loreto

Reset Kilometer KM0/120:

KM94 Puerto Escondido
KM71 Microwave tower Ligui
KM63 Jct Road to Agua Verde
KM0 Ciudad Insurgentes

Reset Kilometer KM0/234:

KM210 Ciudad Constitucion
KM198 Jct Graded road east to Mission San Luis Gonzaga
KM180 Access road west to Puerto Cancun
KM173/174 Graded road west to Pueto Cancun
KM169/170 Microwave tower el Torote
KM157 Santa Rita and graded road west to Puerto Chale
KM154 Road east to San Andres and beyond
KM135 Microwave tower el Rifle
KM128 Road west to El Estero joins road from KM110 Las Pocitas
KM110 Las Pocitas east to San Evaristo & west to Sante Fe, joins KM128 rd
KM82 Microwave tower el Coyote
KM80/81 road west to Punta Conejo
KM60 Microwave tower el Cardon
KM56 road to Punta Marquez
KM38 Access road to pacific at San Isidro
KM36 Microwave tower Matape and access road to Pacific at Los Inocentes

This is all I have. They were taken from several maps and almanacs. If anyone sees an incorrect KM number please correct it.

[Edited on 4-10-2011 by TW]

[Edited on 4-11-2011 by TW]

[Edited on 4-11-2011 by TW]
---
Km - 15 El Centenario
fixtrauma

-

4-10-2011 at 03:08 PM




---
TMW

-

4-11-2011 at 07:56 AM



DK your right.

It was several years ago around 1995 I was last to the Onyx mine at San Talmo. There was a friendly guy there about mid to late 30s and he was working it and let my brother and I look around all we wanted. If I remember correctly he said his dad was working it with him.
---
David K

-

4-11-2011 at 09:09 AM





Very cool... I have not been down that road or to the La Bocana site that is off it, closer to Hwy. 1 on the way to San Telmo (as it is spelled on the maps). Are there any springs around the area like at El Volcan?
---
TMW

-

4-11-2011 at 09:30 AM



Not that I remember, but it's been a long time. I would like to go back there. The 1985 Baja 1000 went right by there and up a hill. We rode MCs there in 1987. When we were there in 1995 the road up he hill was in really bad shape from rains.
---
bryanmckenzie

-

4-11-2011 at 04:50 PM






Nice compilation TW. Thanks. Here is "01" south of he BOLA turnoff.




[Edited on 2011-5-27 by bryanmckenzie]
---
And San Augustin
bryanmckenzie

-

4-11-2011 at 04:53 PM




---
David K

-

4-11-2011 at 10:23 PM



Cool! Thanks McKenzie!


---
BajaBruno

-

4-11-2011 at 11:28 PM



A number of years ago I used to frequently see the old embossed cement KM markers knocked over and abandoned. I really wanted to take one back north with me, but I always thought US Customs would hassle me about it. I'd still like to have one.
---
mulegemichael

-

4-12-2011 at 07:59 AM



km 61 just north of the last military checkpoint before GN is a great turnoff spot to the pacific and remote camping..used it many many times
---
lizard lips

-

4-12-2011 at 01:14 PM



Km 1 Cabo San Lucas is where Miguelocos Restaurant is. Great place and Great people.
---
San Quintin Km 196 = Km 0
bryanmckenzie

-

5-27-2011 at 10:42 AM






Southbound, Km 196 = Km 0




[Edited on 2011-5-27 by bryanmckenzie]
---
David K

-

5-27-2011 at 10:52 AM



Cool you got the highway narrowing sign! This is the point of the final section of Highway 1 to be built... all in the year 1973: San Quintin to San Ignacio/ Santa Rosalia. Seems they made the highway a foot narrower so the amount of asphalt could be squeezed on south! Now, almost 40 years later they are finally widening sections of the skinny highway north and south of El Rosario.

In 1972 the highway crews working north from La Paz had already passed Santa Rosalia and were working on the really tough grades up to San Ignacio. In early '73, we had learned that the new highway would not follow the main road route through El Arco, but instead swing out west to Guerrero Negro. El Arco would get a paved 'driveway' (Mexico Hwy. 18), but with so thin a layer of asphalt, it broke apart ver soon after it was made!
---
bryanmckenzie

-

5-27-2011 at 11:19 AM



Great information David. Thanks. I'm a full year behind chronicalling last year's trip and so am just now discovering (remembering?) the many, many pictures of road signs & road construction I took. Literally hundreds trying to document the ever-changing peninsula. It's hard to believe how much money is flowing back into the peninsula in the form of public works projects.
---
GregN

-

5-27-2011 at 05:28 PM



In the back pages of my book "Baja Fever," I can be seen leaning against a "Kilometer 0 " sign taken in Cabo San Lucas.
---
Where is this one? Is it Hwy 1?
bryanmckenzie

-

5-27-2011 at 06:47 PM



Where is this one? Doesn't really look like Hwy 1? Unless it's from David K's early days in Baja.

Seen in this thread.


[Edited on 2011-5-28 by bryanmckenzie]
---
David K

-

12-3-2011 at 11:14 AM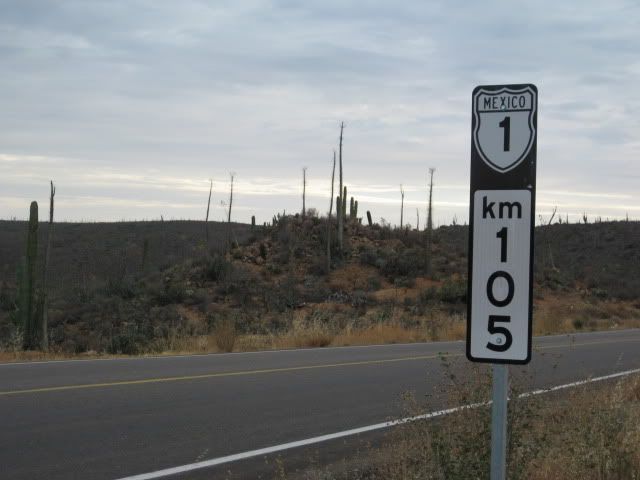 This thread has been fun for both kilometer marker photos and what is at the kilometer markers (or where does that side road go)!

The above photo was taken last July, between El Rosario and Cataviña.
---
Ateo

-

12-3-2011 at 02:12 PM



Anyone drove the km 252 road to Bahia Blanco lately?
---
TMW

-

12-3-2011 at 06:17 PM



Not exactly but I did take the KM270 turn off that joins up with the KM 252 road about 5 or 6 miles in from the hwy. Road was in good shape. The first rancho before San Antonio appeared to be abandoned as is the rancho when you exit the mountains at the sand wash. When you get down out of the mountains there are a lot of lines thru the silt beds but it was all hard pack and easy to get thru. I went thru there Nov 20th after the 1000 race. Spent the night at Bahia Blanco then went north along the coast and out north of Catavina at hwy 1 KM168. Lots of muddy water puddles at that time on the graded road from San Jose to hwy 1 from the rain.
---
Ateo

-

12-3-2011 at 08:24 PM



Excellent TW. Heading in there in February with a 4x4 Tacoma and non 4x4 2010 Tundra. Will a smart non 4x4 driver need 4x4?
---
TMW

-

12-4-2011 at 11:04 AM



The Tundra should be OK. While I was in 4x4 I never felt I needed it since the ground was hard packed. If it is wet then I would be more cautous. A smart driver just picks good lines. You'll be OK. I only got confused one time. After getting down from the mountains into the wash and past rancho Las Palomas (it's seen on the right) I thought the road followed down the middle of the valley so I turned right and wound up at basically a dead end, turned around and went back and around the hills to whats called Cordornices area where the jct with the road south is. The well with the wind mill is still standing but I don't think the windmill is working. Near Bahia Blanco there was a lot of cattle grazing on the east side of the north/south road.
---
David K

-

12-4-2011 at 11:16 AM





Here's the 'TW LOOP' map I made a couple years ago to show the road that heads in at Laguna Chapala and runs 30 miles to the coast road... Then south 12.5 miles on the coast road...and back out via San Antonio to Hwy. 1 in 34 miles...




[Edited on 12-4-2011 by David K]
---
Ateo

-

12-4-2011 at 11:35 AM





TW: thanks for your input. I can't wait to go! This is a section of Baja I've never been to. I've done the sections north and south of here but never Blanco. I think we may take your route back out too since I want to check Vibora and Baja Bob
---
Ateo

-

12-4-2011 at 11:55 AM





Thanks DK. I was thinking about taking the Laguna Chapala route on my way back out but after looking at my Baja almanac it barely shows a road here. Maybe I'll just go back out the way I came in or head a little further north along the coast and cut over there.
---
David K

-

12-4-2011 at 12:06 PM



No, the Almanac (or any other map does NOT show the road from Chapala to the coast. None-the-less, it is there and TW has documented it and you can see it on Google Earth (that is how I located and placed it on the map above).

There are other roads in Baja that are fine, but not yet on a map...
---
woody with a view

-

12-4-2011 at 12:09 PM



if there is any rain your non 4x buddy will enjoy the pucker factor. the road out from SJ is getting worse every time. they blasted the granite rock face near the shrine so that is better but there is more areas of silt developing as time goes by. and after a rain?

---
TMW

-

12-4-2011 at 12:09 PM



If you are going to take the road out to Laguna Chapala I suggest on your way down to turn off on it at KM234 and drive back to the first dry lake to make sure it's dry. It's about 4 mile back and you'll see the black hill I spoke of in the write up with pictures. Some years there is as much as 1 to 2 feet of water on it and while the bottom is hard pack there are holes you could fall into. The water covers the road and makes it hard to follow to get past the hill. The other two dry lake beds the road skirts around the edge, no problem. Lots of cross roads and parallel roads and slit beds near the ocean. Again not a problem if it hasn't rained much. When coming out follow the most used road as you drive east up the valley to the mountain crest. The local fishermen use this road daily when it passable. The GPS turn off at the ocean is 29-10-49x114-44-20 in Hrs-Mins-Sec, Datum 27.

I was last on this road in Nov. 2010.

[Edited on 12-4-2011 by TW]
---
Ateo

-

12-4-2011 at 12:52 PM





Thanks for the confidence boost!


. I think it'll be a quick strike mission so I probably won't head out that SJ road. I'll take one of these from Chapala or km252.
---
woody with a view

-

12-4-2011 at 03:32 PM



beware the silt. stories have circulated of the army hummer that was stuck in the silty mud for 3 days until other soldiers found them and pulled them out. they took the wrong line!
---
TMW

-

12-5-2011 at 10:18 AM



The road from San Jose to hwy 1 is a very good graded road. Last week there were several places where it was muddy (red mud) with standing water but it was hard packed so getting stuck was not an issue. Saw several large trailers and a couple of motorhomes at San Jose, maybe the results of that good road.
---
David K

-

12-5-2011 at 12:46 PM



Okay, back to the topic... anyone have a list or just one kilometer marker that locates a place or sideroad to share... or the other sub topic: a photo of a kilometer marker?
---
Ateo

-

12-5-2011 at 06:27 PM





Sorry to go off topic there briefly......I'll take a look for km markers when I get home.
---
GregN

-

12-6-2011 at 05:16 PM



This one of me at Kilometer 0 in Cabo is in the back of my book Baja Fever.
---
TMW

-

12-7-2011 at 01:09 PM



Sometime in 2012 I'm going to drive down hwy 1 and do an update on the kilometer markers as many have changed for whatever reason. May do it in two trips, the NORRA race and the SCORE Baja 1000 since both will go to La Paz next year.
---
David K

-

12-7-2011 at 02:46 PM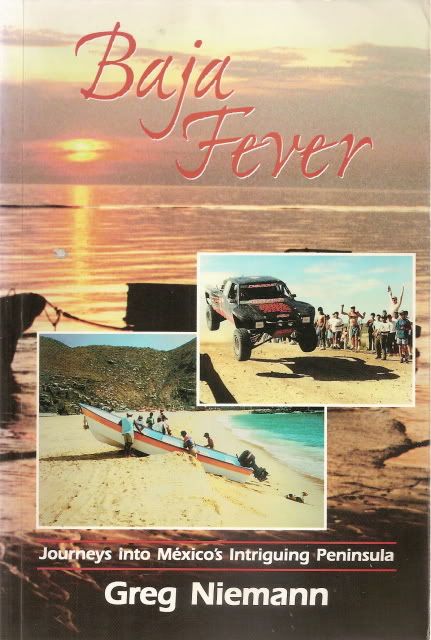 Great book and fun, too!
---
GregN

-

12-7-2011 at 04:01 PM



Thanks David. I screwed up trying to put the picture in. I appreciate your doing it and also your kind words. Greg
---
David K

-

12-7-2011 at 05:48 PM





Anything for a Baja amigo!




Oct. 2000 (Viva Baja-1)
---
does this count?
durrelllrobert

-

12-8-2011 at 06:17 PM




---
Ken Bondy

-

12-8-2011 at 07:22 PM



KM 46 north of El Rosario is the road that leads to the sea lion cave (Los Loberos??).
---
David K

-

12-8-2011 at 07:31 PM





LA LOBERA (KM. 46 1/2), yes... where the power lines go over the highway. There was a small sign, as well.



---
David K

-

3-26-2012 at 10:59 AM



From El Vergel's camera... south side of San Quintin: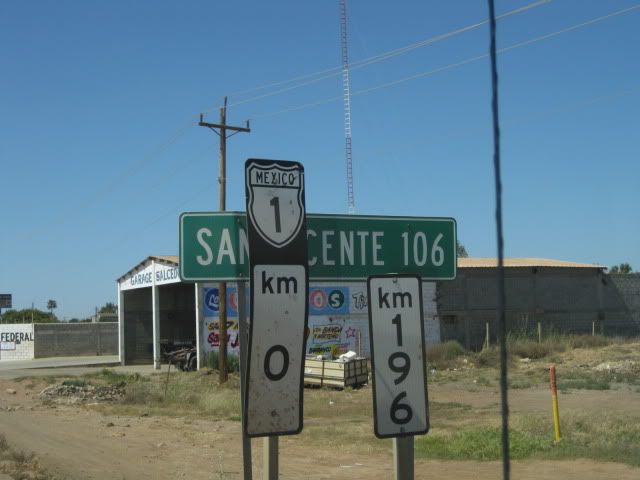 ---
KM 31
BajaRob

-

3-27-2012 at 07:48 AM



on the Puertecitos Freeway ( Home )
---
Photo
BajaRob

-

3-27-2012 at 07:59 AM



That would require a skill taught by a good friend but now forgotten. I need re-training on your next visit.
---
David K

-

3-27-2012 at 08:01 AM




I would be happy to! Cheers!
---
fixtrauma

-

3-27-2012 at 11:36 AM





In December David K posted about Dr. Penny Pickett of Washington, DC and her writings about a trip she took in the Baja in 1947. David included this link to her site. http://www.e-kc.info/baja-1-photo-story-1949.html As I read through her story I was surprised and delighted to see my picture of km-15 in El Centenario on page 13 of her story!
---
David K

-

1-16-2013 at 03:44 PM



Anyone have some more Km. marker road notes, or marker photos?
---
micah202

-

1-17-2013 at 12:02 AM





...wow,,thanks for popping up that old photolog
........WELL worth the 'read'

---
David K

-

1-17-2013 at 12:00 PM



Penny is real neat people! She was very kind to offer her editing skills to our Old Missions book.
---
TMW

-

1-17-2013 at 06:09 PM



Please note that on hwy 5 at KM 87 and KM 89 the new fence blocks the access road. In fact there is a steel guard rail blocking KM 89. A little ways further down from KM 89 there is an access road where you can then drive along the outside of the fence back to KM 89. Saw this coming back over new years.
---
bajalorena

-

1-17-2013 at 09:01 PM



KM 107, just down the road from AKbear.
---
David K

-

1-18-2013 at 09:45 AM





What is at KM 107, and on what section of which highway?
---
TMW

-

1-18-2013 at 02:20 PM



KM107 is the access to the wells. The is the remains of a block building there. The access I meant is at KM91 or 92 or near there. There is a graded road there that I think the road builders used for material. I think La Ventana is at KM105
---
David K

-

1-18-2013 at 02:33 PM





?? KM 107... Down the road from AkBear...? I thought he lived near Los Barriles... Now I am lost! LOL

What highway are you talking about TW, and where did you post a KM 107?
---
TMW

-

1-18-2013 at 04:21 PM



My post was dealing with hwy5 near Laguna Salada south end. The Saldana access roads. I'm not sure what Bajalorena was speaking of, I thought she was speaking of the La Ventana area.
---
micah202

-

1-18-2013 at 05:38 PM



...ironic,,,who would have thought baja's # system would cause confusion!?!

---
David K

-

1-18-2013 at 05:38 PM



Thanks Tom, if she was, it was the other La Ventana that is south of La Paz.
---
bajalorena

-

1-18-2013 at 07:24 PM



KM107 is where our home is, in BuenaVista, Hwy 1
---
Pompano

-

1-18-2013 at 07:36 PM





A coincidence. bajalorena, my past home has the same kilometer marker, Km 107, in Bahia de Concepcion....south of Mulege, Hwy 1.

[Edited on 1-19-2013 by Pompano]
---
TMW

-

1-20-2013 at 12:01 PM



A couple of addition.
Hwy 3:

KM 19 Access to the Wall on race course.
KM 33 SCORE race course return route.
KM 39 Ojos Negros turn off.
---
David K

-

2-5-2013 at 06:25 PM





Added to the list on Page 1 of this thread!

How about it Nomads... do you have any notes for the Km. marker for a Baja point of interest or turnoff? Post them, and I will edit the growing list at the top of this thread.
---
Tres Virgenes volcanos
tripledigitken

-

2-5-2013 at 07:43 PM






DK,

I took this specifically for this thread of yours! Well, I had to pee too.

Ken

[Edited on 2-6-2013 by tripledigitken]
---
Lauriboats

-

2-5-2013 at 10:13 PM



Km 120 Villas de Mulege, hwy 1, 8 miles south of Mulege.
---
David K

-

2-6-2013 at 09:34 AM





Okay, can add... is there a web site, or can you tell us what is there?
---
David K

-

2-6-2013 at 09:51 AM



We could use the markers along Hwy. 1 and 19 between La Paz and Cabo, if anyone has them... Perhaps not Nomad's driveways, as been offered bu a couple so far.. but towns, points of interest, side road junctions. Thanks!
---
TMW

-

4-22-2013 at 01:39 PM



I noticed the last KM marker on the north side of the monument at Guerrero Negro is painted on the pavement and is KM126. It's near the gas station.

Also KM194 is the closest marker for the turn off to San Luis Gonzaga. It's just south of the turnoff.
---
David K

-

4-22-2013 at 06:05 PM



The Km. 194, this is for (Mission) San Luis Gonzaga, south of Ciudad Constitucion, BCS... correct?

Always confusing when we are more familiar with Bahia San Luis Gonzaga, BCN.
---
TMW

-

4-23-2013 at 09:26 AM



Correct
---
David K

-

1-18-2014 at 12:52 PM



Any more that should be added? Any Baja highway with kilometer markers to some site or point of interest, sideroad, etc.
---
villafontana

-

3-12-2014 at 10:06 AM



GREAT INFO DAVID!!! You are like the Bajanomad king of information!
---
David K

-

3-12-2014 at 10:08 AM



TW and others have contributed greatly... all Baja Nomads are 'king' here!

Please share any Km. marker notes to add (restaurants, side roads, something interesting, ...?).
---
Pages: 1 2