dean miller

-

5-31-2011 at 09:25 AM



FYI;
I made my frist trip to Ensendada BAJA in December 1951 to search for clear warm water --I found clear but certainly not Warm water.

We no longer travel to Baja- age and lack of good medical care has confined us to crusing --URG!

For you who are fellow members of the Underwater World of Baja I offer this as a testimony of my life as a "Diver."

dm




65 years of diving
The local news paper is in the process of writing an article on my long term involvement in the underwater world..They asked for a CV to guide the reporter.. this was my response...

60 Years of Spear fishing & SCUBA diving


SCUBA (Self Contained Underwater Breathing Apparatus) was developed in France in 1943 and first imported into the US by a NYC company about 1948 reaching the west coast about 2 years later. It was almost immediately acepted by the young sun loving beach going aquatic southern Californians. I was no exception I had been " Goggleing" for a number of years previously.. I made my frist SCUBA dive at Divers Cove on May 31 1951 using bowered equipment, clad in the costume of the era, a baggy bathing suit, covered with surplus long underwear, which was inturn held in place by another baggy bathing suit with my torso covered with a wool WW11 kakhi shawl sweater, a pair of green Churchill fins on my feet and a crude oval Sea Net mask covered my face, with the admomnition "exhale when you come up" I entered the water for my first SCUBA dive and from that time to the present my life has been devoted to the underwater world. (>> Instruction, wet suits, SPGs were 4 years away, PFD many years in the future)


Some of the highlights of 60 years of Spear fishing SCUBA and over 65 plus years of diving;



Instruction:

LA County Underwater Instructor

* The frist and most prestigous civilian diving program

National Association of Underwater Instructors (NAUI) # 27

*I am the oldest NAUI instructor in California; one of the 5 oldest in the world (age and lenght of membership)

Professional Asociation of Diving Instructors

( and most of rest of the Instructor alphabet)



Honors:



Outstanding contributions to Underwater Instruction - 1963

* developed much of the current training programs including Instrutor classification)

Outstanding Underwater instructor of the year - 1969

Over the reef gang

Diving dinasauers

Whos who in SCUBA diving (AMSUR)

SSI Pro 5000 diver ( must have made over 5000 dives-- I have about 7000)

Father of free diving and fishing 2000

* only about 60 honored world wide- a huge honor!

West coast legend of diving

*Frist person to be so honored by the magazine "Dive Chronicles"

Legend of diving *(Scuba Diving and Recreation Center in Northwest Ohio - Portage Quarry)

*First person selected for the honor





PERSONAL LIBRARY
I have a complete bound set of "Skin Diver Magazine" (SDM) (1951 to it's demise) including every diving equipment catalog published and all Underwater Film Festival programs. This is the only set of its kind in existence any where in the world.



In August 1960 appeared on the cover of SDM


In February 1960 selected, featured and honored as the frist guest editor of SDM



I also have a extensive collection of Skin Diver magazine covers inscribed to me by Art Pender, (1954) Ron Merker (1955) Bev Morgan (1961) Jack Prodanovich (1953) Wally Potts (1957) and numerous other diving notables as well as personalities such as singer John Gary movie stars Lloyd Bridges and Tony Francioso ,



All of the famous diving artist John Steel SDM covers have been inscribed to me, I also own several of his pictures, incuding one of me spearing a fish as a young 20 year old at Catalina (John and the picture was featured in SDM)



I also have complete bound sets of "Dive", "NDA News", American Scuba Diver", Aquarius", "Water World", "Underwater", "Fathom", "Sport Diving", "Underwater Photographer"," California Diver," " Pacific Diver", "SCUBA PRO Diving and Snorkeling", "Diving and Snorkeling Quarterly" "Ocean Realm", all of which are no longer published. Maintain and bind current sets of "Dive Training", "Sport Diver", Historical Diver" (USA), "Historical Diving Times" (UK), and "HDS Notizie" (Italy).

Have the only known complete set of "Pacific and Atlantic Underwater News", published from 1966 to 1971. It was the first newspaper devoted entirely to the underwater world. Appeared in numerous issues of this publication


I also have what is considerd the largest and most complete set of civilian dive training manuals begining with the Spaco manual of 1949 to about 1980.

I also have all the USN diving manuals beginning with the original 1905 "Manual for Divers" to the conversion to electronic format

I have published approximately two hundred articles on sport diving in the NAUI News, Los Angeles County Underwater News, Skin Diver, Dive, Discover Diving, Aqua Corps, Historical Diver, Hawwian Skin Diver, Arizona Diving News, Southwest Diver Magazines, Historical Diving Times (UK), Free Diving and Spear Fishing News (Australia). Surprisingly my first published article in 1964 was a six page-two part article on diving Jade Cove in Monterey County, even though I lived at the time in Orange county.

From June 1999 to August 2002 I wrote a twice-monthly column "Dive Bubbles" for the five cities Times Press Recorder (TPR) newspaper. It is reported that this column was the first and only regularly scheduled diving newspaper column in California and possibly the United States. I also had dedicated columns in Discover diving "The way it was" Historical Diving Journal "Diving facts from Sam's Almanac," Arizona diving news "Our diving heritage," South west diver "Our diving heritage"



I have collected and maintain an extensive 1000 plus volume historical diving library, the majority of which are rare and out of print. Many have been personally inscribed by the authors who were also friends and diving companions,in addition to being noted diving authorities;Leon Lyons, Dr. Bruce Halstead, F.M. Roberts, Bill Royal, John Reseck Jr., Dr. James Dugan, Clint Degn, John D. Craig, Dick Schroeder, two (2) Eugenie Clark, two (2) by Bill Barada & Lloyd Bridges, two (2) by Dr. Terry Mass, two (2) by Francis "Doug" Fane and (6) six by Sir Arthur C.Clarke, six (six) by Dr. Hans Hass, five (5) by Lotte Hass, seven (7) by Clive Cussler and seven (7) by J.Y. Cousteau and many more too numerous to list

I have a bound edition of James Dugan's 1948 "First of the menfish" which introduced J.Y. Cousteau and self contained diving to the US.


My library which conumes an entire room and part of a hall in my home is considered the the worlds largest, most compete, and since I began collecing over fifty years ago the most prestine diivng Library by the diving world's leading diving bibliophiles.



In May 1996 I organized and hosted the very first US diving bibliophile meeting in my Pismo Beach home. It was attended by diving bibliophiles from the western US and via telephone from through out the US. The event was covered and featured on the front page of the Wednesday May1, 1996 edition of TPR.



In 1999 to celebrate the passing of J Y Cousteau I was requested to place a book/equipment display in the Arroyo Grande Library. This month long display was also featured in front page article in the TPR) complete with a full color picture in Friday,June 25,1999 issue .



Recreational diving

Spear fishing has always been a pasion,

My personal best are;

* Yellow tail 27 pounds

* Halibut 38 pounds ( record)

* White sea bass 49 pounds

* Black Sea Bass 345 pounds ( Now protected)

* Lobster 17 pounds ( On display at Depth Perceptions in SLO)



Consultant

Was an equipment consultant for four major diving equipment manufactures.

Was the official US Divers (Aqua Lung) company Instructor



Prefessional diving

* Deep Submergence

- I was the Cheif Diving Officer for the Deep Diving Submarine (DDS) "Beaver"

* Apollo program

- I was the Cheif Diving officer for the Apollo testing program



Currently I devote my retirement time to historical research, writing a book and I am involved as a guest lecture and occasional consultant for the SLO County Sheriffs Underwater Search and Rescue team



And the list continues..so many adventures, so many stories......



Now in my eight decade of life I often take time to reflect back to that sunny day in 1951-- 60 years ago-- when I made my first SCUBA dive...

Now you know...

sdm
---
BajaGringo

-

5-31-2011 at 09:29 AM



Quite a history! Congratulations and thanks for sharing it. Any photos?
---
Ken Bondy

-

5-31-2011 at 09:39 AM



You've had a great run Dean!! Congratulations!!
---
jenny.navarrette

-

5-31-2011 at 10:02 AM



You must have known Wayne Baldwin.
---
You helped pave the way
Mulegena

-

5-31-2011 at 10:29 AM



for us modern-day recreational divers.

I have only a small knowledge of the history of the development of the sport. Thanks from me to you and other divers of your era who pioneered the application of scientific knowledge to developing technology. Diving is now a safe and easy activity for many, many people from all over this blue planet.
---
Wayne Baldwin
dean miller

-

5-31-2011 at 02:20 PM




~~~~~~~~~~~~~~~~~~~~~~~~~~~~~~~~

EVERY ONE KNOWS WAYNE BALDWIN!

Actually I don't recall ever meeting him -but know him by reputation from years past, as I suspect he me, since we were essentially of the same era in diving.

We both have a life time of memories and a house full of dive related "goodies" that we refuse to part with...

Some day I will visit him in Santa Barbara or invite him to visit me in Pismo Beach...better be darn soon for our DOC (date of Croking is around the corner...)

Thanks for the memories..

dm
---
Vince

-

5-31-2011 at 03:09 PM



Dean- I enjoyed reading your profile, it brought back many good memories of my early years here in Coronado. I got "certified" in 1952. Was lucky enough to have some friends whose fathers were on the UDT team here, so the guys taught us kids first in the Amphib base pool, then went out to the Coronado Islands in a landing craft for the ocean work. You went with it and had an impressive lifetime of diving, wheras I did it sporadically and am still diving. I recognize a few Bottom Scratchers in your list of friends. Prodanovitch was a friend and patient (I went into medicine). I loved the Skin Diver Magazine! My older brothers had their photos in it several times, along with many friends from around here. We had a skin diving club here called the CORONADO *******S. Met monthly in the Red Cross building here. Appropriate name for back then. Most of my diving was done in La Jolla, Point Loma and all along the Rosarito to Ensenada area. We would combine a surfing and diving trip, when we didn't have an innertube with a gunnysack, we would just stick the ab onto the board and they would stay on. We had some great luau type parties on the beach near where Calafia is now (K38?) and cook up the abalone and lobsters. Now when we SCUBA, it is on a cruise or just for looking. Thanks for your memories.
---
Vince

-

5-31-2011 at 03:12 PM



Looks like someone blanked out the name of our old skin diving club, but back then we all got our backs, arms, head and legs wet in the Pacific.
---
dean miller

-

5-31-2011 at 03:59 PM



Vince,
I knew your club way back then. Yep! I recall how damp your backsides were. They were a very popular dive club with that unique name. I was a Socal Skin diver, LB Neptune & Sea Sabre- only the Neptunes survive.

Was also in medical area...son is now a ER/Hyperbaric doc. Had a fellowship to Scrips general for Hyperbaric med.

dm
---
Von

-

5-31-2011 at 04:36 PM



Pleasure to meet you my friend

---
Pompano

-

5-31-2011 at 05:33 PM





Dean, thanks for all the background information and experiences. You've had one helluva ride so far! Kudos to you.

As you know, your late cousin, Jake, was a very good friend of mine for many years and a nieghbor in Coyote Bay. He was a true 32nd Degree Baja Character and is missed by all that knew him.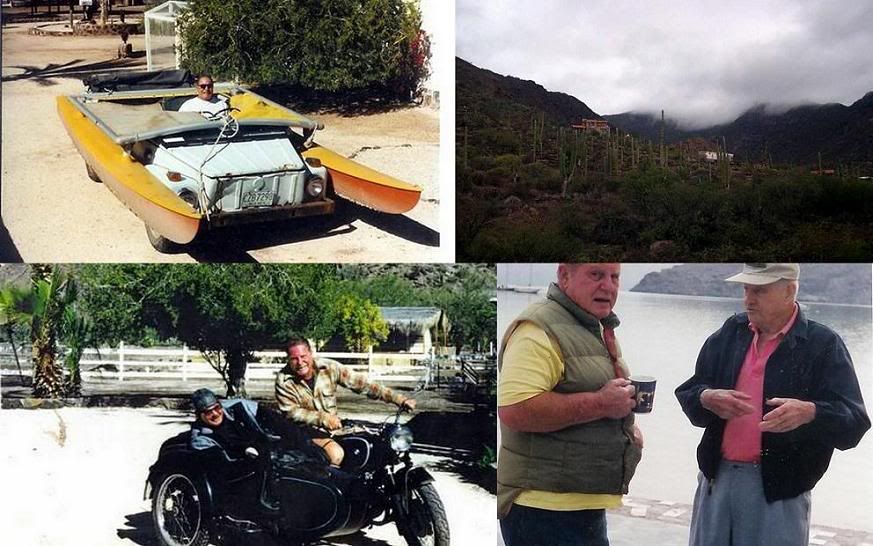 Maybe your son knows another Baja friend of mine? They're in the same business. Another Coyote neighbor's son is also a hyperbaric doctor in San Diego. Brad Bailey, M.D., Associate Medical Director, Department of Wound Care Center and Hyperbaric Medicine. Brad is at the Palamar Pomerado Health Center. He's kinda the head honcho there and gives a good video lecture on hyperbaric oxygen therapy using the chamber.

Here's a good diving photo of Dr. Pat Flynn...courtesy of his brother, nomad Vince...and yet another Coyote neighbor! Coyote spearfisherman...1969. Pat, I'm sure, belonged to the same Coronado dive club.

Wow, Pat sure looks young! Guess we all did back then!!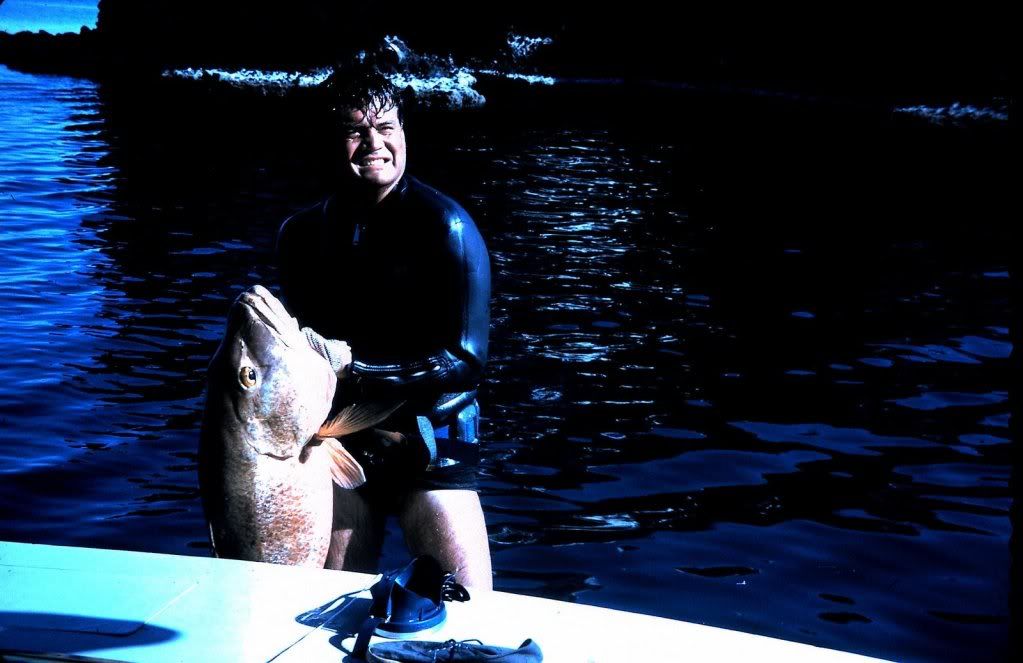 ---
capt. mike

-

6-1-2011 at 05:27 AM



did you know Bill Kelly from either LA or PHX areas?

similar pedigree.
---
Vince

-

6-1-2011 at 11:00 AM



Brother Pat is still diving some in Mulege area. I think that snapper was taken off one of the Islands near Coyote Bay. He was in that dive club, they made Skin Diver magazine many times with their catches. Some of the other Baja divers were Peter Glynn, Tom Carlin, Bud Bernhard, John Elwell (who is diving right now from his boat in Loreto area),Marv Nottingham, John Kurtz, Steve Flynn. Steve still dives, mostly around Guymas, San Carlos. Peter Glynn, Phd is a world renown coral reef researcher for Miami U., still an active scuba diver.
---
BajaBlanca

-

6-1-2011 at 11:47 AM



yours is an inspiring life story and will make an excellent read once the book is written...be sure to let us all know when it is published. congrats of being such an avid collector - will you donate your collection to a museum some day ?

for anyone who comes to la bocana, I have a book of underwater photographs taken all over the world by my dentist in Brazil who is an avid diver. It is just spectacular. ask me to show it to ya.
---
dean miller

-

6-2-2011 at 01:42 AM





~~~~~~~~~~~~~~~~~~~~~~~~~~~~~~~~~~~~~~~

I can't recall him...I was stationed at Luke AFB during Korea, was active in the diving circles at that time but don't recall a Bill Kelly.

If he is still around I would like to meet him at least electronically..as I have Vince after all these good years

DM
---
durrelllrobert

-

6-2-2011 at 09:44 AM



Did you know a Jesse Dean who lived here in Punta Banda until his passing last July? He was a commercial diver for ten years; he spent thirty five years as the owner and operator of Aqua Tech Dive Center in San Diego which is known as one of the best antique diving nautical museums in the world. He contributed greatly to the diving industry by being the inventor and patent owner of commercial diving burning rods.
---
Vince

-

6-2-2011 at 01:01 PM



Roger alludes to the fact that the late Jake, of Coyote Bay, was your cousin. I met him several times, our house is on the beach below him. We had a few beers together, but always at his place, he kept to himself. Are you also known as Sam Miller? I'm looking up more of your articles.
---
dean miller

-

6-3-2011 at 05:52 AM





````````````````````````````````````````````````
I never met Jesse Dean, but visited his shop on several occasions.

Last time I spent time in SD was about 5 years ago. The had a new owner, and the collection was intact.

His collection was certainly world class and one reeking with dive history.

Sorry to learn of his passing.

dm
---
woody with a view

-

6-3-2011 at 07:04 AM



WOW Dean. quite a lifetime of accomplishments. you are a true waterman!
---
dean miller

-

6-3-2011 at 05:17 PM





~~~~~~~~~~~~~~~~~~~~~~~~~~~~~~~
yes Bob "Jake" and often referred to as "Crazy Jake" Jacobs was my cousin. Did you happen to know his wife Cathy? They divoriced many years ago..

Yes I am Sam Miller, my cover has been blown. I have authored a number of diving articles over the years in just about every national and local magazines ...seem to have the desire to document. I sincerely hope you enjoy the articles.

FYI there were four of us, I am 111, son who is ER/Hyperbaric is of course # IV...what a name for a Doctor, Sam IV.

SDM

[Edited on 6-4-2011 by dean miller]
---
bacquito

-

6-4-2011 at 08:23 PM



Great, interesting and what accomplishments!. As a 14 year old boy in Solana Beach I began to dive for abalone and enjoyed diving for many years. But I never was nearly involved as you. I was PADI certified in Texas.
Thanks for sharing.
---
dean miller

-

6-5-2011 at 04:16 PM




---