David K

-

1-17-2014 at 04:33 PM



El Berrendo is one of the east side Sierra San Pedro Martir canyons flowing into Valle Chico, a few miles north of Parral and Matomí canyons. When visited in 2004 and 2006, I could drive my 4WD Tacoma to the narrow canyon entrance where boulders stop all vehicles.




A report since then stated a new fence was stretched across the arroyo before this point. Things like this change and flash floods easily take out such fences. The fences are usually put up control where cattle go and not prevent people from exploring.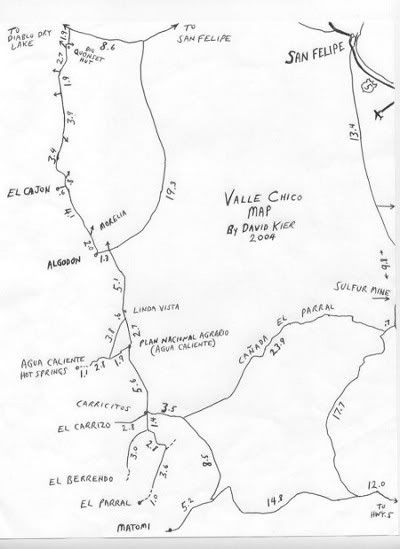 Notice the sides of the canyon and on top of the ridge where blue palms (Brahea armata) seem to grow out from the granite.




Running water is seen a very short distance from the start of the hike and the blues are up close and personal.






This hike is about a mile to a giant boulder created grotto making this one of Baja's special places!




The first time I saw this canyon I was with Baja Lou and his friends from El Dorado Ranch.




Wild burro mother and child.




Driving north and east to San Felipe this is the junction with the east Valle Chico road and the Diablo Dry Lake road. Note Diablo Mountain on the horizon.




Some Google Earth images:

TOP of San Pedro Martir range looking down El Berrendo to Valle Chico: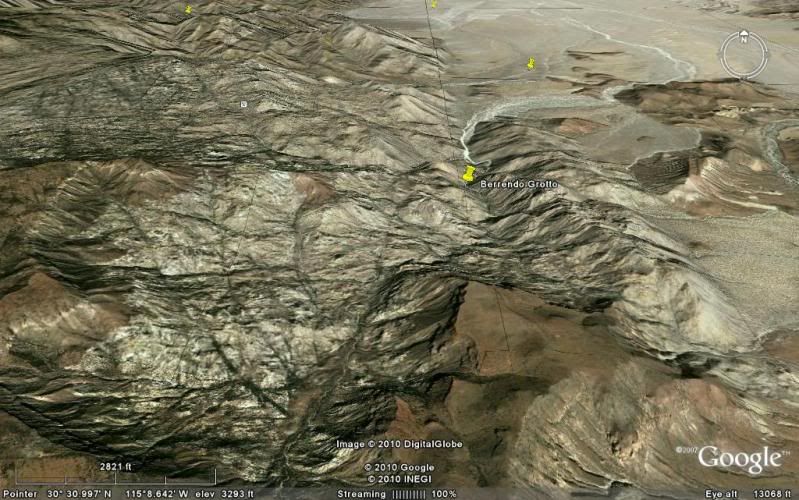 Just above the grotto looking downstream:



Looking up into Berrendo from Valle Chico: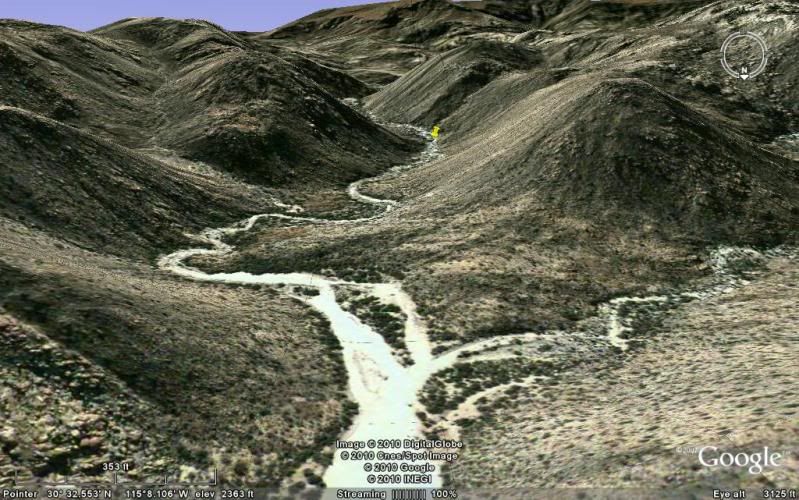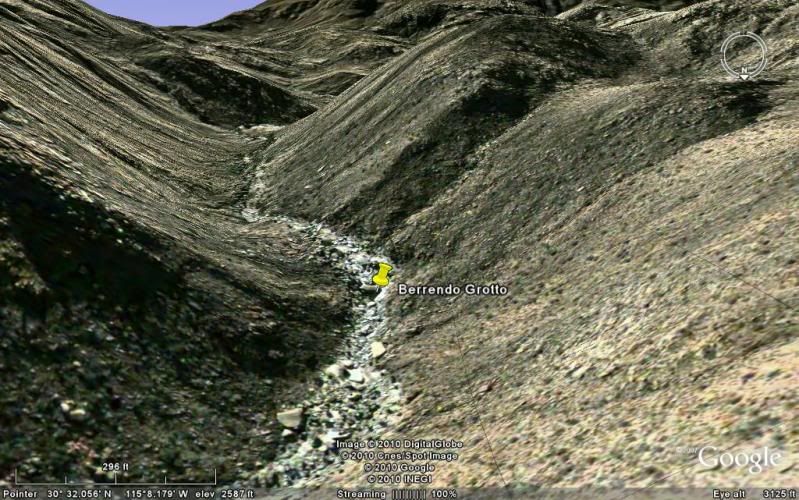 [Edited on 1-17-2014 by David K]
---
55steve

-

1-17-2014 at 04:40 PM



Wow, what an awesome place! I love the water areas.

Just to clarify - the boulders don't stop ALL vehicles. We have a rock racer that would eat up that place up! We are currently working on one with 4-wheel steering utilizing Unimog reduction boxes.

Here's an old video to one of the first high speed shock tuning runs at Ocotillo. The rig has advanced considerably since then.

http://74weld.com/2010/07/27/shock-testing-with-down-south-m...

We even make Toyota stuff.
http://74weld.com/2010/07/27/toyota-a-arms/

[Edited on 1-17-2014 by 55steve]
---
David K

-

1-17-2014 at 04:42 PM



OK, the boulders stop only stock vehicles!

---
David K

-

1-18-2014 at 10:20 AM





Steve, do you post on Tacoma World forums? I have driven past your shop many times going between Santee and Kaiser in the past.
---
Mexitron

-

1-18-2014 at 12:27 PM





Unless there's been a recent deluge or hurricane to clear it out Berrendo gets extremely brushy---we're talking thorny Cat's Claw and Palo Verde among others---so you'd be up against that too!
---
Mexitron

-

1-18-2014 at 12:32 PM



There's an even nicer grotto higher up, with a big pool to swim in. After that the hike is a bit harder, couple of rock climbs, lots of boulder hopping, no more sandy stream bed. There's a back way in to avoid this but I don't have it GPSed. Once you get to a certain point though the canyon opens wide up into the Berrendo Bowl (Myron Smith or Bud Bernhard's name?) with lots of Blue Palms. A fun hike would be to keep heading west to the cauldera and down to the Rancho Nuevo area.
---
David K

-

1-18-2014 at 12:41 PM



Myron and Bud's name pops up often in Froyland Tiscareño's new book!
---
BAJACAT

-

1-18-2014 at 12:43 PM



that place was in my to do list for THE PRESIDENTS DAY NOMAD RIDE, We never got to do it..
---
El Berrendo
PaulW

-

1-18-2014 at 12:54 PM



All is well in El Berrendo. What's new as of 1/13/14 is the rancher has a new fence across the wash about 150 yards further from where we usually park. Easy hike. Water is pretty much absent. The track from the corral to the parking place is pretty easy with no obstacles, however the ever present deep sand is, of course, still there. Someone has burned many of the palms but very few have died. Carrizo access is behind or west of the corral.
Here is a spot link for the trip to El Berrendo and to el Carrizo. We drove all the way to the end of Carrizo and took a side trip to where the plastic pile line disappeared. Lots of pinstripes in Carrizo , but not so much on El Berrendo.

http://share.findmespot.com/shared/faces/viewspots.jsp?glId=...

Look at points 1 thru 29 because the higher numbers are a short trip north on Hwy 5. Use the zoom button and satellite image for best viewing. WPs are 10 minutes apart making it a little confusing. That is why the racers are paying extra for the high frequency version. This spot data will disappear on the 1/20.
Regards, Paul W
---
55steve

-

1-18-2014 at 01:09 PM



No, we don't advertise the Toyota arms, just make them and sell them wholesale - mostly to Down South Motorsports and possibly ORW - I don't remember.

Stop by anytime and check out the shop - We mostly do steel work for I.C.E. border crossings and play stuff between jobs.

I am officially retired but the owner is a real good friend and I consult - I'm there most days.




---
David K

-

1-18-2014 at 01:46 PM





Before it is gone forever: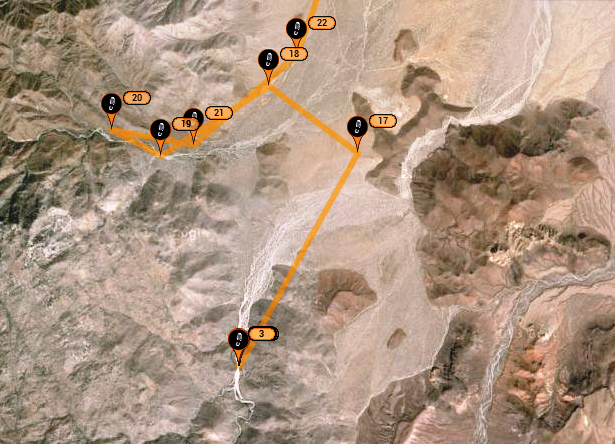 The corral is near #22 or #18 (where the road south to Matomí curves east, the road to Berrendo continue south, and the road into Carrizo soon turns west.

[Edited on 1-18-2014 by David K]
---
David K

-

1-18-2014 at 01:49 PM





I see a lot of posts from someone who has the DownSouth logo in their signature. I would like one of their stickers! LOL

Thank you... since I married Baja Angel, I no longer drive to Santee (much) or Zion-Kaiser.
---
55steve

-

1-18-2014 at 08:12 PM



No problem DK - I can definitely hook you up with Down South stuff.
---
David K

-

1-18-2014 at 08:14 PM





Cool, any sticker with the Baja map on it I like!


---
Berrendo & Carrizo details
PaulW

-

1-19-2014 at 09:53 AM



Berrendo & Carrizo details
How to read screen shots. Distance across screen is in lower right corner. Coords of cross hairs is shown lower right. Cords of the end of Carrizo road is shown. Parking place at new fence cords are 30.54848, 115.13443 Datum is wgs84. For Carrizo follow the road around the N side of the corral. See my red line - approx. Straight roads were not tried, probably just fence lines?
37 miles from my house at an elevation of 224', sitting in my garage.


[/URL]

[/URL]


[/URL]
---
David K

-

1-19-2014 at 10:18 AM



Looks just like what I saw... and I was bummed when I found the old road from Valle Chico to Rancho Parral was not passable, too. I think I spotted the other end and it originally shot across the valley going NE from the bottom and entered Cañada Parral (Azufre Wash/ Crazy Horse Canyon).

The first time I came across from the sulfur mine to Valle Chico was late '78 (before the ejido made that fence line road across the valley). When we reached the bottom of the valley, I could not find the road on the other side of the arroyo! So, I turned south and drove in the arroyo until we saw race ribbons where the Matomí road crossed the arroyo. It was from the '78 Baja 1000, which for the first time ran down into Matomí... just the month before.

The Cañada Parral (Azufre Wash) road was an abandoned trail and took more than one trip to find it south of the sulfur mine. It was mentioned in John Robinson's book original edition (Camping and Climbing Baja), but removed in later printings and it was on the 1971 geological survey map of Baja. I had to find it! It was barely visible, sometimes just parallel tracks of grass from the slightly depressed sand holding water in the arroyo after a rain.

Today, since SCORE began using it, it is a well worn road and half of it even made the AAA map!

Here is the 1971 map, note the word for abandoned across Valle Chico: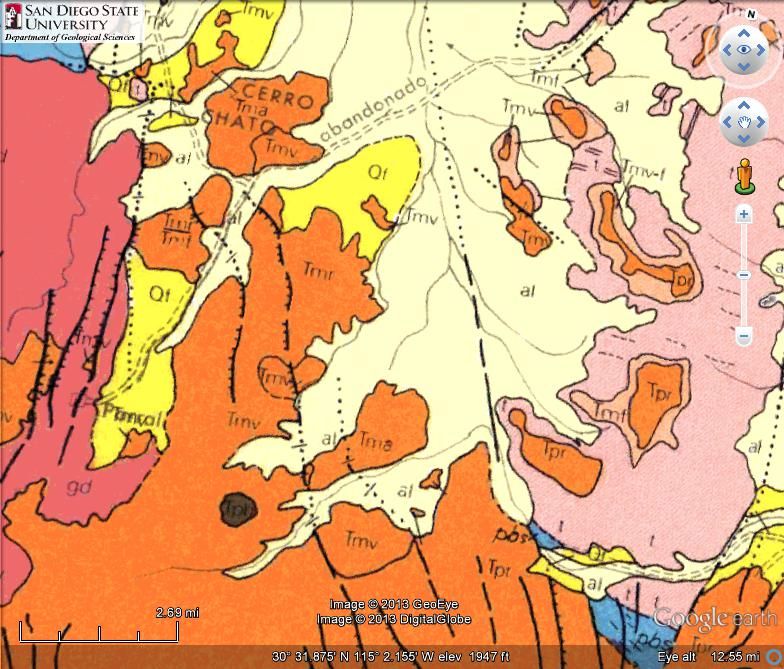 Here's a map I made in 1982, the new Puertecitos road had made it to about Coloradito... and I had imagined it was follow the coast as it was doing and not shoot up and rejoin the old road. See the Cañada Parral road before the fence line in Valle Chico: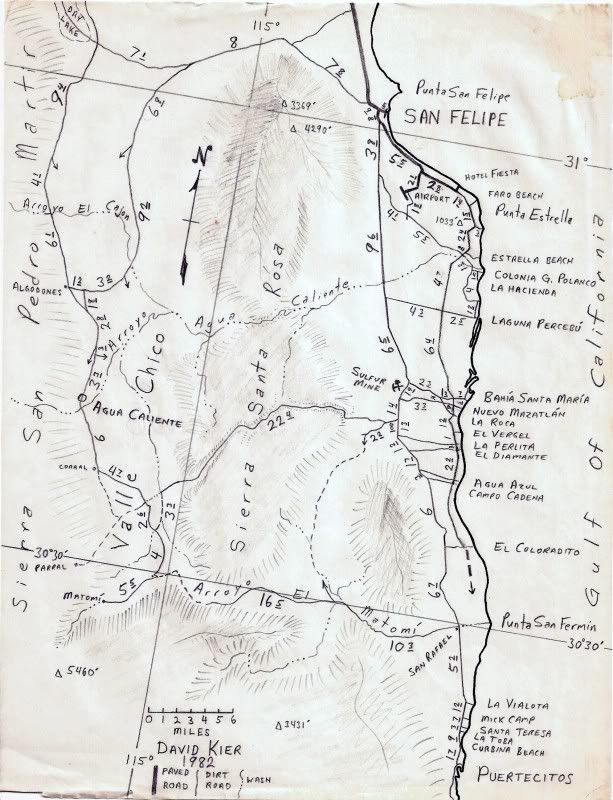 Here is a map after the fenceline was in:


---
PaulW

-

1-19-2014 at 12:19 PM



More description
Upper right on my 6 mile view shows detail on current roads. Fence line that goes north then makes a hard right east to get to Huatamote via a Parral spur. And we have opened up several new routes between Morelia road and that track and Azufre.
The other fence line road does goes to Azufre as noted.
My note "to Rancho Parral" is an ok drive, but results in lots of pinstripes. Last year we found cattle and cattle guys at their camp. We had to drive thru two corral fences to get all the way to the Rancho place (A beautiful place -very green). Note the coords for the Berrendo/Parral jct.
The leg from that Parral Rncho road to Matomi is pretty devastated from flooding. High clearance and 4WD may be able to make that trip, The day we tried it one of the rails tore up a tire so we abandoned that passage attempt.
Descriptions that use Parral are all subject to incorrect interpretation. Especially when referring to the Almanc.
Here is my take on them...
South of L Diablo there is a Parral the comes from the west mountains. Then Azufre is Parral. Then the spur from Huatamote to Chico is Parral. And then there is the huge valley where Rancho Parral is located. That area drains into Matomi and is unrelated to the other Parral's
The primary drainage from the west uses the general area of the various Parral's, but the eventual drainage is Matomi and Huatamote via its true direct path (not using the Parral spur). For sure the direct path is not drivable except for an expert moto guy.

Valle Chico is hard to define. My guess is it is the whole area behind the fences E & NE of the corral. Lots of vegetation and the water people say the valley has a major aquifer that could eventually be tapped for costal development, but so far the wells near the coast are adequate.

BTW. Did I mention that the drive from the west valley road and valle chico to rancho Matomi is drivable? There is a guy living there with his dogs chickens etc. He has a horse for transportation for supplies.
And Matomi remains blocked at the narrows. No racing there with out a lot of effort.
Paul
---
David K

-

1-19-2014 at 01:10 PM



Thanks Paul, the difficult passage in Matomí on my '88 map became easily passable soon after and for 20 years... now again it is worse than difficult and actually impassable. Flash floods change things in the desert! We had group trips to Matomí in 2001 and 2004. My last time there was 2006 when I just had to show Baja Angel the famous waterfalls! She was underwhelmed!

From the Puertecitos highway to the falls, then north to Valle Chico and San Felipe: http://vivabaja.com/618/page4.html
---
PaulW

-

1-19-2014 at 06:29 PM



Scheduled Pole line from Hwy5 on 1/24. I will tell you about it.
PW
---
Mexitron

-

1-20-2014 at 02:42 PM





Thanks for the tip--will have to get a copy!
---
David K

-

1-20-2014 at 03:00 PM





Is Brooks out there still? Please let him know about the book too... Here is Neal John's post about it with the book pictured: http://forums.bajanomad.com/viewthread.php?tid=70571
---