capt. mike

-

6-7-2014 at 11:25 AM



The BBP pointed out that of the 117 small airports that had been licensed in Baja within
the past 10 years, 94 are now closed because if expired licenses with about a dozen more
set to close in the next 12 months as their licenses expire. In the full report that we
provided, it was indicated that almost all of the most popular small GA strips are now
closed. These include:
 The Serenidad
 Bay of LA
 Alfonsina's
 Punta Bufeo
 El Socorro
 Punta San Francisquito
 Santa Ines
 Cielito Lindo
 Lorenzos
 Meling
 Todos Santos
 Bahia de las Ballenas
 Cadeje
 And more
These strips are closed because of lack of license thusly cutting off the contribution to the
economy of these small villages via aircraft as well as taking away access to these
---
Ateo

-

6-7-2014 at 11:31 AM



So what's your professional opinion on why they are letting the permits expire? I'm ignorant.
---
capt. mike

-

6-7-2014 at 11:50 AM



well it's not a function of the DGAC "letting" the strips expire - it is all about a bunch of bureaucrat nonsense from the feds making the strip "owners/operators" go thru endless paper and financial hoops to renew licenses as their dates come up. Towns too poor to do it. Serenidad is closed and Don is now having to fence it in to comply with new rules before he can get it re-licensed.
---
Ateo

-

6-7-2014 at 12:54 PM



OK. Thanks. Yeah, I wanna fly into Cadaje someday.............or better yet, San Juanico.
---
LancairDriver

-

6-7-2014 at 01:16 PM



Yes Mike, it's a different world we are living in today, and it affects everyone, not just pilots but all of the people who benefitted economically from aviation in Baja. The medical and humanitarian help that has been provided over the years also will be very negatively impacted. For all who enjoy and take for granted the other non aviation benefits of Baja, such as racing, driving ATV's freely around, or having free access to sensitive desert or archeological sites, expect the future to hold similar restrictions similar to those presently in play in California.
---
bufeo

-

6-7-2014 at 01:46 PM



Mike, are you sure the Pta Bufeo strip is closed? I have fairly current info to the contrary.

Allen R
---
bajacalifornian

-

6-7-2014 at 03:21 PM



Dang. I'd sure miss Serenidad, Bay of Cross Wind, & Francisquito.
---
churro

-

6-7-2014 at 03:48 PM



So what about programs like Flying Samaritans? Will they still be able to use the air strips for medical purposes?

I know nothing about aviation... But maybe the MX government is trying to stop drug trafficking?

I have seen some curious activity at night around air strips
---
DawnPatrol

-

6-7-2014 at 04:07 PM



Used to fly into San Francisquito & El Socorro in a buddy's 205 in the old days.... too bad
---
rts551

-

6-7-2014 at 04:54 PM



There are many unlicensed air strips still operating. Some in the places you mentions. Correct?
---
elgatoloco

-

6-7-2014 at 04:54 PM



SOS

One of our funnest Baja trips was Baja 1000 in 2004 chasing down the peninsula on Screaming Airlines with requesite 'pit' stop at Serinidad for mid day taco run then on to La Paz to watch the finishers bring it home. It was a real treat to see from the air all the places we have driven and especially the places yet to go. Good times. Too bad things change.
---
LancairDriver

-

6-7-2014 at 05:10 PM





Unless the Mexican government blocks access by bulldozing the strip inoperable, which they have done to many of the old strips, some pilots file a flight plan for a legal strip and land at one of the unlicensed ones. This of course has its risks if the unpredictable enforcement common in Mexico happens to be applied. I don't believe there are any exceptions made for the Medical flights to officially go into any of the closed strips, at least that I have heard of so far. Maybe someone has heard differently. Most of these new regulations are at the behest of the US government who supplies Mexico with all of the high tech Military toys and weaponry you see at the checkpoints and elsewhere, provided they play by the rules. This is in lock step with the tightening of the new bank regulations concerning American bank accounts in Mexico. All of this is to keep winning the war on drugs, and possibly keeping terrorists out of the US.

---
elgatoloco

-

6-7-2014 at 05:29 PM



http://en.wikipedia.org/wiki/M%C3%A9rida_Initiative
---
chuckie

-

6-8-2014 at 01:48 PM



Planes in and out of Serenidad yesterday and today.....
---
Barry A.

-

6-8-2014 at 02:10 PM



It's been a long time since I have actually driven out to the BOLA airfield, but isn't that a well-paved airstrip of considerable length?

-----and you say it's "closed"???

Now THAT is a real shame.

Barry
---
dunno Allen
capt. mike

-

6-12-2014 at 03:26 PM





the list is very current off BPI website and last week the Prez of BBP AKA El Jefe Jack was in MX city talking with DGAC. Landing at any officially closed trips has big risks if the Feds go In to full enforcement mode. Medical charities like Sams do not get any breaks. They can still get to Lopez legally and use Guaymas for entry but likely will overnight in Loreto now until Don gets legal. I would NEVER now land at a closed strip even if others are - the Feds are getting more serious - money rules. Fines and fees line pockets. Haven't been south in my bird since 2010 and no plans to do so - too many changes have taken the fun away. and it ain't cost effective either. I may go to La Paz as a friend is moving a 52 ft motor sailor there from San Diego and has a marina space rented so will make fun vaca.
---
David K

-

6-12-2014 at 03:33 PM



Nomad member 'El Vergel' (Vern) reported the El Vergel runway was recently closed, too. This was the last strip open between San Felipe and Puertecitos. Other runways were once located at Bahia Santa Maria, La Roca, and Coloradito.
---
David K

-

6-12-2014 at 03:35 PM







---
Floatflyer

-

6-12-2014 at 04:06 PM



This has been a relatively slow and gradual slide from the Golden Age of Flying. The GA flights into Mexico are a mere trickle of what was once a constant stream of planes and pilots southward.

The decline is a factor of many things, age of pilots, cost of flying(especially fuel in Mexico), the USA's pressure on Mexico to fight the drug war(easiest was to close strips), fear of violence in general, economy in the USA and so on and so forth.

Mike will agree that the times we had flying in Baja were awesome, from camping on Isla Carmen with the old dump truck taking you to a beach of your choosing, to the spectacular strip between Palmas de Cortez and the highway, yowzaaa! The Baja Bush Pilots showed the "old guard" how things had changed by choosing to by pass the Hotel Serenidad for the more modern and updated accomodations at Loreto for their Whales Trips a number of years ago. The Serenidad was to flying to Baja as is Oshkosh is to experimental/vintage/ homebuilt airplanes! If you missed, sorry for you. My last flight in Baja was May of 2012. Flying personal aircraft is a very costly hobby unless you just want to get off the ground and fly around by yourself locally in a slow and simple plane. On the other hand, many of us are now slow and simple ourselves, hmmmm, maybe not so bad after all.
---
David K

-

6-12-2014 at 05:15 PM



Great times for pilots in the 60's, 70's and 80's for Baja... even in the 90's somewhat... I only got to ride in a couple planes briefly over Baja: Capt. Mike's Screaming Piper from Serenidad in 2001 and Doug Bowles Cessna from Alfonsina's in 1999.

Jimmy Smith has some fun flying stories...




As does Marvin Patchen...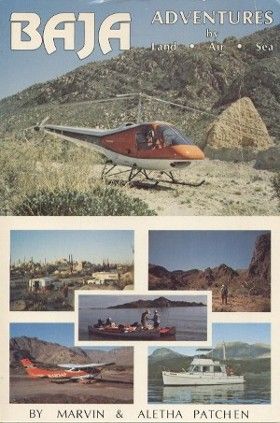 The books that helped pilots first find the airports of Baja: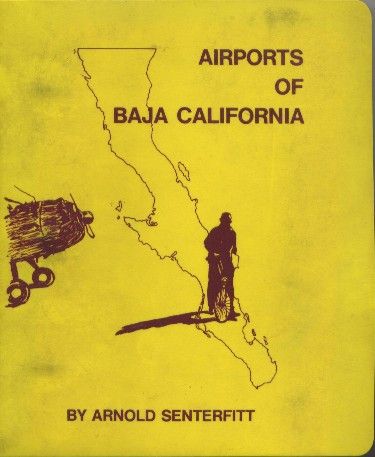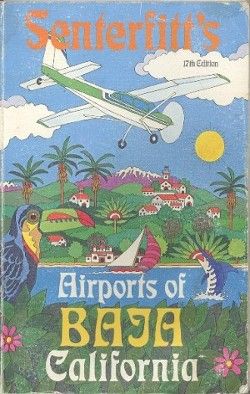 ---
mulegemichael

-

6-12-2014 at 07:00 PM



but the serinidad is still open; some friends staying with us a couple days ago saw a plane on the strip and stopped for a drink and a dip at the hotel....rumors!
---
small landings spots
captkw

-

6-13-2014 at 02:32 AM



What folks fail to think about in this BS "war on Drugs" is the CIA...(Cocaine International Aviation) dosnt want competition and snuffs out any and all other drug runners!!!!..Sad,, state of affairs...no more T D's or helping the local folks!! Just keep Paying Those Taxes and voting!!! LOL..get a grip USA sheep...
---
not necessarily so Michael
capt. mike

-

6-13-2014 at 09:59 AM





Jack's list from DGAC says the permit needs renewal. Don is working on that. Reason for the fenced enclosure - new rules. Now, that doesn't mean some planes will land there oblivious. But i would not want to be on the explaining side of a fed inspector. Mexico can seize your plane with cause. Try and get it back - may cost you its book value so why bother? Float Flyer is right on - the good days are gone. Glad I enjoyed 30 years including into Yucatan and Quintana Roo.
---
LancairDriver

-

6-13-2014 at 10:23 AM



When you fly and log into a Mexican Port of entry, eg: Mexicali, San Fillipe, TJ, etc. and file for a strip that is on the closure list, they will tell you can't file for the closed strip. If you wanted to go to the Sirenidad for example, they would tell you its closed. You would simply then file for Loreto and go to the Sirenidad anyway and probably take your chances on a violation, which as Capt. Mike says can carry potentially serious consequences but probably wont be enforced. This is why you will continue to see airplanes at the airports officially closed until someone has their aircraft confiscated. Its all about money and tighter control demanded by the US. The only way these licenses are renewed is if an interested party, ie: hotel owner, municipality, or other entity that deems it financially beneficial will cough up the cash. It is obvious from the present economic situation that this is becoming less and less feasible to pay the renewal costs.
---
BajaRat

-

6-13-2014 at 10:59 AM



Such sad news to see this decline in aviation on the peninsula. So many clinic personal can only break away from their practices for short periods of time to make these remote visits possible.
Once again we all suffer from a continued failing war on drugs, well except the Cartels, crooked officials, defense contractors, prison operators and the countless other individuals and agencies receiving US monopoly money. : (
---
rzitren

-

6-13-2014 at 03:53 PM



Quick Question
I have heard that fees have gone up at Mexican airports upon entry from the USA. I was told that the Multi entry permit for the aircraft is now around 120 USD and also Mexican Immigration is charging 130 USD on weekends for entry from the USA and departure out of Mexico. Does anyone know about this? If true it will change my flying habits. Thanks
---
capt. mike

-

6-15-2014 at 10:01 AM



It varies from airport to airport regards pax fees in and out. The multi entry is priced as a fed tax so is the same everywhere. It has gone up but not sure current rate - $100 seems right but go on bush pilots int'l website for accurate info. Remember some airports were privatized and set their own processing fees, like Cabo San Lucas. Others are part of the national system and their rates are standardized. Don't be surprised and be prepared for the unexpected. That is how I started flying MX and Baja in the 80s. Never knew until I got some where what i'd be up against. Most of it was good tho so I kept it up till recently - no longer attracts me.
---
capt. mike

-

6-18-2014 at 10:04 AM



Checked in with Phx flying Sams.

Serenidad being fenced now. Expects to have temp permit 60 days and full permit 90 days.
Until then Sams will only file to legal strips.

All strips have to be fenced now meaning more smaller venues [read less income] can't afford that - PSFO et al, I find this devestating.

Be advised your hull insurance may be void if you break a DGAC legal issue [like busting an FAR ] = fed aviation rule. Land at an illegal strip, get your plane confiscated and good bye insurance coverage.
---
mtgoat666

-

6-18-2014 at 10:44 AM





seems to make sense to fence airstrips and keep animals off the runway, eh?


---
LancairDriver

-

6-18-2014 at 12:26 PM





Yeah, but with fencing reducing the number of dogs, people, and cattle to watch for makes landing less interesting, and decreases the heightened awareness (pucker factor) experienced landing on some of the old Baja strips. Now it only leaves buzzards, pelicans, and seagulls to dodge.

---
fishbuck

-

6-19-2014 at 07:18 PM



Hey Cap, you got any info on Pedregal in San Quintin? I'm counting on using that runway again someday.

[Edited on 6-20-2014 by fishbuck]
---
capt. mike

-

6-20-2014 at 12:24 PM



I didn't see it on the BPI list either way. Since that strip services a community of homes and pilots my gut says they will renew when current one comes up.
The commandancia at MMES can tell you for sure.
---
capt. mike

-

6-20-2014 at 03:58 PM



typical of an over reaching tax/spend liberal philosophy in gov't. Fencing does no good unless you have 24/7 security, and does not add appreciatively to safety. How are PSFO and others off the beaten path going to handle that?? They barely make enough to keep the doors open as it is now.
The DGAC [mex FAA] only wants to bow to USA pressure and make it impossible for many resort and municipal strips to remain open. Kiss good bye to many pilot's favorite stops like Alfi's, Rene, Rancho, Rosario, Puerticitos, Final, Bufeo, Abreojos, Bahia Tortugas, Natividad, - the list will be endless.

We will be restricted to mainstream cities and regulated hard surface airports like Felipe, Quintin, Loreto, pescadero, Cabo, San Jose, LA paz. I flew to Baja 33 years so I could get away from those tourist spots......
---
David K

-

6-20-2014 at 04:06 PM



Thanks Capt. Mike... as you say, government loves to spend other people's money for 'feel good' (but ridiculous) projects to get votes from low information voters.
---