David K

-

11-12-2018 at 11:38 AM



Gift shopping or for yourself?

Order the Baja California Land of Missions book as a great introduction to young and old of the interesting story of the colonization attempt of Old (Baja) California, where California began! Who, what, when, where, and why is answered.

Books ordered from the publisher will be signed and dated: www.oldmissions.com (books are usually shipped the same or next business day with free shipping to U.S. address). The current book sold by the publisher (M&E BOOKS) was revised in 2019 with several newer photos and updates on roads to the missions... Scroll down to see.

but feel free to order from Amazon, as well:
https://www.amazon.com/Baja-California-Land-Missions-David/d...

Or from your favorite book distributor!
Discover Baja Travel Club stocks the book in San Diego and it is sold at several Southwest book dealers.

This book contains a detailed history of the activities by the Spanish and others attempting to colonize the peninsula of California from 1535 to 1855. Over 125 photographs, maps, and drawings provide the reader with a view of the actions of the Spanish Empire using missions to colonize California. The author's research resulted in new discoveries and facts which are included in this look at the history and the present conditions of the twenty-seven peninsula missions; many relocated to multiple sites. The nearly 200 missionaries who served in Baja California between 1683 and 1855 are also named. This book covers the period from the discovery of California in the 1530s through the establishment of all twenty-seven missions in Baja California to when the last missionaries left in 1855.

This historical story and guidebook is glove-box or backpack friendly and contains the GPS waypoints for the mission sites. The book is made to be easy to use, easy to read and contains a full list of reference books in back, as well as an index.

We have a Baja & Missions Facebook discussion page, too: https://www.facebook.com/groups/bajamissions/



(Endorsed by three Baja Nomads)

Some sample pages: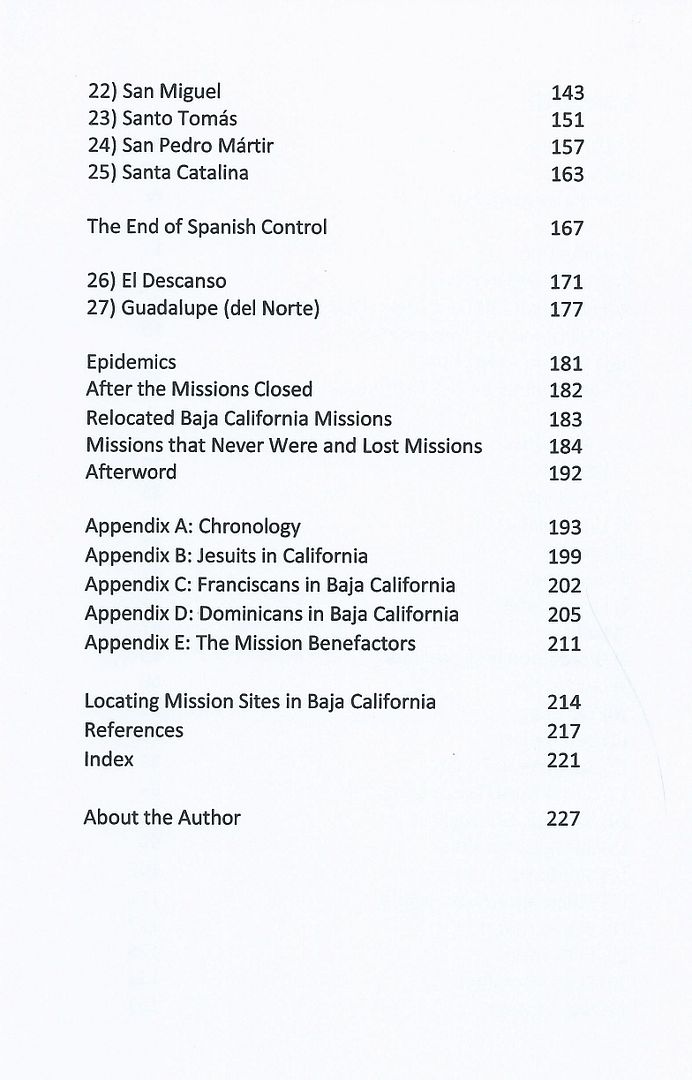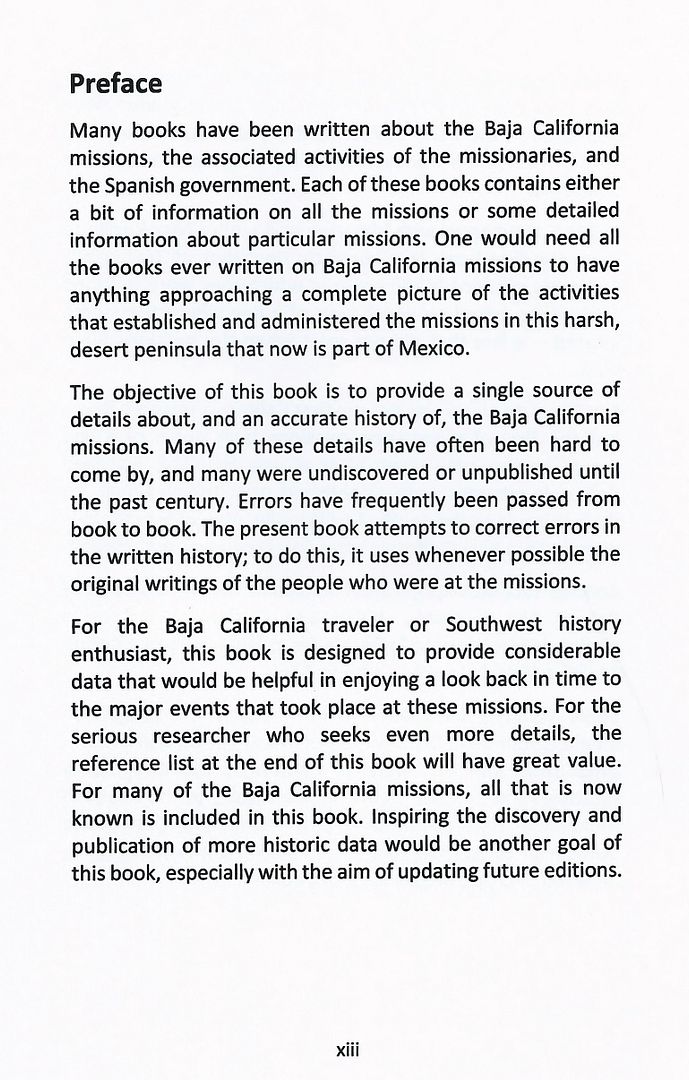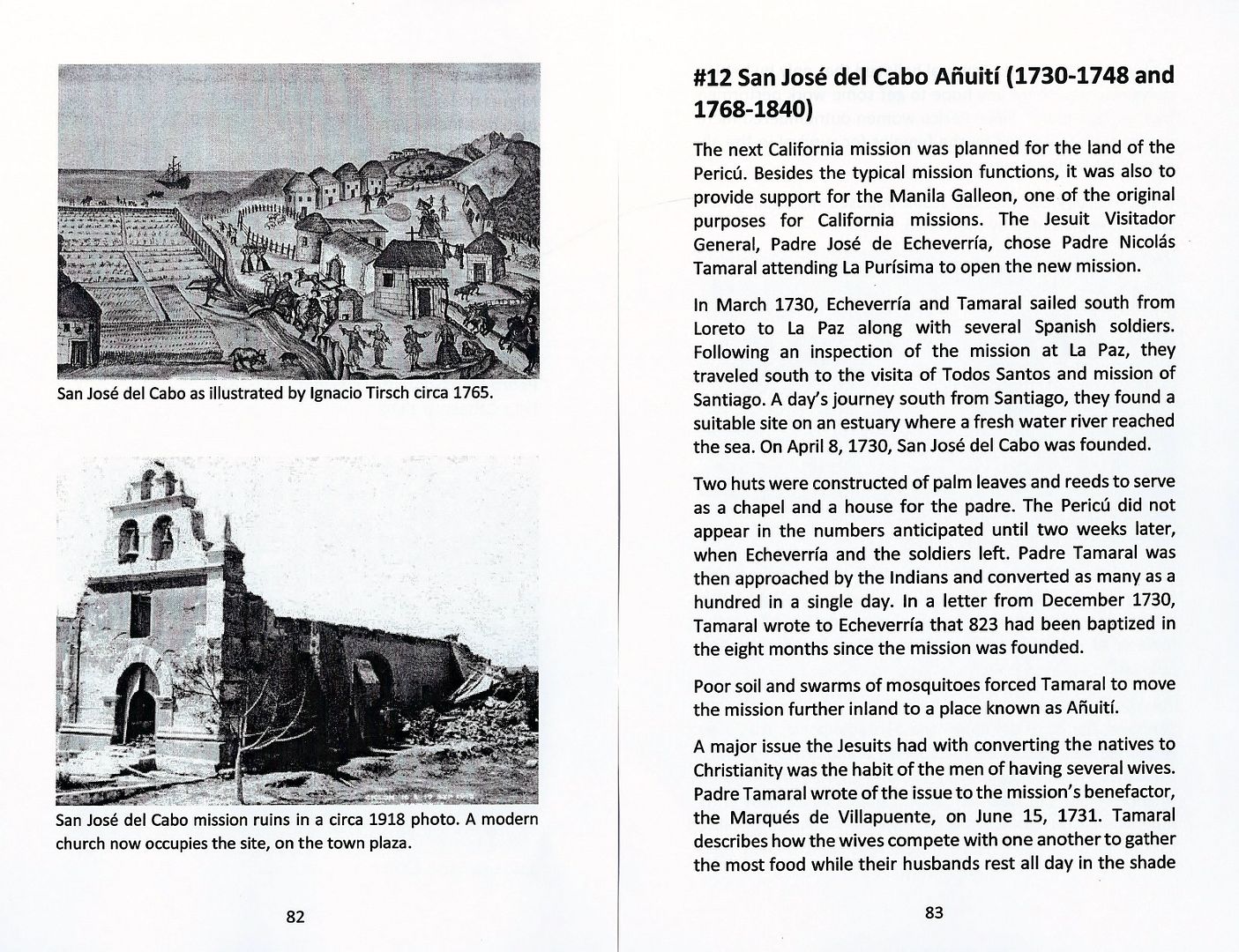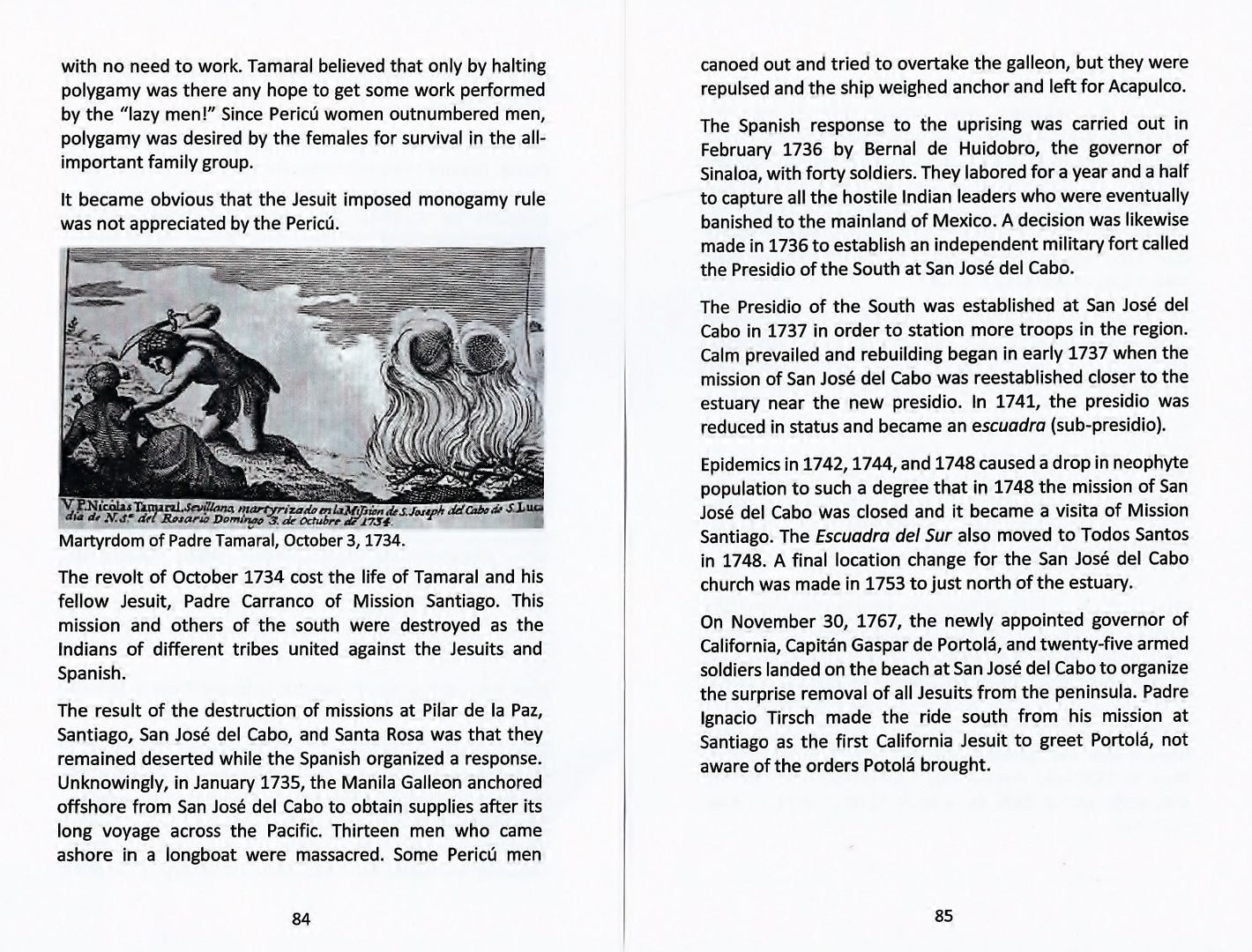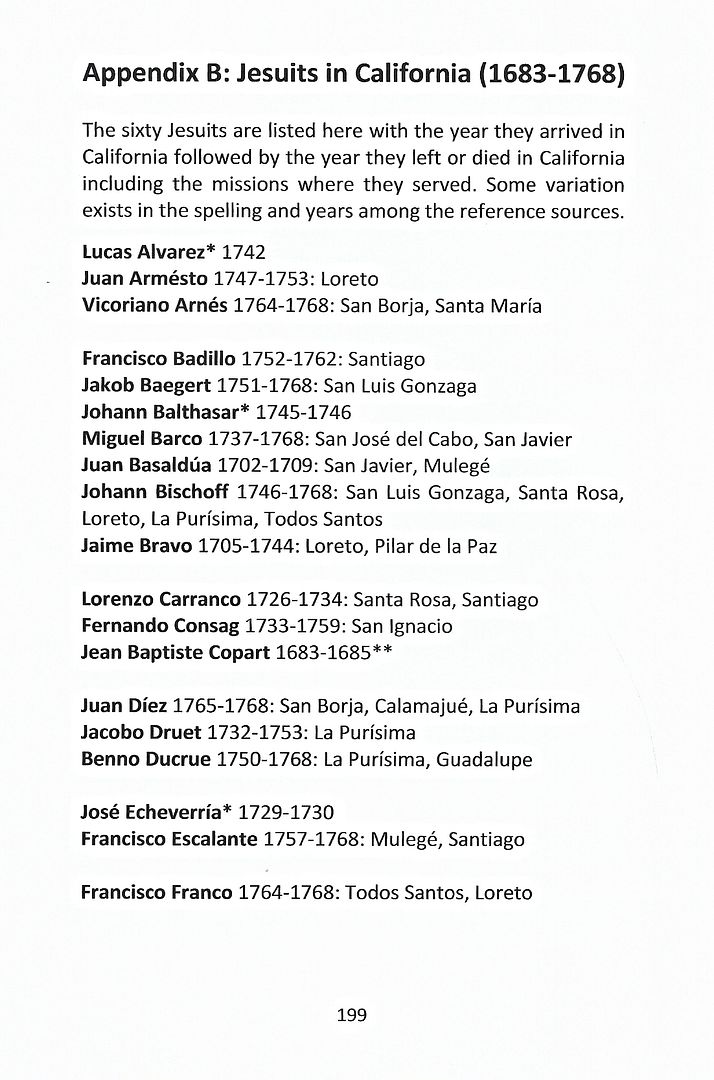 Educators, clubs, or Historical Societies, contact the publisher about special wholesale pricing for 10 or more copies. oldmissions@gmail.com

Potential retail book distributors, please contact the book's commercial distributor, Sunbelt Publications in El Cajon, CA: Sunbelt's listing: https://sunbeltpublications.com/shop/baja-california-land-of...

EDIT: The new 6th Printing (November 2018) is here and has two new photos added along with the 20 new photos added in the 5th printing (February 2018). With approx. 1,000 copies now in circulation, do you have a copy in your Baja or Southwest History collection library?

EDIT #2: The new 7th Printing (August 2019) is here and has three new photos added along with a few updates. Now with approx. 1,200 copies in circulation... Do you have a copy yet? Signed 2019 books are only available from www.oldmissions.com.



[Edited on 9-2-2019 by David K]
---
David K

-

11-12-2018 at 06:24 PM



Also, I still have new, uncirculated copies of these classic Baja books for sale at www.oldmissions.com All three authors were friends of mine and I am glad there are some new copies of their work to continue to share.



(one of the most popular Baja books of the 1970's through the 1990's. This Baja Book III edition is from 1992, very limited supply)



(Graham Mackintosh is quoted a lot in this 2003 log from Marv's cabin at Rancho Santa Ynez. Very limited supply)



(Authored by the late Baja Nomad and friend, Mike Humfreville, 2006)


Orders shipped to other countries outside the U.S., be sure to click the drop-down menu for the book price shipped to your country.

As of Nov. 12, I have 5 copies of Tom Miller's book and 6 copies of Marv Patchen's. I have a large supply of Mike's book and my book.

Ordering is easy, go to www.oldmissions.com

In addition to the 4 Baja books that are shipped from me in North County San Diego, there are several books listed by Max Kurillo and his books are shipped from him, from El Cajon.
You can use a debit card or PayPal... you do not need to join PayPal to buy books from our PayPal site. You can buy the old fashion way using a check or money order sent to the PO Box given on the site.

Thank you!
David



[Edited on 1-6-2019 by David K]
---
Merry Christmas, a sample chapter: Santa Gertrudis
David K

-

12-13-2018 at 01:30 PM



In the opening post, I shared some of the chapter on Mission San José del Cabo. It had a most interesting history. A unique mission in that it was abandoned for 20 years and reopened.

Here is the text from the chapter on Mission Santa Gertrudis, not formatted or with maps and photos, as it is in the book. This mission is also extra interesting in that it was to be called by another name. The abandoning of Mission San José del Cabo in 1748 is what provided funds for Sant Gertrudis and why it was named that.

#15 Santa Gertrudis (1752-1822)

Fifteen years passed before the Jesuits were able to establish another mission, and it would be the first one in the northern half of the California peninsula. Padre Fernando Consag had made expeditions seeking potential mission sites and was baptizing natives in advance, for the next mission.

The first expedition was in June 1746 traveling in four small sailboats. They traveled along the gulf coast from San Carlos (a small inlet northeast of San Ignacio) to the mouth of the Colorado River. This expedition once again confirmed that California was not an island. Other Jesuits, including Padres Ugarte and Kino, had found this to be the case years before on their expeditions to the north though their views were not widely accepted. Consag's findings convinced his superiors to connect the missions of California with those in Sonora on the Mexican mainland, so a push to build north was finally made. A land route of communication would be preferred over crossing the often violent waters of the Gulf of California. Additionally, more Californians would be Christianized and civilized for the King.

The second Consag expedition was by land in May 1751. It began north of San Ignacio at a place with a small stream that Consag had visited before and named La Piedad. They traveled northwest nearly to Punta Baja (near today's El Rosario) before returning. Consag found no place that offered any better site for a new mission than did La Piedad. Padre Consag baptized over 500 Indians in 1751 and assigned them to the proposed future mission. The new mission's official name was to be Dolores del Norte. That name appeared on maps and Jesuit reports dating back to 1744, but at that early date, Dolores del Norte was a mission only on paper. This caused some writers in the 20th century to believe a lost mission existed with that name. Some, including INAH (Instituto Nacional de Anthropolgía e Historia), Mexico's National Institute of Anthropology and History, have also called the large visita ruins in San Pablo Canyon, "Mission Dolores del Norte," in error.

Consag began preparing the La Piedad site with the help of a highly skilled but blind Cochimí Indian named Andrés Comanají. Comanají took the name "Sistiaga" out of affection for his former teacher (Padre Sebastián de Sistiaga) at Mulegé. Andrés Comanají Sistiaga managed the construction at La Piedad for the future mission. Its official founding would occur once a new priest was available and ready.

The name of the new mission was changed to Santa Gertrudis out of respect for the benefactor, Don José de la Puente Peña, the Marqués de Villapuente, in honor of his wife, Gertrudis de la Peña. He had funded the mission at San José del Cabo but left instructions that if that mission was ever abandoned, his money was to be used to establish a mission in the land of the Cochimí. Mission San José del Cabo was closed by the Jesuits in 1748 thus the transfer of financial support occurred.

Padre Georg Retz opened Santa Gertrudis on July 15, 1752, following a year of training at San Ignacio where he learned the Cochimí language. Hundreds and hundreds of Cochimí came to be baptized and join the mission. Desiring this mission to be self-sufficient, Padre Retz had ditches dug into solid rock to transport water from the spring to fields he had cleared and filled with soil. Wheat and corn grew and was harvested. Eventually the vineyards produced mission wine in tanks created by hollowing boulders, as wooden casks were not available. Figs, peaches, pomegranates, and olives grew in the mission orchards. Livestock was raised. Retz had created a mission-oasis in the center of the peninsula's desert. Neophytes numbering 1,730 were reported at Mission Santa Gertrudis in 1762, ten years after it was founded.

In 1768, the Jesuits were removed from California and replaced by the Franciscans. Padre Dionisio Basterra was placed in charge of about 1,360 neophytes at Santa Gertrudis. Spain's Visitador General José de Gálvez ordered some of the Santa Gertrudis neophytes south to populate missions needing labor for their farmlands.

In 1773, the Dominicans arrived to take over the mission operations in Old (or Lower) California, and the Franciscans were to only operate missions in New (or Upper) California. By 1782, the population at Santa Gertrudis had dropped to 317. A cut-stone mission church completed in 1796 replaced the earlier adobe one. In 1800, the population at the mission was down to 203 as epidemics took their toll.

One large mission visita is located about twenty-five miles south, in San Pablo Canyon, a site sometimes misnamed "Dolores del Norte." Visita de San Pablo is located east of the town of Vizcaíno and today can be reached by trail, using a guide, as it is located inside a protected archeological zone.

Mission Santa Gertrudis is located just north of the border between the states of Baja California and Baja California Sur, twenty-three miles east of El Arco on a graded dirt road. The twenty-five-mile unpaved highway to El Arco begins at Highway One (Km 189), seventeen miles southbound from Guerrero Negro. Another route is thirty-seven miles from Highway One (Km 154), starting about seven miles north of the town of Vizcaíno, and passes through the abandoned village of Guillermo Prieto. Cars with low ground clearance are not recommended on any back-country roads.

Missionaries recorded at Santa Gertrudis:

Jesuit
Georg Retz 1752-1768

Franciscan
Dionisio Basterra April 5, 1768
Juan Sancho de la Torre 1770
Gregorio Amurrio 1771-1773

Dominican
Manuel Rodríguez and José Díez Bustamante (to 1777) May 15, 1773
Juan Antonio Formoso 1783
Joaquín Valero 1788
José Espín 1794-1798
Segismundo Foncubierta 1812


[Edited on 6-13-2019 by David K]
---
David K

-

1-6-2019 at 03:25 AM



Happy New Year!




The missions and associated sites in Baja California are a viewing window to the vast energy of the people in this wild place 200-300 and more years ago. Only a few of the mission sites are totally intact, many of the others are vanishing if not gone. See where the first Spanish colonies were and read about who and what was there.

The book also corrects some poorly taught history in California schools...

Learn that there were 18 California missions established BEFORE San Diego mission was founded and that San Diego was the SECOND mission founded by Junípero Serra in California! 72 years of mission building was going on in peninsular California, before San Diego. California was the peninsula first... and believed by many to be an island for over 200 years after it was discovered.

Books shipped 5 days a week from www.oldmissions.com (signed and dated) or order from Amazon, Discover Baja, Barnes and Noble, or other book dealers.
Wholesale to distributors from Sunbelt Publications, El Cajon, CA.
---
David K

-

3-18-2019 at 05:46 PM



Here is a new list (Mar 2019) of places that sell or distribute my book, Baja California Land of Missions:

In Baja California

CAREM MUSEUM in Tecate (new for August 2019)

BAJA CACTUS MOTEL in El Rosario (fund raiser for rescue services)

BAJABOOKS in Guerrero Negro

ALLENDE BOOKS in La Paz

BAHIA DE LOS ANGELES Museum in Bahia de los Angeles

EL CABALLO BLANCO in Loreto

LIBRERIA EL TECOLOTE in Todos Santos

RUTA DE PLATA MUSEUM in El Triunfo



California Missions:

MISSION SAN DIEGO DE ALCALA

MISSION SAN ANTONIO DE PADUA

MISSION SAN LUIS REY

SAN GABRIEL MISSION GIFT SHOP

SOLEDAD COMMUNITY MISSION FIESTA,



Museums:

CORONADO MUSEUM OF HISTORY

SAN DIEGO HISTORY CENTER

TEMECULA VALLEY MUSEUM



Misc:

AMAZON.COM SERVICES

AZTEC SHOPS LTD - SDSU

BRODART CO

BARNES & NOBLE INC

DISCOVER BAJA TRAVEL CLUB

DUDLEY'S BAKERY

LA PLAYA BOOKS

LAS AMIGAS

JULIAN BOOK HOUSE

OLD TOWN KITCHEN NOOK

TREE OF LIFE NURSERY

SUNBELT PUBLICATIONS in El Cajon, CA



Wholesalers:

BAKER & TAYLOR BOOKS

INGRAM BOOK COMPANY

FOLLETT LIBRARY RESOURCES

SUNBELT PUBLICATIONS

and of course, you can order directly from me for a signed copy at www.oldmissions.com

[Edited on 9-1-2019 by David K]
---
David K

-

6-13-2019 at 01:08 PM



Readers of my book and others who want to know more or see more of Baja California history and sites enjoy our group page on Facebook: https://www.facebook.com/groups/bajamissions/
The latest photos (in color) from Baja California are there as well as updates, too.
---
New 2019 Printing with updates
David K

-

9-1-2019 at 08:34 AM



This last week, the August 2019 printing of my book arrived.
In it are some updates to directions and history plus 3 new 2019 photos.

Here are the pages with the three new photos (low-resolution scan). In the book, they are black & white...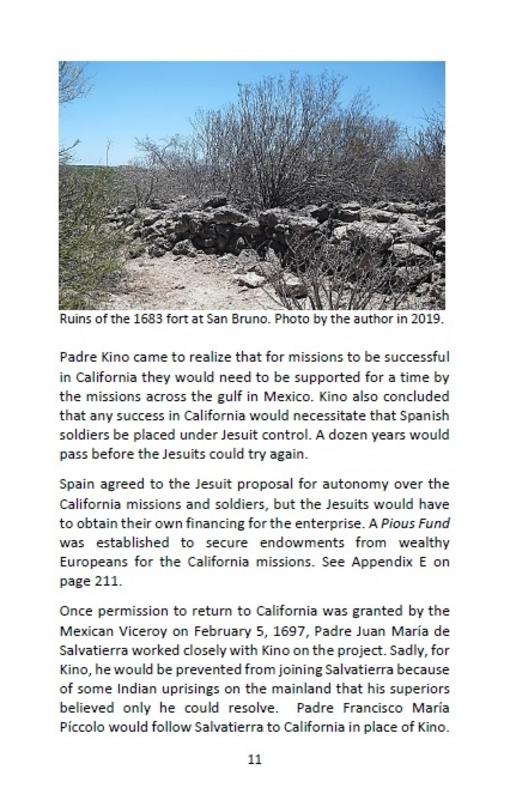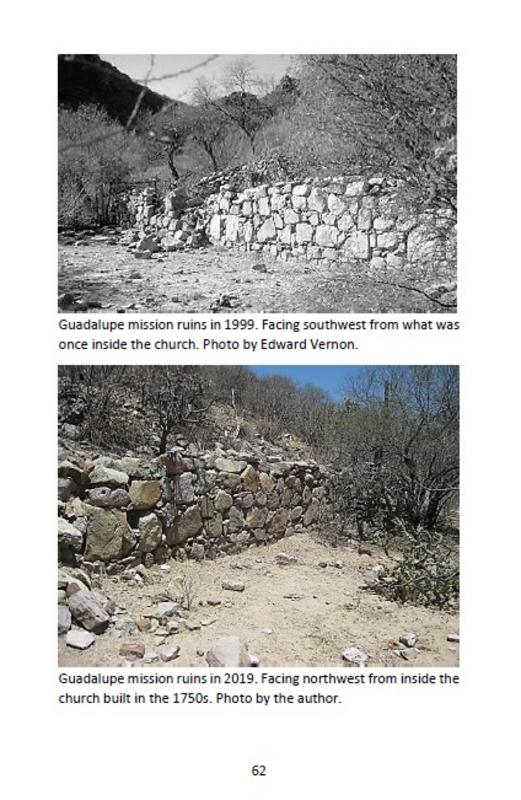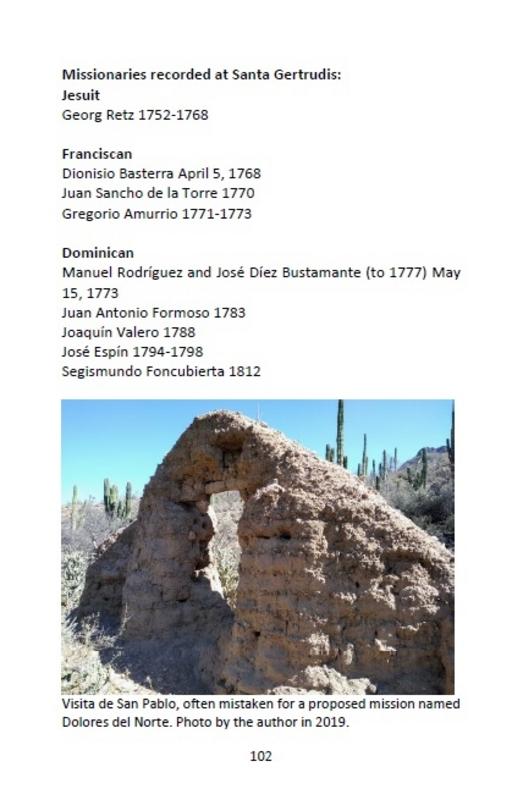 Until these copies are at the national distributor, this 2019 printing is only available from www.oldmissions.com

Thank you for your interest in the history found in Baja California!
---
David K

-

9-2-2019 at 10:49 AM



Baja California Land of Missions and it's author are the history source for TV's Trail of Missions.

---
pacificobob

-

9-3-2019 at 09:01 AM



Infomercial.......
---
David K

-

9-3-2019 at 09:21 AM



Yes!

---