Nextlevelbaja

-

1-10-2019 at 05:18 PM



We set out to hike some of the Canyons and Laguna salada. We made camp at the bottom of what appeared to be El Tajo canyon.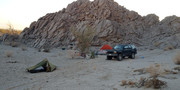 Only having one full day for hiking, we made the call to go to Guadalupe Canyon. As it turns out this was a great decision.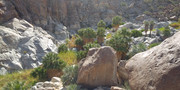 ---
Nextlevelbaja

-

1-10-2019 at 05:27 PM



We got lucky and found one last campsite available for $60. Then we laced up for what became a 6 hour hike.


We arrived at the first waterfall rather quickly. The water was freezing but beautiful!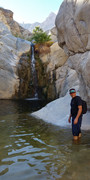 The further we hiked, the more difficult it became. We even stumbled across some petroglyphs inside a cave. So we decided to stop for a snack.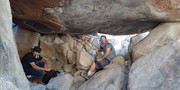 ---
Nextlevelbaja

-

1-10-2019 at 05:44 PM



As we hiked further it really started getting difficult! We had many gut check moments where we weren't sure we could make it any further, but one of us would find a way through the difficult section and of course the others would have to follow. We were determined to find the final waterfall. I had to snap this photo of the Baja trifecta. An ocotillo, red bulb cactus and blue palm sat next to us!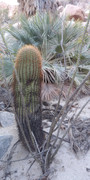 Finally the canyon started to get narrow and we knew we were getting close. But there we stood at the bottom of a 15ft near vertical ledge. After staring at it a while, I decided I was going up it.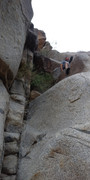 I quickly peeked around the corner and was amazed at the beautiful waterfall and lagoon! I coached my 2 friends up the section and we enjoyed the view.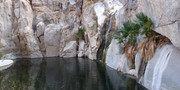 What an amazing hike! We got back to camp at sunset very sore and tired. The hot tub felt amazing, then we ate dinner and fell asleep by the fire.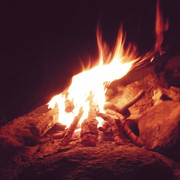 ---
StuckSucks

-

1-10-2019 at 05:57 PM



Awesome hike! Love the pool photo.
---
Pacifico

-

1-10-2019 at 08:31 PM



Looks like you had a great campsite in that first photo!

On Postimage, try setting the pic size to 800 x 600 when you upload the image. That way your pics won't be so small.
---
Skipjack Joe

-

1-10-2019 at 09:43 PM



I agree. What an incredible campsite.
---
Bubba

-

1-11-2019 at 04:02 AM



Very nice!
---
David K

-

1-11-2019 at 07:23 AM



Thanks for the report!
We miss Guadalupe Canyon a lot. I wonder if more of Arturo's former campsites have been reopened?
While you can click on the thumbnail images to enlarge them, I would agree with Pacifico to post 800 (or 640) pixel wide images.
---
BajaBlanca

-

1-11-2019 at 01:16 PM



welcome to bajanomad! sounds like a wonderful hike to a place that I have never been even after living here for 12 years now.
---
BornFisher

-

1-11-2019 at 01:33 PM



Beautiful hike and report. Thanks!
---
David K

-

1-11-2019 at 03:25 PM



Blanca, compared to your location in Baja Sur, it is very near Mexicali, about 40 miles south of the borderline, facing Laguna Salada.
---