Santiago

-

11-25-2022 at 03:36 PM



First trip to Mexico City in spring, lots of websites have 3-day itineraries, looking for input from Nomad travelers. All of us in our 70s and currently ambulatory, sort of. Most of the websites recommend Uber, not cabs.
Thanks
---
elgatoloco

-

11-25-2022 at 03:50 PM



My friends always hire a driver thru the hotel they stay at. That way there is some accountability. They go for work and pleasure and NEVER hail a cab randomly. Driver can take you see places you want to and make recs on others and help maximize your time.

YMMV
---
sarahsmiff

-

11-25-2022 at 05:49 PM



If it were me I would stay either at the BW right in front of the Palacio Nacional (noisy at night with the traffic noise right outside your window, but being able to watch the raising and lowering of the flag from your room is very cool) or the Hampton Inn just around the corner (more comfy and quiet, and maybe even a little less expensive.) Staying downtown, you'll be able to walk to the Zocalo, the Templo Mayor, Plaza Garibaldi, the cathedral, etc. Not to mention all the amazing art and history tucked around every corner. Great food around every corner as well.
Use the metro at least once for the experience. Maybe take it to the Basilica one day. Maybe spend one day going out to Teotihuacan and see the pyramids. If you like museums there are so many to choose from but the Museo Nacional de Anthropologia is amazing. Uber is safe and cheap. Cabs are cheap too. All this talk is making me want to plan a trip of my own!

---
BajaBlanca

-

11-25-2022 at 06:35 PM



Hiring a driver is a great idea. We went to M City probably 4 or 5 times. It is an amazing city and if you can stay longer than 3 days, do it!

1. The pyramids

2. Xochimilco

3 The archeological museum

4. See a ballet or traditional dancing at the Palacio de Bellas Artes - and if you cant, at least go in a gawk at its beauty inside

5 Frida Kahlo house

6 Garibaldi is the only place we were told to be extra careful with wallets etc but it really felt safe and was recommended by our Mexican musical friends and did not disappoint! Pedestrian walkway with restaurants bars and music

7 The Basilica of our Lady of Guadalupe

8 LA CASA DE LOS AZULEJOS (SANBORNS) was one of the highlights in terms of historical restaurants

Please post a trip report after you go!


---
Things to see in Mexico City
RFClark

-

11-25-2022 at 08:22 PM



Santiago,

Unless you live at a high elevation now you won't acclimatize to Mexico City in 3 days. If you can stay in or near Polanco. Lots of the things to see are within walking Distance

Things to see.

The Palace of Fine Arts near the Zocalo. Murals by Diego Rivera

The National Palace Murals by Diego Rivera

The Angel of Independence on Reforma

The Zocalo

Chapultepec Castle

The Metro, be careful there!

The pyramids but it's a day trip. Lots of walking and climbing too.

Diego Rivera's Museum in San Angel and San Angel

The national University

Cortez's Mansion in Cuernavaca and Cuernavaca also a day but at a much lower elevation the trip down the hill from Mexico City is breath taking too!

Hire a car and a good guide!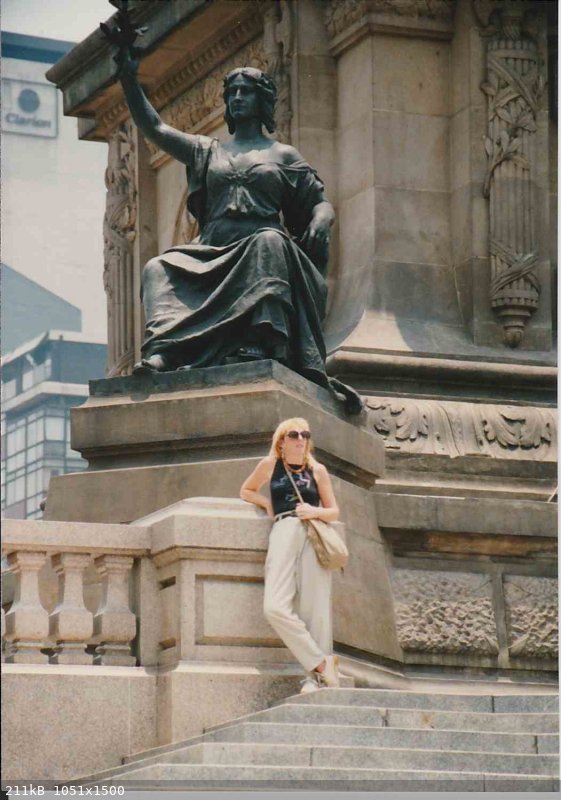 ---
BajaBruno

-

11-26-2022 at 09:58 PM



Uber is definitely the correct move. The taxis in DF are awful. It is a huge city and it take a while to get anywhere. You want to be comfortable.
As noted by RFClark, the Polanco district is a good option, as is its neighbor La Condesa. Both have lots of chic eateries and nightlife, as well as cultural sights. When I visit during Xmas, I will be staying in Coyoacán, one of the oldest and most scenic areas of the city.
The city has something for everyone. I particularly like the Museo Nacional de Antropología ( https://mna.inah.gob.mx/ ) and the Museum of Modern Art ( https://mam.inba.gob.mx/museum ), but there are sights as hidden away as the Leon Trotsky House Museum and the more popular Museo Frida Kahlo (I have not been to this one).
---
BajaBlanca

-

11-27-2022 at 06:38 AM



BajaBruno, the Frida Kahlo is WONDERFUL. Her personality is in every plant, in every wall color, absolutely everywhere.
---
Hook

-

11-27-2022 at 10:16 PM



Another vote for the Polanco area. Better things to see around there, IMO.

We are serious walkers, what's an Uber?

We might consider Uber if it's more than 45 minutes, one way. We walked to the Zocalo area TWICE, from our hotel.

We really liked this place for a moderately priced hotel. Huge rooms with kitchens, rooftop lounging area that we always had to ourselves.

Lombardo Suites, Anzures area, right between Polanco and the La Condesa/Roma Norte area. Great location. Well stocked wine store LITERALLY 30 seconds away; a Bodegas Alianza, if you are familiar with them from mail order wine. REALLY close to Chapultepec for strolling in the "bosque".

Our favorite restaurants were probably Contramar, Rosetta, Panaderia Rosetta, Ryoshi (Japanese/sushi). For Mexican, we ate at taco stands; El Turix, Los Cocuyos, Los Panchos. We became fans of Churreria El Moro, though we are not big churro eaters.

We did NOT eat at Pujol or Quintonil, as we were told they are good but way overpriced.

I have a wine bar recommendation! Hugo Wine Bar. Yes, we had an ORANGE wine. It was good!! No, not made from oranges.
---
BajaBruno

-

11-28-2022 at 11:43 AM



All good information, Hook. I have eaten at Pujol. It is expensive, but the experience was worth it for us.
---
Santiago

-

11-30-2022 at 06:13 AM



All good info, just what we were looking for.
Thanks
---
Cancamo

-

11-30-2022 at 09:42 AM



In addition to all the good stuff above;

My preference nowadays is staying just off Calzada de Guadelupe. Many local business and middle class hotels, (don't go anytime near 12th of December, Dia de Guadelupe), and tons of great, sit down and street side food options. Located on the divided four lane to the Basilica and adjacent to the floral district, it is walking distance through Tepito to El Zocalo, Plaza Garibaldi, and Centro Historico, with all that has to offer.

Have walked extensively throughout the city as well as using surface buses, metro, taxis and more recently uber. Over many year never had an issue. Avoid being a target, (jewelry, cameras, etc...), and be more cautious after dark.

Even though the city is far cleaner than 30 years ago, it still has that "smell", worse in some places than others. Takes some getting used to.

Last trip I took in Museo Soumaya, kind of a rebate from owner Carlos Slim, (free admission), it's world class.
Traveling exhibits on three floors from Mexico and around the world. The city offers numerous museums with a varied interest, bring INAPAM card or equivalent, (senior), for discount.
Other great cultural Mexican experiences would be visits to the famous marcados, an evening at lucha libre, and mariachis at Garibaldi.
Flexible itinerary always works for me, discovering new stuff every trip.
So much to offer, as a city. You will return. Have fun.
---
gallesram

-

11-30-2022 at 04:38 PM



We always stay at the Hotel Galeria Plaza Reforma in the Zona Rosa (right off the Reforma and few blocks from the Angel). It's a great walking area, close to the Metro and reasonably priced given the location. I echo everyone's recommendations on sights; there are tons. I would also recommend Uber over using a regular cab or sitio cab (the ones which are called for you, if they even exist anymore) since Uber is safe and very inexpensive.
---
Marty Mateo

-

12-1-2022 at 05:05 PM



You've definitely got more than three days of suggestions, I'd only add that you should give yourself room for spontaneous opportunities. My wife and I spent a week there a few years ago and had an amazing time. We explored lots of the city and stumbled across a lot of great street food, bars and cafes. We plan to go back soon and will definitely rent bikes to get around
---
wilderone

-

1-21-2023 at 10:22 AM



I've always wanted to see the monarch butterfly groves -- my research has stated that you can get daytrips from CDMX. Report back.
---